Upcoming trends of Digital Marketing in 2020.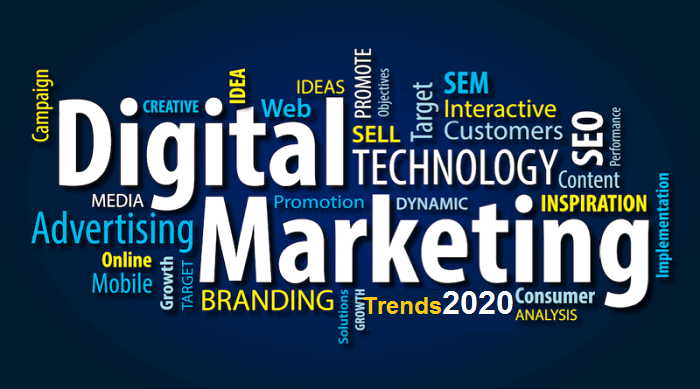 We all love innovation and trends especially in the field of technology. As the world is going to celebrate 2020 after few days, with the coming of the new year we all will see the upcoming trends in technology with respect to digital marketing particularly. There are many companies that are highly waiting for 2020 (so am I) as it will bring them new and innovative ways for their marketing strategy.
Furthermore, technology has turned the world into a global village so digital marketing can't be just ignored. Marketers have to update themselves and adopt new trends and technologies to stay ahead in the competition. The purpose of my article is not only to introduce you with the upcoming trends in digital marketing in 2020 but also to aware you that as a marketer your focus should not only confined to increasing sales rather it must be on your "customers' satisfaction". Your customer satisfaction is the ultimate way to increase your sales.
Now, it's time to dig into upcoming trends in digital marketing in 2020. So, are you excited to know? Just read this article till the end to satiate your craving.
Some upcoming trends in digital marketing in 2020
– More use of private messaging apps
With the coming of 2020, many companies will start focusing on utilizing private messaging apps effectively. Apps like WhatsApp, WeChat, and Viber have already gained popularity now it's time to adopt the private messaging apps rather than using emails. The private messaging app will ease out the work for both customers as well as a marketer in money transactions. Receiving and sending money will be much easier for you.
– Increased use of Artificial Intelligence
Artificial intelligence has already made its space in the market but with the coming year 2020, it will have a much more positive impact on digital marketing. Artificial intelligence, as we know is about machine performing the task like humans. It is the combination of various features like chatbots and voice assistants (like Siri and Alexa) to quickly find answers. Having more innovative artificial intelligence in digital marketing will improve the future experience of both users and marketers.
– Voice-Powered Search
As we see that growth in technology continues to increase, in the coming years we will see that more people will use smartphones with voice search. Voice assistants like Ok Google, Alexa, and Siri are very useful in digital marketing. These voice assistants help in the growth of mobile-friendly movements and add value to local SEO. People will use it to search for things and it can make them more hand-free.
– Hyper-targeted Advertising
Advertising is a powerful way of promoting the company's brand and services. We all know that companies use digital ads to market their products. However, there are many companies that display irrelevant ads that are not related to the public. These ads not only annoy us but also create a bad image for the company. By 2020, companies will focus more on displaying ads that are hyper-relevant for all of us.
– AR & VR Marketing
Augmented reality (AR) and Virtual Reality (VR) have already been in trend but by 2020 more people will jump on this bandwagon. Quickly it will become one of the top marketing trends in the coming year. Companies like IKEA and AMC Theater are already using AR and VR. Companies will need to optimize their content and funnel for AR & VR devices if they are to use this technology.
– Chatbots take off
Chatbots are software programs that interact with website visitors and customers. They communicate naturally with people viewing the site and answer their questions in real-time. Instead of hiring an individual to monitor and communicate with visitors can be expensive for many companies, but chatbots save money as well as time by answering the question on your behalf. This will become more personalized and valuable in the coming year.
Final words
As a marketer or a businessman, you must be aware of current as well as upcoming trends in the field of digital marketing. As you read above some upcoming trends in marketing, all of them are valuable and relevant for you but some of them like Artificial Intelligence and Private Messaging Apps will be dominating one.
So, once you understand this upcoming marketing trends, you will master the skills to handle digital marketing. Can you think of other upcoming trends in digital marketing? If yes then kindly comment below to let us know. For more updates get in touch with us till then keep reading and keep sharing.
---