How to achieve a target with Event Marketing?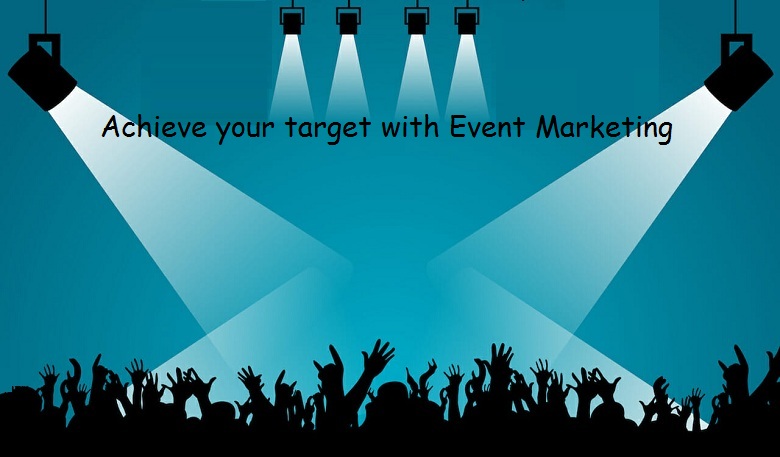 Any marketing business can only run if you promote its goods and services at a large level. No matter whether your business is small or big, the only way to fetch customers is to introduce your products or services to them via events. Coordinating small networking events or large corporate events like conferences, creating event marketing strategy provides you many benefits. However, event marketing is not an easy task; it requires a supreme level of management, time management, and communication skills to achieve your target audience.
So before I talk about how to effectively target your audience with event marketing, you must first understand the concept of what event marketing is.
So let's jump into the pool.
What exactly event marketing is?
In a very simple term, event marketing is the promotion of goods, brands, products, and services through in-person interaction in an event. Event marketing can occur online as well as offline where you can display or exhibit your products. This type of marketing basically focused on creating live experiences that promote a brand, product, or service.
Moreover, the reason for hosting an event as companies try to establish and build their brand and identity. The promotion of these activities can occur through various inbound and outbound marketing techniques.
Why event marketing is important?
In today's growing marketing world, every marketer seeks an opportunity to build relationships, generate goodwill, and earn the trust of prospective buyers and customers. As we're living in a modern world, we all want more than a pitch when evaluating solutions or making buying decisions. In this case, events offer a unique opportunity for customers to interact with brands to get a sense of the company's focus perspective and personality.
Therefore, event marketing can be an integral part of the demand generation mix. Also, a strategic combination of offline and online events are necessary to any company's bottom line.
According to statistics, between 2017 and 2018, the number of companies organizing 20 or more events per year increased by 17%.
How you can achieve the target through event marketing?
Now that you know what is event marketing and its importance, it's time to learn some ways to target your audience and promote your events to these people.
– The goal of your event
Before creating or presenting an event, you must clear the concept or goal of your event that why do you want to present it in front of your audience. Every event has some goals to talk about. Any event can have a single or multiple goals but you must present it with clarity so that your audience can understand it.
– Go live
Going live and promoting your products online and offline are a good way to fetch more customers. A live stream is a new trend in event marketing where you can interact and target your audience and potential customers directly. As per the Bizzabo study, 30% of marketers believe that broadcasting live events impacts an event the most.
– Socialize
Marketing is all about socializing with your customers and making a new one generate more revenue for your business. Here, socializing means connecting with local influencers and people with a strong presence. Applying this tactic will help you get the right attention from your audience. Always look for an influencer who works within your industry and has a great following on different online platforms.
– Share your contents with the media
Here, I'm not talking about social media rather the press release. You can invite local media to be a part of your event marketing. A press release is a great way to get the attention of the people who can help you further your event goals. Amalgamate your event with influencers, ambassadors, and new supporters. This is a great way to spread the awareness and goal of your events.
– Lead generation
The most common purpose of any event is to generate leads for the business. That's why many businesses opt to use event marketing to generate leads. Creating the right event allows your company to interact with a group of prospects that already have an interest in who you are and what you do.
Final words!
Let me tell you, folks, launching a marketing event is very important for marketers to promote their brand, products, and services. An effective event can change the overall marketing environment if done properly.
In this guide, you've already read what event marketing is and its importance and also some ways to target your audience with event marketing.
So what are you waiting for guys? Try to launch an effective event for your marketing and achieve the desired goals of your business. We are here to help you, for more info get in touch with us.
---