Do you want to remove bad reviews from your website?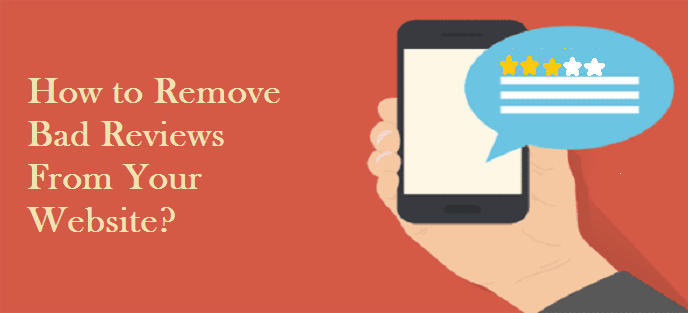 Reviews play a great role in our life. They are very important for both customers and businesses. As we all know that online businesses rely heavily on customer's reviews. If we look at the ratio then 93% of consumers read customers to review before making any decision about a business product.
However, online reviews are an indispensable part of any online site, but what happens when you receive bad reviews on your site?  Receiving negative reviews can be devastating. They can badly affect any person's online reputation, site or business.
If you're too receiving negative or bad reviews on your website then you no need to worry! I am going to explain everything about bad reviews and how you can get rid of them easily.
First, let's see how bad reviews can affect you?
Impact of bad reviews!
For any individual or business, bad reviews can be damaging to the prestige, profitability, and trustworthiness of a business. 
People hesitate to visit a website or to purchase from businesses with no reviews or with too many bad reviews.
95% of consumers tell others about a poor experience.
Research shows that bad reviews stop 40% of consumers wanting to use a business.
The abundance of negative reviews makes it difficult to regain trust and re-brand.
Negative reviews cause the potential of customers to trust a business less.
If your site is having negative or bad reviews then your website rank on Google search engine result pages will automatically decrease.
After knowing the impact of bad reviews on your website or business site, now let's see how you can reduce them.
How to reduce bad reviews from the website?
If you think you're getting bad reviews from your customers on your site, then you can ask every customer about their buying experience. Before they leave any negative review on your site, you ask them to tell you their experience.
You can be the best-rated local business online. And if you're looking for a great way to increase the online presence of your business, then you have to manage, build and market your online reputation from getting bad reviews from customers.
 You can also reduce bad reviews by investing in customer service training for your employees. By this, you will be able to treat each of your customers every time they come to your store or office or visit your website.
If you're getting bad reviews then try to respond as soon as possible. Because when you handle the matter, you will less likely to receive negative reviews on your site. Try to be polite while responding.
Make sure you're paying attention to bad reviews. Generally, people choose to ignore negative review but never do that. Because once you stop paying attention to them, chances you will receive bad reviews in abundance.
Now, let's examine what to do while receiving bad reviews!
What to do when you get bad reviews?
Things that you should do while receiving bad reviews are as follows:
First of all, try not to hyper when you get a bad review from your customers or audience on your website. Handle the matter politely.
You can respond back to bad review publicly. When you post a response to a negative review, it gives you a chance to win the unhappy customer back. This is how you can show others that you value customer satisfaction.
If you want to handle the issue privately then you can reach the customer directly. You can send them a message asking them to call you to discuss the problem. And you can also ask them to update the review to make it a positive one.
So, if you think someone is trying to damage your online reputation then you can alter the customer and go straight to the review site and write a positive review for your site. Choose not to reply to these people.
Try to keep your response polite, civil and kind in nature. And handle the dissatisfaction of the customer. It's important to take the high road when responding to negative reviews.
You need to acknowledge the issue and apologize. When you do apologize and solve the issue, you might change the customer's mind and turn the negative into positive one.
Let's move further as it's time for some tips to eliminate bad reviews!
Some tips to remove bad reviews from website.
Following tips will help you in removing the bad or negative reviews from your website.
Generally, you can't remove bad reviews from your site but yes you can request the webmaster to remove negative reviews. It's upon webmaster how they are taking your request.
Another way to remove negative reviews is by replacing them with a positive one. You can push down negative reviews by adding more positive reviews.
You can also ask your customer or audience to take down the negative review from your site. Make sure you ask them in a polite way.
If you're being honest with your customers and satisfying their needs then your bad review will automatically convert into a positive one.
You should keep one thing in mind that customers write negative reviews for a reason, so try to improve your services rather than removing the bad review from your website.
You need to keep improving to get more positive reviews; if you improve your services then you will not get negative reviews from customers. It's very simple. And you will no need to remove those bad reviews.
Wrap- Up!
I hope, now you have completely understood the impact of bad reviews on your website. Never underestimate bad reviews because they are as crucial as positive reviews. Bad reviews can bring your website's traffic and customers down. Most customers check out reviews when they make any purchase or choose a business. Having a low rank can directly impact your website.
So, if you're also getting bad reviews on your website, you can follow above-mentioned tips to help you get out of the situation. For more info get in touch with us till then keep reading.
---