10 keyword research tips during Covid-19.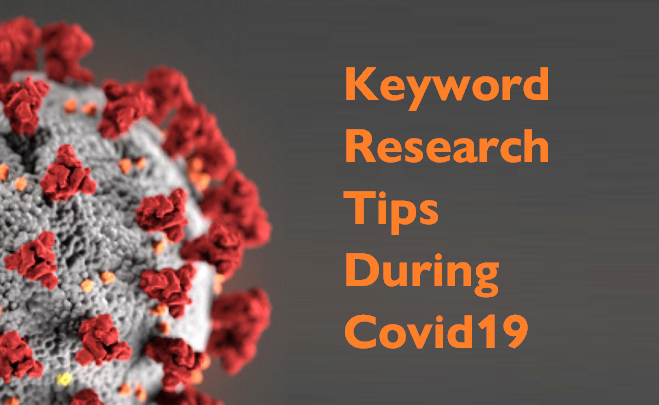 The presence of coronavirus is everywhere right now. We don't know as to when it will go away when the situation will become normal again, and when people will feel free to come out of their house. This pandemic has actually brought a new challenge for us. The way to live, the way we sell products in the market, and much more has been changed. Now consumers are turning to search engines as they're self-quaratined. Marketers need to understand this situation and help consumers find the content that matters most to them during COVID-19.
Therefore, in this article, I am going to highlight the most important keyword research tips. Make sure to read the entire article so you can identify the terms that matter most to your customers.
Let's make a start.
10 important keyword research tips during COVID-19 pandemic
1. Know your customer persona
Your customer persona is the foundation of your marketing strategy. In this pandemic, you need to know how your customers are. Therefore you need to identify your customer beforehand so you can think about what products and services you can provide them in the crisis. You can group your customers to identify common challenges they might be facing and how you can solve their problems with your services.
2. Do listen to your customers
The next tip that comes for keyword research is listening to your customers. If you keep providing products and services to your customers without listening to them then it's worthless for you as well as for your customers. You have to understand their needs and requirements. Once you gather data with your customer support team, you will be able to get more data resources for your keyword research.
3. Make use of Google Trends
Goggle Trends is a free tool developed by Google. It allows you to see "what the world is search for." I guess this is a great tool because it can help you understand the popularity of searches happening over a given time frame. This time you can also see the keyword popularity trending over time. Furthermore, Google Trends can give you important data hints such as interest by region, country, related topic, and related queries which are good when collecting a lot of keyword research data.
4. Use enterprise SEO tool
SEO also plays an important role in finding out relevant keywords for you that are in trend and demand. Search Engine Optimization has always been playing a significant role on your website. No matter whether you get rank, visibility, or traffic to your site, SEO will fulfill all your demands only if you use it effectively. Likewise, in keyword research, SEO becomes an effective tool to examine which keyword people are searching the most.
5. Put keywords in the right place
The next important tip that comes in keyword research is placing the keywords in the right order and in the right direction. If your keywords are not placed in the correct manner, then your website might not able to show the keyword people are searching for. When you use keywords, make sure you put them towards the front of the copy. Writing content around your keywords is an art.
6. Focus on non-coronavirus terms
Today, people are only searching about coronavirus, it affects queries related to tips and much more. And these words are actually trending but you should focus on non-coronavirus terms or keywords. For example, a credit card free waiver, deferred payment, etc. The present economy is slowed down. This is almost like a financial crisis. Therefore, you need to focus on keywords that can help your customers save money.
7. Study your analytics
Google Analytics is an amazing tool that can help you figure out what keywords are working to drive visitors to your site. But you only study keywords when you effectively incorporated them into your website content. Studying analytics is the best keyword research strategy because it can help you measure the success of your campaign.
8. Protecting people from misinformation
It is actually a fact that in this pandemic misinformation is at peak. Many people are spreading misinformation about coronavirus on social media platforms. Furthermore, videos are also being made on coronavirus misinformation. Therefore, you need to produce authentic, relevant, and informative content to provide true information to your audience.
9. Brainstorm topics
Brainstorm topics are those topics that your targeted audience interested in. To find brainstorm topics, Google suggest is a wonderful resource for you. Google will predict queries based on audience patterns to reveal popular search queries for you. Moreover, your website analytics will tell what your customers researching on your website. Therefore, try to write on topics that are related to COVID-19.
10. Use keyword tool to compare search volume
The last point in keyword research is using a keyword tool to analyze the keyword search volume. Google's Keyword Planner is a good tool to help you do so. Moreover, it's a free tool. Whatever keywords you have gathered to target your audience, you can check on Google keyword planner to see the density and search volume. It will give a rough idea to see whether the keyword will get maximum clicks or not.
To conclude
We all know that the present situation is critical for every digital marketer. But to target audience in this pandemic is only possible if you do relevant keyword research. I have already talked about the 10 important tips for keyword research. You can follow them to target your audience.
Kindly comment below to let us know what you want to know next. Till then keep reading and get in touch with us for more interesting articles.
---