What are the best e-commerce marketing tools?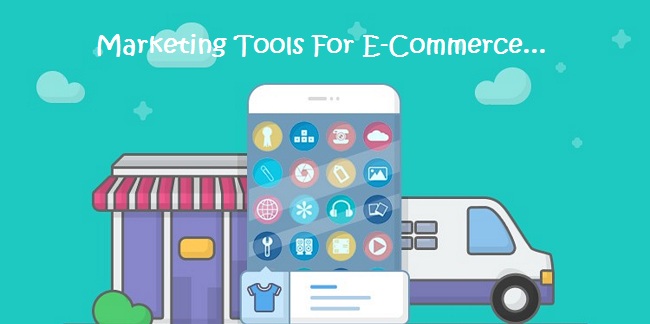 Online marketing has become the biggest trend in today's era. Every business or marketer has shifted his focus from traditional marketing to online marketing i.e. E-Commerce marketing. E-commerce marketing is the modern marketing method that is used by websites and businesses to sell their products electronically. It is a very effective method of buying and selling of products online through other electronic media and devices. E-Commerce marketers use many digital marketing strategies and tools such as social media, search engine marketing, performance marketing, etc.
Furthermore, with the growing internet time, competition has also increased among marketers. E-Commerce marketers are using different types of marketing tools to promote their products in the market. Some marketing tools have worked for them and some have not. So, how to find the best marketing tools for your E-Commerce business? No need to worry! I have a solution.
To generate visitors to your websites organically and turning them into customers. You just need to make use of E-Commerce marketing tools. I am going to share the best E-Commerce marketing tools that will help in your online marketing business. Just go through them once!
Top best e-commerce marketing tools!
Following are the best E-Commerce marketing tools for marketers!
1. Social Media
Social media is one of the best marketing tools for E-Commerce businesses. Social media tools such as Facebook, Twitter, Instagram, Pinterest, and YouTube are used to create awareness, attract customers and interaction with customers. Social media is good for small as well as large scale businesses.
2. Make E-Mail marketing as your focal point
You can say it's a common practice among E-Commerce marketers. What you need to do is to send right mail at the right time to appropriate customers to generate more leads. Through E-mail, you can send weekly and monthly promotional E-Mails to your customers.
3. Google ads
If you want to make your E-Commerce marketing successful then you need to use Google ads/Google Adwords. It will drive more customers to your website. It will also help you target more determined audience based on their location or keywords.
4. SEO tools
Search Engine Optimization (SEO) helps you in setting up your e-commerce website and content. Through SEO, you can easily reach out to people as they actively search the information related to your products and services. It also helps you in improving the visibility of your site within the organic search results.
5. Websites and Blogs
Websites and Blogs are most commonly used by marketers to promote their products online. Your blogs will help customers to know information about your brand product and you can receive feedback through comments. You can also use websites and blogs as media for banner ads and other ad placements.
6. Google Analytics
This tool will help you know the demands of your customers. With the help of Google Analytics statistics, you get to know why customers came to your store in the first place, and how you can attract more of them. It also helps you improve your conversions on PPC ads; you can optimize your site and customers behavior.
In a nutshell, E-Commerce marketing is a general practice in today's era, but what make it successful are its marketing tools. With the help of above E-Commerce marketing tools, you can really make your online business a prosperous one. And don't just leave the customers after purchasing the products. Try to be in touch with them, how? Above-mentioned marketing tools will help you in doing so.
Just try to make use of these tools to elevate your E-Commerce business. For more information get in touch with us.  
---