Ways to use memes as a digital marketing tool?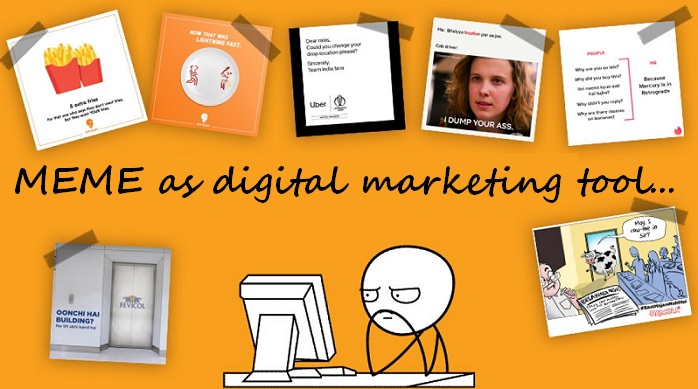 Digital marketing advertisements can be monotonous if you don't add any fun gestures in it, agree with me? You have to because people always want to see ads that are attractive and engaging one. And advertisement is the sole factor to engage people with your products & services. But what you can do to give an engaging effect to your advertisement? Memes affect! Yes, guys, you read it right.
The meme is considering a tool to engage people and make their conversion a fun-loving one. So as a marketer, why don't you try and use memes in your marketing? If you're new to memes advertisement then this article is a worthy one for you. Here you will learn the ways to use memes as a digital marketing tool.
Let's jump in.
Memes advertisement
You might have seen memes on social media platforms which usually take the form of GIF or static picture. The pictures are somewhat funny one with text layered on top of the image. Memes are basically used to make conversation an engaging and interesting one. However, now marketers are using memes as a digital marketing tool to engage with their audience.
In digital marketing, marketers are giving new life into their marketing strategy by using memes. Moreover, memes are highly visual. They are a great tool to attract the attention of people.
Move further to learn the ways to use memes in marketing.
Effective ways to use memes as a digital marketing tool.
Below mentioned are great way to use memes in your marketing and make it a worthy one.
1. Have a complete knowledge of your audience
The very first tip for memes advertising is to know your audience completely. You have to have complete knowledge of your audience. You must know that memes appeal more to younger audiences because they spend more time on social media. If you're targeting the old generation audience then creating memes will be hard for you. Therefore creating a good meme is to have knowledge of your target audience.
2. Give more authentic look to popular memes
Showing the audience the same memes, again and again, might lose their interest. You need to engage your audience by giving them a few good laughs. If you think you can increase brand awareness with few popular memes then you're mistaken. Somehow you need to give your own ingredient to your meme and make it an original one. Don't repost the memes; try to be creative with them. You can add a brand name, slogan, mission, or a picture of your brand product.
3. Your memes must match your brand voice
As a brand, you must ensure that the memes you're creating are matching with your brand's voice. If you're creating memes that don't match with your brand then it's worthless to create such memes. Understand that memes can expand your brand's reach especially if your target buyer is a millennial or younger. So make sure your memes are resonating with your brand's products or services.
4. Memes usually have limited lifespans
This is also an important point to consider while making meme as your marketing tool. Don't just think that meme is the only option left to target audience. No guys, because memes usually have limited lifespans. You can use memes for short-term marketing strategy and bring brand awareness in online spaces. You need to create new memes with different images and texts once the old memes are of no use and not bringing you results.
5. Follow what's trending
People always prefer and like what's trending in the market. If you're advertising with memes then you must be up to date and follow the trend. The following trend means more chances of engaging with the audience and converting them into potential customers. In case you aren't aware of what's trending then you can watch out for Twitter, Facebook, and Instagram trends to find out what people are talking about.
The bottom line
In the digital marketing industry, memes have become an effective marketing tool to advertise products or services. They are always in popularity since they're launched. Many brands like Gucci, Seamless, BarkBox, and many others have been using memes as an effective tool for their marketing strategy. You can also add glory to your business if you know the right use of memes. You just need to follow the tips which I have discussed above.
Kindly comment below to let us know how you find this article. Get in touch with us, till then keep reading and keep sharing.
---