Use an agile approach to boost your marketing.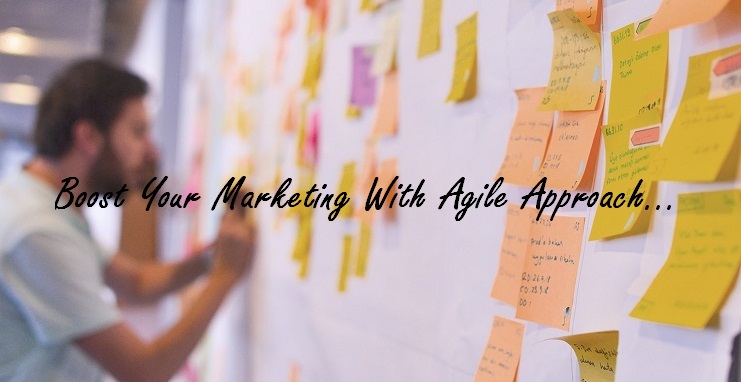 Being a business, you have an urge to achieve a lot within a short period at a much faster rate without sacrificing the quality of the business. Isn't it? In a very short period, you want more customers, more growth, more visibility, and have more satisfied employees who can deal with internal and external challenges. Oh My God! This is so much you want to have in a short time. Well, there is no harm in dreaming of achieving marketing goals. But here it is about a short time, short period, or limited time that you are focusing on. How is it possible? Adopting the agile marketing approach might be the best answer to that question.
Any marketers can't afford to make 12 months marketing plan and review them annually. Here comes the agile approach of marketing which enables them to review their performance every 2 weeks. So let's learn the use of an agile approach to boost marketing.
Effective ways to use an agile marketing approach to boost business
The agile marketing approach is based on setting up goals and accomplishing targeted tasks. If you want to achieve continuous improvement in your business, you must use the agile approach given below.
#Goals of the business
The very first step of an agile marketing approach depends upon the goals of the business. The agile process depends upon setting up SMART goals such as achievable, specific, relevant, measurable, and timely. Every goal of the business should be given equal priority and revise them in the future. If you focus on goals, you will be able to achieve targeted tasks. In the agile marketing approach, goals are a very important and basic part. So focus on it.
#Key Performance Indicators (KPIs)
KPIs are a very important indicator to make sure that you can accomplish any business objective. They help you understand the performance and health of your business so that you can make critical adjustments to achieve business goals. Therefore, as an agile approach, you should establish KPIs to know your business metrics. It will also help you test your Launchpad. Moreover, with the help of KPIs, you will be able to make significant adjustments in your iteration.
#Personas
So the next step comes in the agile approach is personas. The persona here describes as your ideal audience. Every business should know about their audience to target them and deliver them the valuable products and services. Therefore, the persona involves developing descriptions of your ideal audience members. They will guide the development of content and feature in your Launchpad. Try and target your ideal audience and get a good persona of them in your business.
#Jobs to be done (JTBD)
The jobs to be done (JTBD) are the list of tasks you need to perform in the future or complete them. The tasks in the list of JTBD is compiled during frequent meetings. Moreover, the JTBD also includes wish list tasks that you require to save for future time and fulfill them. So this is a good way to make a list of future tasks and during meetings.
#Journey mapping
As a marketer, you want your prospects to be with you for the long-term. Right. Is it as simple as you think? No, you have to make a long term strategy with future goals and complete tasks to be on the track. Without having proper long-term plan for the business, you can't attract customers towards your business. Therefore try to map out a long-term marketing strategy for your business.
#Sprint
As the word agile means quick, so sprint is the right word to fit for agile. It is because the agile process is like sprint rather than a marathon. Sprints are quick and short bursts of activities that can help your team to take a website to live in a matter of weeks.
The bottom line
Digital marketing continues to change and adapt new and innovative ways to market products and services. But as a marketer, you must prepare yourself for the future also. Therefore, the agile marketing approach is the future of any business whoever wants to see real results at a fast speed. So don't forget to follow the agile approach to boost your marketing business in the future.
For more interesting articles subscribe our website, you can also comment below if you want to know anything else.
---