To solve your marketing problem use Design Thinking.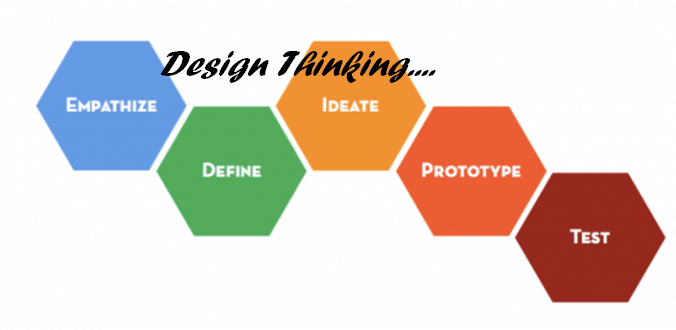 Digital marketing is a dynamic field that is surrounded by innovations and techniques that keep on changing. It means without having proper understanding, knowledge, and skills you'll not be able to solve your marketing problems. To run any business (not just marketing) it's important to better identify, understand, and address the problems that help businesses and their customers. You know guys you can achieve all these in one go? And it is possible through "Design Thinking." To solve your marketing problem you must learn about design thinking and know the process of it to use in your marketing.
Are you gear up to get in the pool of design thinking? Let's get started now.
First, what is Design Thinking?
Design thinking is basically the most widely used method of problem-solving among UX designers. Wikipedia defines, "design thinking refers to the cognitive, strategic, and practical, processes by which design concepts are developed by designers and design teams. Put simply, design thinking is a problem-solving technique that is supposed to solve a problem innovatively.
In addition, design thinking is a creative and practical process, by which marketers aim to find a solution to a problem.
Let's learn the Design Thinking process to implement in marketing
Now that you have understood the definition of design thinking, it's time to move on and have a look at the design thinking process. So this process is for you if you really want to solve real problems for real people. Just have a look at them below:
– Understand and Empathize
This is the first step in the design thinking process. The purpose of this step is to understand what people care about the most and for this, you need to emphasize with them, with their situation, and complexity of their problem. You have to speak to your audience, observe them, and relate to their problems emotionally. It only means you understand their thinking and feelings. If you do so, you will surely be able to focus on the right problem.
– Define the problem
After being empathized with your audience now it's time to define and solve their problem. So how do you solve the problem? You can conduct online campaigns and figure out what kind of online content will solve their problem(s). Basically, you collect information during the empathize component and define the problem. Here social media plays a great role as you can conduct online campaigns and address people about their problems and solve them.
– Ideate (making an idea)
The third step is all about focusing on the problem and find solutions with creative and innovative ways. You need to think out of the box to form better ideas because it's important to be an open-mined while you're ideating. You need to come up with end numbers of possible solutions as possible. It is also because you never know which idea can work for you. In this step, the main focus is to ideate the problem with different innovative solutions.
– Prototype
So after thinking about a lot of ideas now, it's time to take the best solution and build out a prototype. The objective of the prototype here is to create a version of your solution so that you can test it later. Basically, you connect the dots, sketch up the final solution and build a real prototype that can be good enough to be tested.
– Test
The final step in the process of design thinking is Test. So after ideating, and prototyping your idea, it's time to test it. You need to understand one thing that if people are not linking your ideas then you no need to defend it. Here the point is to learn what works and what doesn't work for your marketing and customers. Furthermore, you can do A/B testing and try out various different approaches like videos, images, blogs, infographics, etc.
The bottom line
Finally, I can say that design thinking procedure is not just useful for UX designers but also for people who are into digital marketing. I know building a website, a product, or its reputation in the market takes time and proper investment. So trying out this design thinking process in your marketing, you will surely be able to grow your business at a great level and build yourself as a brand in the market.
Guys, you just need to understand your customers' interests, preferences, and their problem and bring out the right possible solution. For more updates get in touch with us till then keep reading.
---