Rules of Digital Marketing You Must Have to Follow.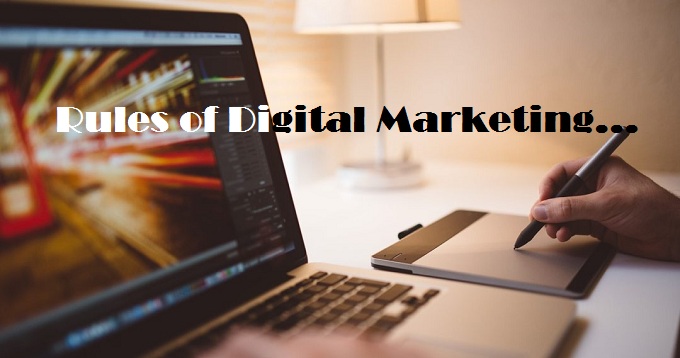 Digital marketing is all about two-way communication. Many marketers are using digital marketing platforms to promote their brand products in the market. And with the growing technology and competition, it is becoming more popular and important day by day. Marketing all over the world is getting depends on digital technology as it allows the track and target aspects like Return on Investment (ROI) more accurately rather than traditional marketing channels.
Nevertheless, sometimes digital marketers fail to promote their products on the digital marketing platform. Why? It's simply because they're not following the digital marketing rules for successful efforts.
So, I am going to highlight below some golden rules of digital marketing that every digital marketer should follow while promoting his brand product online.
Some Golden Rules of Digital Marketing That You Need to Follow
1. Focus on your target audience
Your target audience is what keeps your business going on. And if we talk about digital marketing then is the social place where you focus your audience online. You need to go through grip on how your target audience is. The process of creating buyers persona begins with getting intimate with the people that you want to engage.
2. Demonstrate your skills
If you want to make your digital marketing business successful then you must show your skills on the public platform. To build awareness of your brand, experiment and targeted media such as paid ads and SEO initiatives. Doing this will enhance a consistent campaign.
3. Jump into social media
Social media is the biggest part of digital marketing. It is very helpful if your clients have a well-established account on Facebook, Twitter, Instagram, etc. Modify your digital marketing campaign for each of these platforms so that you can create interest in the products you are marketing in creative ways.
4. Clearly communicate your role
Digital marketing is all about communication. If you're not able to communicate your role properly then you can't think of getting success in digital marketing. Make sure your audience must understand how you will use your skills on multiple platforms in order to reach out to customers.
5. Know about your competitors
I am not asking you to obsess over them. It is essential to have an understanding of what your competitors are throwing at your target audience. You just need to have an awareness of what they are doing, but you need to be different. Small-small things will differentiate you from your competitors and this is why many customers will choose you.
6. Use creativity
Almost every business is using digital marketing campaign, but the one who grabs your attention is the creativity used by you in your marketing. For that you need to know more about your audience, you can inject your creativity to build a campaign that will grasp your audience's attention and drive both interaction and sales.
7. Tell a good story
Your brand is your story. Make sure you tell a story in such an interesting way to intrigue deeply your customers and make them keep coming to you again and again. You can connect with them on a personal level through your own story and offer solutions to their problems by relating to their pains.
Conclusion!
Digital marketing is really a broad category for marketers to promote their products online. It is a very massive field, and you need to establish among your markets and consumers where the best focus must be placed, but there are chances that you might not get success in digital marketing. So, if you want to make your business successful then you must follow above digital marketing rules.
These rules will help you in getting more and more business lead generations. For more articles get in touch with us we will be back with another interesting article.
---