Reason Why Marketing Promotions Fail Sometimes?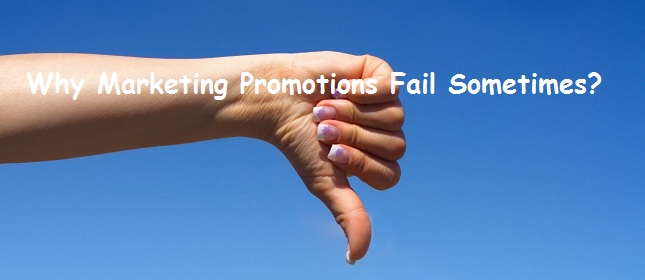 Everyone knows that failure is an intrinsic part of success, but how do we make sure that we don't replicate the same mistakes and aim for successful marketing promotions. Marketing campaigns are one of the most essential elements of the business. Irrespective of how good or bad your products or services are, if you can't take them to your target audience then they are of no use.
A marketing campaign or promotion is a kind of platform that helps you to showcase your products and services to customers. Marketing promotions are of various types; however, the only aim of these campaigns is to create public awareness for your products or services and to aware more customers towards your business.
Nevertheless, there are times when some marketing promotions fail, what goes wrong, what happens, maybe you don't know exactly, right!
Well, it's not a secret, life is full of failures and each failure opens up new horizons for you to conquer, and the same can be applied to your marketing campaign as well. So instead of making sorrow about your failure of the marketing campaign, you should find the real reason behind the failure and improvise to make your promotion a big hit.
So now I am going to tell you about the major reasons for unsuccessful marketing promotions.
Some reasons for failing Marketing Promotion!
– Fail to understand the target audience
Before promoting your business products, you need to first understand your target audience, their likes & dislikes. Understand your audience is very necessary. You just need to have a fair idea about the audience and how fair your product will do in front of them.
– Major focus on wrong goals
Focus on one goal is good but people fail to keep their focus in the right direction. It is often observed that marketers focus on reach rather than the target. When you put the target preference above the reach factor, then you can make sure that your marketing campaign is reaching a qualified audience.
– Lack of Creativity
Creativity is an important factor for any marketing campaign. As there is fierce competition in the market, you need to make sure you use creativity in your market promotion. Without creativity, your campaign goes straight into the garbage trunk.
– Insufficient Research
Before conducting a market campaign you need to research to bring new ideas and concepts for your business. Ample research is crucial to the success of a marketing campaign. You can research through surveys and consumer panels.
– Circulation of wrong messages
It can be the biggest error in your marketing campaign. Always make sure your message convey directly to your audience because if it is not reaching the right audience, it will not produce the desired results for you. Try to convey your message to the right people.
– Poor Campaign time
There are chances of failing your marketing campaign if the time of your campaign is not right or not suitable for people. For example, can you advertise on air conditioner in winters? Of course 'NO'. The advertisement should come in summers so that people understand the value of AC and eagerly purchase it. So timings are really essential for market promotion.
To sum up!
Making a successful marketing campaign or promotion is not tough. To make your market campaign successful you need to focus on the mentioned points discussed above. Maybe your failed marketing campaign can be the result of a combination of the factors that have been discussed above.
So now it's up to you how you decide and make marketing strategies to make your marketing campaign successful. For more updates get in touch with us, till then keep reading.
---