Programmatic Ads in B2B firms.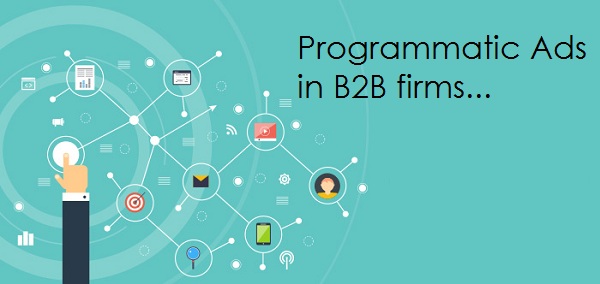 In the present digital marketing world, the most effective and fastest-growing area of advertisement is programmatic advertising. You can say that it's the largest motor of the online advertising market and the enlarging area of AdTech. Moreover, it connects advertisers with publishers to get targeted, relevant content in front of the most appropriate audience demographics, effectively, and seamlessly.
Therefore, the value of programmatic ads is well known in B2B firms. According to the report, till now programmatic ads have worked well for B2C firms, but the right data is essential to enable B2B companies to address their target audience and this can only be done via programmatic advertising.
Let's understand the concept of Programmatic Ads first
Programmatic advertising simply means automated advertising without human operations. However, a programmatic ad is a process of buying and selling of ad inventory using software or platforms to purchase digital ad space.
Furthermore, programmatic advertising is the use of data-driven software to automate the real-time buying and placement of digital ads which include an online desktop display, mobile, video, etc.
Programmatic advertising is different from traditional advertising which involves estimates, face-to-face interactions, and REPs. Programmatic advertising uses artificial intelligence (AI) and algorithms to buy and optimize ads in real-time.
How programmatic ads work for B2B firms?  
Programmatic advertising works by collecting audience data to target more precisely. It also facilitates the process of buying ad inventory on the open market and provides the ability to reach your audience due to the interrogation of data management platforms (DMPs). In programmatic ads, DMPs gather and examine a substantial amount of cookie data and then allow the marketer to make more informed decisions about their target audience.
Importance of programmatic ads in B2B firms
We know that marketers have manually managed advertisements since the beginning of time. So why do firms consider making changes in the advertisement or switching to programmatic advertisements? Let's know it from the following given points:
– Huge returns
Showing higher quality ads to your targeted audience not only fetch you more customers but delivers you high ROI. 55% of B2B marketers believe that the biggest advantage of implementing programmatic advertising is cost-effective. And 70% of marketers said that programmatic yields a greater return on investment than traditional ad buying.
– Rapid optimization
The programmatic advertisement provides your ad campaigns a simple solution to optimizing them. Unlike traditional advertising methods, programmatic constantly provide you data and insights regarding the performance of a campaign. This method a marketer can use to make changes in his ad campaign.
– Great targeted reach
This is the great benefit of programmatic ad which allows you to the hyper-target audience on at large scale. With the help of artificial intelligence (AI), programmatic possesses a vast amount of valuable data to more accurately serve relevant messages to the right audience, in the right location, at the right time.
– Efficiency
Programmatic advertising has the ability to effectively improve your marketing ad campaigns. Unlike traditional advertising, programmatic ads effectively save marketers time, energy, and money. All this will ultimately increase the chances of success.
Bringing it together!
Programmatic advertising is booming in the digital marketing industry and helping B2B marketing firms to efficiently work to get the most out of their marketing ad campaigns.
After reading this blog, you now have some ideas on programmatic advertising and how it works and its importance in B2B firms. Once you implement programmatic advertising in your marketing strategy, you will surely gonna have benefited some it.
If you are looking for SEO services then you are at right place. Kindly get in touch with us for more updates.
---