Now it's easy to edit your Google My Business listing directly from Search & Maps.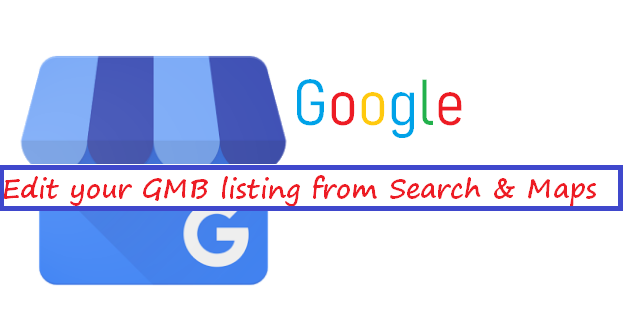 Google My Business – a vast online marketing platform for your business to manage online presence worldwide. Every listed business on Google My Business has gained a lot in terms of presence, traffic, conversion rate, and revenue to the site. The interesting thing is that it's free which makes it an affordable marketing tool for small and big businesses alike. Those people who are already using it might know about the recent Google My Business update. The update goes like – you can edit your GMB listing directly from Search & Maps.
So are you aware of this update? If not, then this article is for you. Read it till the end to enlighten yourself about the recent update of GMB.
Let's make a start with the update intro.
GMB upgraded its editing feature in Search & Maps
A few days back, Google announced that now people can edit their Google My Business listing directly from Google Search and Google Maps. However, this is nothing new because the same feature was launched back in 2017 but now Google enhanced the user interface and made some additional improvements to provide a better user experience.
Is there any difference between the 2017 update and recent update? Yes, there is some difference which Google tells. Google says, "Previously, merchants could update their Business Profile from Search but had to use Google My Business to access some of the other features. With these feature updates, we're meeting merchants where they are and giving them the ability to view how their Business Profile appears to the public, update their presence, and connect with customers — all in one place."
In fact, over the years a lot of things have changed but Google has pointed out some new specific updates about GMB. Let's look at the list below.
Some of the recent update of Google My Business given below
Any marketer on Google My Business can update their listing not just on Search, but also on the Google Maps app. (The feature was available in iOS as well as Android)
The simple menu is added on Search & Maps having 3 sections: Edit your profile, Promote your Business, and connect with Customers.
A new Performance Page is also added that lets merchant see their customer interactions directly in Search & Maps. (Earlier merchants would go to GMB to see this information)
Two news ways added to easily access your Business Profile on Search: first is by searching the name of the business (don't include your business address in your search), and secondly, by searching for "my business." On the Map apps, there is a new item in the Account Menu called "Your Business Profile" which brings you directly to your Business Profile.
Now in the main menu, 'Q&A' is also available. It gives merchants direct access to questions that customers have asked about their business.
So above these new recent updates in Google My Business shows that it is easy for you to edit your GMB profile directly from Search & Maps.
Why exactly Google adds new option to edit GMB profile from Search & Maps?
We all are aware of the current situation of the world. The COVID-19 pandemic is ruining the businesses worldwide. Now the only source left for marketers to run their business is an online platform. Yes, online platform and Google My Business is exactly what gives the opportunity to marketers.
This is the reason why GMB is getting new features to edit business profiles directly from Search & Maps. Up till now, you needed to log into the separate Google My Business platform, but now Google is making it easier for business owners to manage their presence in many other ways.
Let's dig deeper to learn how to edit business profile on Search & Maps.
Follow the steps to edit your GMB profile on 'Search'
The first step is to sign in to Google Account you use to sign up for Google My Business.
Search on Google to find your business profile. Only in English, you can search for 'my business'
If you need to update your business profile, select View profile
Finally, in the menu above the search results choose Edit profile.
Now edit your Business Profile on Google Maps
As a business owner, if you have more than one verified listings, you can edit your info directly from your Business Profile on the Google Maps App.
First, whatever device you have a tablet, laptop, and Android Phone, just open the Google Maps App. But make sure you are logged in with the account you used to sign up for Google My Business.
Now open your Business Profile, in the top right, tap Account circle – Your Business Profile.
Finally, click Edit profile and select from the available options.
After all the steps, you can see your edits on your Business Profile immediately.
Final words
Google My Business is an amazing platform to manage your online business presence. The platform always introduces new features to enhance user experience and this time also you get marvelous updates to edit your business profile directly from Search & Maps. So follow the steps to edit the profile via Search & Maps which I have mentioned above. Let us know how did you find this article. 
To keep yourself updated subscribe our website till then keep reading and keep sharing.
---