Now Google 'Call Ads' will support 'Visit Website' Link.
The tech giant Google updates and new features are the surprising ones always. Sometimes new updates give a shock to people and sometimes bring new opportunities for them. This time the new update is for businesses that rely on phone calls for new sales. Wondering whether the update is a shocking or good one? Well, it's good news for you guys as now you will get more qualified leads. Yes, you read it right. Recently, Google has added 'Visit Website' link option to Google Call Ads.
Are you all gear up to know about it in detail? Continue read the article below.
Google introduces 'Visit Website Link' to Google Call Ads.
Last week of this month, Google made an announcement to add the Visit Website link to Google Call Ads. Here is the statement of Google, "we aim to give your customers more flexibility in how they connect with your business, you can now include an optional "Visit Website" link with your Call-only Ads."
It is clear that now Call Ads will support optional website links. Basically, it's a way to track the users on your Call Ads effectively. By providing this opportunity to marketers, Google is making easy for them to target customers and get more lead generations.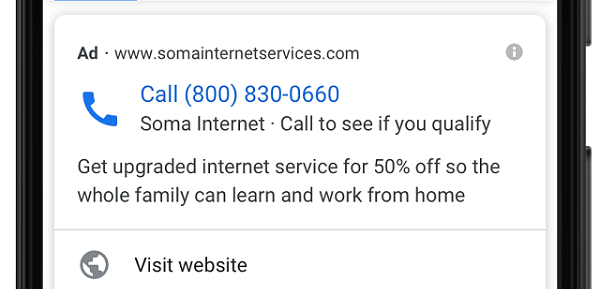 How 'Visit Website' link will work?
Many businesses are not efficient enough to target audience and generate sales leads through calls. Therefore the 'Visit Website' link comes as an opportunity for marketers to generate sales leads. Here is the work of the Visit Website link.
First of all, the 'Visit Website' link will expand your Call Ads by providing you greater visibility on the search results page. When customers will tap on the 'Visit Website' link, they will land directly to your website. However, taps on the headlines will still lead to a call. Moreover, you have chances to get accidental calls and more qualified leads. It means now you can engage customers who are interested in visiting your website (and were not interested in your brand previously).
Now time to learn on how to use this new feature.
The process of using this new feature is quite simple. It's not like rocket science. I share what Google said about using this new feature. As per Google, "To get started with the optional "Visit Website" link, include a Final URL when creating new Call Ads. If you have existing Call Ads, add a Final URL to start taking advantage of the website link."
So guys, if you have existing Call Ads then simply add the final URL. In case, you don't have Call Ads then you need to create it first and then include the final URL to it.
What this new feature means for advertisers?
After reading out half of the article, now you know that the new feature 'Visit Website' link is beneficial for businesses to generate more sales leads. But advertisers will also benefit from it. You know how? Advertisers who will use this feature will have increased visibility on the search results page.
The visibility on the website comes when your ads appear bigger on-site. And the 'Visit Website' link does the same thing. It basically makes your ad bigger and takes up more space above the fold. So when users will tap on the 'Visit Website' link they will come directly to the advertiser's site.
Google's purpose to add 'Visit Website' link to Call Ads
Are you thinking that Google's purpose is to enhance businesses and help them get more sales to call leads? No guys, this is not the only purpose. Actually, Google claims that by including the option 'Visit Website' link will reduce the number of accidental calls that advertisers receive. Therefore, it will improve the quality of leads.
Moreover, now you can engage with the audience and interact with users who don't want to call you. Thereby, it reduces the click fraud rates too.
Final words!
Businesses that are dependent on call leads must be having relief after reading out this article. It is quite challenging to manage call volumes operating on limited hours. Therefore, to provide your customers with more flexibility to connect with you, you can now include an optional 'Visit Website' link with your Call Ads. I hope this guide has enough information for you to grasp knowledge on the 'Visit Website' link feature added in Call Ads.
For more updates get in touch with us till then keep reading and keep sharing.
---