How important Doorway pages are for your website?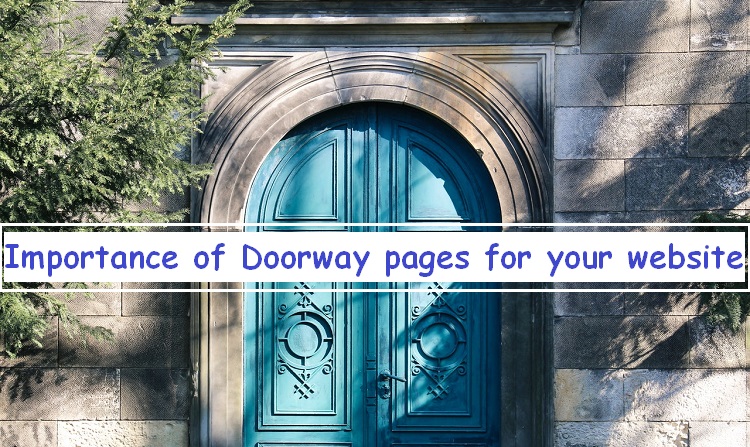 If you are an operator of the website, your first goal would be to rank higher on search engine results, right! Is there anyone who doesn't want to rank their site on Google's SERP? The obvious answer would be no one. However, the effective way to rank a site on search engine results is SEO or Search Engine Optimization. But what adds more value in SEO to get high rank on Google are Doorway pages in SEO. Are you aware of it? If you are not aware of what doorway page is then we will try our best to boost your knowledge with this article.
Here you will learn about whether the doorway pages are important for your website or not. So let's make a start without wasting further time.
First have a look at the definition about doorway page
In very simple words, doorway pages are web pages that are specifically designed to rank well for particular keyword phrases in search engine results pages (SERP), and they also provide little value to the searchers. Doorway pages serve as an entry point through which visitors pass to the main content.
Moreover, in SEO, a doorway page is used as a technique to grab the attention of a search engine's spider by containing keywords and phrases that the spider will pick up on. Basically, doorway pages are programmed with a fast Meta refresh or a redirect that takes users to the page where the website actually wants them to visit. There are many webmasters who use this to secure the top ranks on the search engines.
Let's understand doorway pages with examples below
It is very crucial for you to know how doorway pages are different from regular landing pages. Well, you can think of doorway pages as multiple landing pages all leading to the same products or end goals. So now have a look at some of the examples below of doorway pages.
Pages with lots of keyword variations, links, and ads that the only exit to direct users to other web pages.
Multiple sites that enable users to land on the same content (used by franchises sites)
Having separate domain names that target specific geographical locations and reroute visitors to a single page.
Multiple pages with only minimal variations in their content are indexed individually.
Sometimes doorway pages contain hidden texts in order to load the page for specific keywords or phrases.
Moving on to know the importance of doorway pages in your site
I have already told you that the doorway page is a technique that people use in SEO to fetch higher rankings. There are many advantages of using doorways pages to your site. Here these are:
The first advantage of using doorway pages is that they bring you instant results about your site.
Doorway pages are significant for representing relevant portion or page-specific website.
When using doorway pages, you are enabling Google to index your pages quickly. And after that, you get a higher ranking on search results on Google. It is only because doorway pages are indexed very quickly.
It help users to redirect to a single page instead of having so many other locations.
Having doorways pages on-site means the ability to drive more instant, quality, genuine, and fast traffic to your site.
Users can manually click through to the next site with the help of doorway pages.
Wanna know the difference between landing pages and doorway pages?
Why I am talking about the difference between these pages? It is because there are many people who may get confused between these two. And there are obvious reasons for that as they both direct users to another page. However, the main thing which differs these two is that landing pages are the same as selling pages that direct users to any vital pages of the website. On the other hand, doorway pages basically direct users to a destination page where the website owners or online marketers actually want users to visit. Therefore, don't let these two terms mislead you.
Final words
Doorway pages are good ranking factor for your site as they can really secure a good and top rank for you in the search engine results. The only condition here is you need to use them smartly and creatively. So if you want to get a good rank of your site make sure you use doorway pages for the welfare of your website. So what are you waiting for? Go ahead and improve the rank of your website. But don't overuse them otherwise Google will penalize your website.
For more interesting articles subscribe our website, till then keep reading and keep sharing.
---