Google is planning on expanding the Rich Results Testing Tool.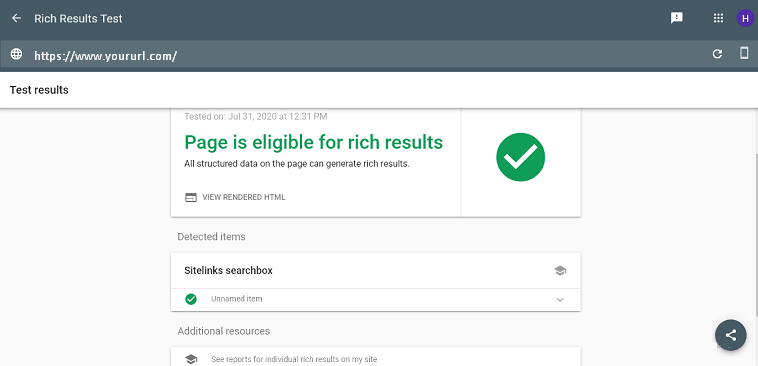 Hello guys, my today's article is on the update of the Rich Results Testing Tool. If you read my articles, then you should know that last month Google introduced the Rich Results Testing Tool in the beta version to replace Structured Data Testing Tool. I talked about this in my previous articles; you can read if you haven't. So if I am talking about it again then what should it mean? Any guesses? Yes, you are right if you think that a new update regarding Rich Results Testing Tool has come. Are you curious to know what the update is all about? If yes, just keep reading the article. Like always, I will start with the basics, in case you don't know then read below.
What is Rich Results Testing Tool?
Put simply, Rich Results Testing Tool is basically an enhanced result in Google search with extra visuals, images, carousels, non-text elements, and many interactive features. Earlier, rich results were known as rich snippets, rich cards or enriched results. But what is 'test' in the rich results? The test means that rich results will test your publicly accessible page to see which rich results can be generated by the structure data it contains.
Have a look at the history – The Rich Results Test launched in December 2017 as an upgrade for the Structured Data Testing Tool, which launched in 2015.
Let's move on to the update below.
Google is to expand the rich results testing tool
A few weeks ago, Google announced that the Rich Results Testing Tool is out of beta. And the Structured Data Testing Tool will be eventually deprecated. In fact, SEOs did not like this news about Structured Data being deprecated and now it seems like Google heard their feedback and planning to enhance the Rich Results Testing Tool. In this context, Google's John Muller said, "we are planning on expanding the Rich Results Testing Tool."
Actually, the Structured Data Testing Tool gave technical debugging feedback on all types of structured data issues. However, Rich Results Testing Tool only provides feedback on structured data that Google Search, many show in Google's search results. It simply means SEOs want more, not less.
Read the statement of John Muller in a webmaster video hangout.
Muller was hearing a lot of feedback about rich results, he said, "lots of people have been very vocal about wanting the Structured Data Testing Tool to remain." This is the reason he planned to expand the tool. He says, "We are planning on expanding the Rich Results Testing Tool. We've been looking at all the feedback that we're getting where people are like oh this is like terrible Google because this one uses case I have only works in the Structured Data Testing Tool. And we try to take that kind of feedback to understand what it is that people are trying to do and to make sure that we can implement that with the Rich Results Testing Tool."
Why John Muller is focusing on expanding Rich Results Tools?
It is true that Muller's entire focus has shifted towards rich results and is fully to deprecate structured data testing tool. Why he does so? Read his statement to know. He said, "I think it's something from a technical point of view it makes sense for the team to focus on one tool rather than two tools. And one of the pieces of feedback we've received with Structured Data, in general, is that it's sometimes hard for people to understand which types of structured data actually have an effect in search. And that's why we focus on the Rich Results Tool which focuses on the things that we would show as Google in the search results. So that's kind of the background there."
After reading the statement I hope you got to know that John Muller only wants to provide a friendly user experience with this new rich results tool. He also said that the structured data tool is a little complicated in using which people might find it difficult.
Below section will help you understand why Muller said so.
Google said new tool will serve you better than structured data tool.
The Rich Results Test Tool shows which search feature enhancements are valid for the markup you are providing.
It supports both mobile and desktop versions of a result.
The tool is fully integrated with Search Console reports.
It can handle dynamically loaded structured data markup more effectively.
Rich Results help you test a code snippet or a URL to a page.
John Muller asks people give feedback to Google
About the new update of the Rich Results Tool, Muller has asked people that if you have any inquiry or feedback to give regarding the new tool. Then you can send it to John on Twitter or via the feedback button in Search Console.
However, Muller clearly said that if you still want a Structured Data Testing Tool or any improvement in the Rich Results Testing Tool, then tell Google why. He said that don't complain rather give specific use cases that make sense.
Further, John Muller said, "Also the Structured Data Tool is not going away like just now. So it's not that you urgently have to jump over. But by all means, make sure to send us feedback if there's something specific that you will miss if the Structured Data Testing Tool goes away. And try to make that feedback as actionable and as understandable as possible. Sometimes we just get feedback that's like oh Google you're terrible it's like you shouldn't do this and take away our toys but you don't tell us what we should change and we can't really work with that kind of feedback. So make sure that the feedback is something that we can take to the team and say look at this smart person here with this smart piece of feedback about their specific use case makes total sense we should make sure that this works. So that's kind of what we would like."
Final words
So, guys, I just want to say that whatever Google does, does for some specific and positive reasons. The Rich Results Testing Tool is updated just to provide you a better experience on Google so that your content easily gets visible on search results. In case, you are still not happy then you can send feedback to Google but don't complain as Muller said. Your feedback should be genuine and relevant enough to get into consideration.
Subscribe our website to get more informative articles, till then keep reading and keep sharing.
---