Do you know about "POSITION 0" in Google ranking?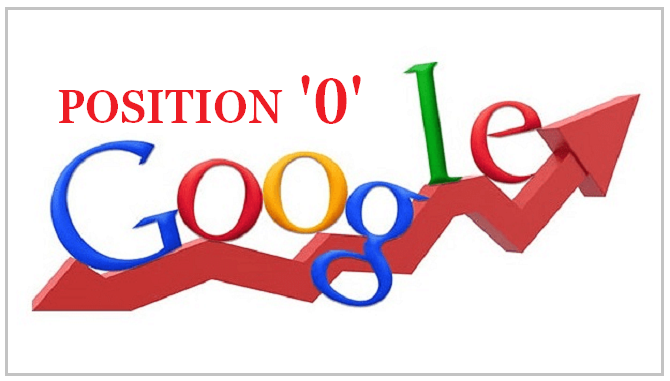 Anybody in the digital marketing field always craves getting the highest ranking on the Google search results page. No matter whether it's about academics or marketing, we all want to be rank on the number 1 position, right! But if say, rather than running behind getting rank 1 on Google, why not chase for rank 0?
What the heck I am talking about? This is your question right. Well, you no need to scratch your head. I am not here to puzzle you of course. But you might get puzzled the way I am telling you to chase for rank 0 on Google. Guys, if you don't know then let me tell you that position 0 on Google is very like icing on the cake. It is because position 0 is much better than position 1. Sounds interesting, right!
Don't you want to know what position 0 is about? Yes, then keep your eye balls here. Let me start the article with the concept of position 0. Here we go!
What is "Position 0" on Google ranking?
Don't get shocked if I say position 0 on Google ranking is featured snippets. Boom! Yes guys, it is true. Position 0 on Google is also known as featured snippets. Rank 0 is the highest-ranking results on the Google Search Engine Results Page (SERP). It is found above all the organic search results and just below of any paid advertisement. If you're familiar with the featured snippets then it's easy to understand about position 0 on Google ranking.
But why it is called position 0? It is because feature snippets appear at the top of SERPs and its position is above the normal search results, including position 1, that's why it is known as position 0.
So do you love position 0? Of course, you would. Let me also tell you that majority of marketers love position 0 because of its visibility. When you get featured snippet on your content, it will increase organic traffic to your website. Your result will take up a large amount of space on the results page that people can't miss. According to a HubSpot study, they saw a 114% increase in CTR for featured snippet results in position 0.
What are the types of featured snippets?
Now you know that featured snippets and position 0 are the same. So let's see what are the types of featured snippets. Here is the list, just have a look.
List snippets (10.77%)
YouTube snippets (>1%)
Paragraph snippets (81.95%)
Table snippets (7.28%)
If you look at the percentage then paragraph snippets are the most common ones. Therefore, you can use the list within your content is a great way to help you gain rank 0. However, don't make a mistake of mixing content otherwise Google will not rank your any of the content. So make a wise decision.
How to get "Position 0" for your website?
By now you know that rank 0 is the best position on Google's search results page. Therefore, you need plenty of research to gain a rank 0 results. So follow the steps below to get the rank 0 on Google.
First of all, you need to create content after doing keyword research. You can use the Adwords Keyword Planner tool to search for long-tail keywords and phrases that are relevant to the services you offer.
Now try to search for queries related to your keyword on Google. It will give you some hint about the keyword that you should target.
After keyword research, examine why the page is ranking on such and such position. And adjust your content to match or choose a style of the featured snippet to optimize for it if there isn't any.
Finally, analyze your answer whether they are concise or not and try to keep your paragraph to less than 50 words.
Guys, these are the steps for optimizing your content to rank for featured snippets.
Summing up
Getting the rank 0 on Google is the dream of many marketers. Though it will take your time and efforts to appear on Google's search results. You just need to follow the steps mentioned above. Content optimization is the only way to make your content visible on featured snippets. Therefore, consider featured snippets as an addition to your current SEO process, rather than being the main feature. I hope the article was informative for you.
For more informative articles get in touch with us, till then keep reading and keep sharing.
---