Digital marketing tactics you need in 2020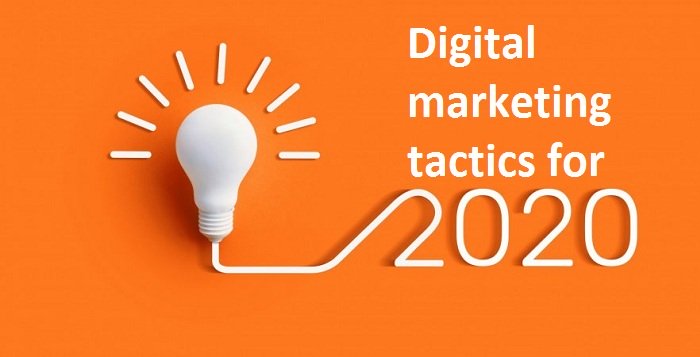 Marketing has immensely changed the world in the last five years than in the last fifty decades. This rapid growth in digital marketing is turning a world into a global village. The rapid growth in the digital world is connecting people from all different countries and cultures. The digital marketing which includes SEO, social media, PPC, content marketing, etc. is making a dramatic shift in the business.
But with the passing of time, new and innovative tactics are getting introduced in the digital world. And of course, the old trends are slowly fading away and will be replaced by new, shiny trends. So, if you're still following the old trends in your digital marketing strategy then you should read this guide till the end because I'm going to highlight some of the best marketing tactics which you'll need in 2020.
Let's read them below.
Some effective digital marketing tactics for you to follow in 2020
-More Transparency in Business 
Transparency and authenticity are the key elements of any business which customers look for when they search about any company. According to research, companies that produce transparent and easy-to-digest information are likely to retain 94% of their customers. Transparency helps you establish your company's core value and goodwill.
-New customers' behavior
Let me tell you first that about 86% of women first consult social media before deciding on a product because of the influencers and the reviews which help them to make a decision. Every consumer wants a brand to be honest, friendly, and helpful. Brands getting positive feedback from other users are likely to get more new customers or users. Companies must also include video content to get more customers for their business.
-Increased use of Artificial Intelligence
Artificial Intelligence is all about machines having the ability to work like humans. AI uses a combination of different features such as chatbots and voice assistants to quickly find answers. For instance, Alexa and Siri (voice assistant) provide excellent customer care service. Just like humans, they take orders and work behind scenes. Using this will only help in your marketing strategy.
-Use of Private Messaging Apps
Apps like WhatsApp, Instagram, Facebook, Viber, and We Chat are already gaining popularity. Now companies no more use emails rather they now focus on using private messaging apps to interact with their customers so the information not be revealed and kept hidden between the company and its customers. By doing so sending and receiving money will be much easier.
-Programmatic Advertising
Programmatic Advertising uses AI to automate ad buying so that you can target more specific audiences. Real-time bidding is the best example of programmatic ad buying. This type of advertisement is much more efficient and fast, which means higher conversions and lower customer acquisition costs. According to emarketers, 86.2% of digital display ads in the U.S. will be programmatic by 2020.
-Video marketing
Although video marketing is not a new concept in the digital world yet producing short, relevant, and quality videos to your marketing strategy will only get you more customers for your business. 70% of consumers share brand's video, 72% of businesses say video has improved their conversion rate, and 52% of customers say watching product videos make them more confident in online purchase.
-Optimization of SEO
SEO is a vital tool for any online business. Not only it helps to increase the rank of your website but it also enhances the click-through rates for your business. Getting people's attention on the search engine results page (SERP) is a must for every business because it drives them to click on their content instead of other results. So optimizing SEO is very important for every online business.
Wrap it up!
Guys, digital marketing is no more about following the old tactics and patterns to run your business rather it's more about following and applying new trendy strategies that will be beneficial for your business. Above I have mentioned top trends or tactics for you which you can follow in 2020 for your digital marketing business. I'm sure these tactics will surely yield you high revenue, ROI, and more conversion rates.
So, implement these trends in your marketing strategy and go ahead in the competition. If you are looking to hire digital marketing agency then kindly get in touch with us for more updates.
---