Best Social Media Platforms For Small Businesses.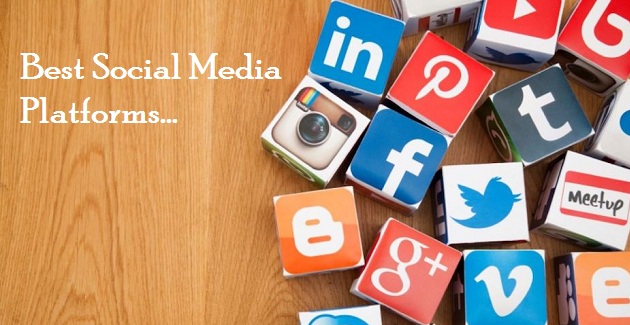 Are you confused about which social media platform is best for your small business? In this article, I am going to highlight the best social media platforms for small business owners. Why? The social media has become a game-changer for in the way you carry your online marketing activities. And every marketer seeks an opportunity to take the help of social media to build their business presence globally. And the purpose of social media is to attract, engage and retain potential customers. That's why as a small business owner you must understand the value of social media sites and incorporate them into your online marketing strategy.
So, let's see what are these social media sites that can be effectively used for your small business.
Best Social Media Sites For Your Small Businesses!
– Facebook
Facebook has been in a trend since it was launched first in 2004 especially for college students. Now it has attracted the eyes of a lot of marketers as well. It is the most popular social media site that is used across the world. And its reach is so expensive that small businesses can just choose to have a Facebook page than a website page.
To start your small business on Facebook, make sure you have a wider audience who can like, comment and share your post widely.
– Instagram
Instagram first introduced in 2010 and later on it was purchased by Facebook in 2012. Instagram is a good site for all sorts of business but it works well for a visually driven organization such as travel, food, clothes, fashion, etc. Posts on Instagram tend to get better engagement than any other platforms. So if you want to start your business in fashion, food, traveling, clothing then you must use this visual platform to start your business.
Although small businesses might find it difficult to use it first yet it's worth it in the end. Instagram also provides you paid advertisement to promote your products.
– YouTube
YouTube is one of the best video sharing platforms in the world. Irrespective of your business, anyone can use this platform to promote their products globally. You will be amazed to know that in every one-hour new video gets published on YouTube. Wow! As a small business owner, using videos in your marketing strategy is as important as your other online strategy. You can start with the small relevant videos and then move on to making large videos about your company and its products.
– Pinterest
If your business is all about visually appealing, then this social media platform is for you. You can say Pinterest is more like Instagram. It was launched in 2009. Pinterest connects everyone in the world through shared taste and things they find interesting. It has more than 100 million users. You should not ignore this site for your business. Small companies with product photos can gain a huge following. This can be a good tool for you to attract more female customers in an aesthetic way.
– LinkedIn
LinkedIn is a B2B social networking site which was launched in 2003. It is one of the most business-oriented forms of social media. It's a great way for small as well as large businesses to connect with educated professionals and hire them for your business. So if your business if all about text-based form then you must rely on this platform. LinkedIn is a great place to form a connection and find employees.
So if you're thinking of starting your small business then you must try LinkedIn. It's a perfect platform for B2B small business and not good for large-scale marketing campaigns.
– Google My Business
Google my business is the best platform for local businesses with a physical location to get their listing and establish a presence. Once you claim your location with "Google my business" your customers can find you online easily. It's a good tool for you as your customers can find you instantly in their locality. That's why it is also called "world's largest business directory". As a small business owner, you must use this platform to enhance your business presence online.
– Snapchat
Snapchat was first launched in 2011 and now it has 187 million daily active users. Very few businesses use Snapchat, especially small businesses because of the constant updates and content that are necessary for success. As the post that you share on Snapchat expires in one day and you need to start all over again.
But you should keep in mind that Snapchat is most effective for business-to-consumer (B2C) brands selling to a millennial audience.
Which Social Media Platform is Best For Your Small business?
Now you may be confused in choosing which social media site you should go with to start your small business? Well, it's completely a subjective question. Nevertheless, you need to understand that every social media platform is unique in its own way. I have explained to you every site that can be beneficial for your small business. And the best social media platform depends on the nature of your business.
Still, I will recommend you to have created your account at least on Facebook, LinkedIn, Instagram and YouTube. These platforms will surely build a strong presence of your small business online. For more info and any kind of assistance kindly get in touch with us.
---