5 Best Practice For Influencer Marketing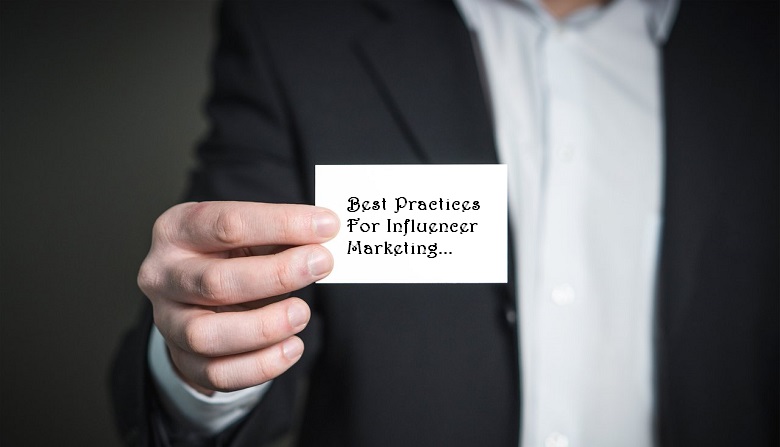 Influencer marketing is the most preferred channel of marketing in the digital marketing world. If you are in marketing from the past few years then you might be aware of influencer marketing. You can't keep your eyes off when going on Instagram, Twitter, YouTube or Facebook. On these platforms, influencer marketing is hard to miss because of the growing numbers of social media influencers. Today, people only purchase products that are endorsed by their favorite influencers like actors, cricketers, singers, etc. As a marketer, do you also use influencer marketing to promote your products or services in the market? If not, you might be lacking behind in marketing.
To get started with, you must know the best practices of influencer marketing. The practices I am going to enlist below will help you partner with the best influencers for your brand and develop meaningful relationships.
So let's gear up now.
The 5 best practices for influencer marketing you need to know
1. Define your goals
This is the first step in the activation of the influencer marketing campaign. Do you think without setting out a specific goal you can generate higher ROI? In the absence of a well-defined goal, it's very difficult to measure the ROI and evaluate the success of your campaign. Once you define goals, it will also have a major impact on the influencers you collaborate with and the type of content you create. How do you actually define goals? Depending on the type of products and services, you can select one or more goals from the list below-
Focusing on generating leads
Boost social media presence
Enhance brand awareness
Drive conversions
2. Know your Target audience
Knowing the target audience is also a great practice of influencer marketing. Why do you approach influencers? Of course, just to reach out to your target audience. And if you are unable to reach or target your audience, all of your efforts or strategies will go in vain. Therefore, influencer marketing is an exception and its success largely depends on how well you understand your audience. To attract the audience, you have to identify specific details like their age group, academic, professional background, geographic location, likes, dislikes, online behavior, and many more. Your target audience will have a huge impact on the type of influencer you work with.
Additionally, go with that influencer whose demand is high in the market as audiences always love to see their influencer promoting any product.
3. Emphasize authenticity
Who doesn't like authenticity in products? People always like authentic and genuine content to see and purchase from marketers. But in the case of influencer marketing, every influencer should use their own genuine voice to tell a story so that audience pays attention to their words. As per the Econsultancy, 61% of consumer prefers influencers who create authentic, engaging content. Here the best influencer will show the value of a product by demonstrating how they use it in real life. The more real-life hacks influencers show to their audience, the higher the chances become to purchase those products. As a marketer, you can also ask influencers to demonstrate the products using it in their real life.
4. Ask influencers questions
Can you afford to work with an influencer who doesn't sound genuine and has no knowledge of endorsing products on a public platforms? If you work with such influencers, you are just risking your influencer marketing strategy. This is the big mistake you make here. I tell you what happens; sometimes brands and agencies forget to ask questions to influencers whether they are the right fit for your brand or not. Whether they know how to promote products or not, whether they know the strategy to influence people or not. All these questions have to be answered by influencers. You need to make sure that your influencer authentically has a tie-up brand because sometimes a forced influencer is harmful to your brand.
5. Go with right platform
Are you done with choosing the right influencer? If yes, then the last practice for influencer marketing in this guide is to choose the right platform to attract customers. In the age of digitization, social media is one such platform where you have a good reach and presence. And social media channels are frequently used to target the right audience. Suppose, you want to attract senior-level decision-makers of various companies, LinkedIn is the great platform for this. And if you want to target young and middle-aged people then Twitter, Instagram, YouTube and Facebook would be ideal platforms for you.
Final words
Influencer marketing has become one of the best marketing platforms in the digital world. It is no more an alternative for advertisement rather it is becoming a hot favorite amongst brands and marketers. But a successful influencer marketing requires a great effort, good strategy and planning. All the above-mentioned practices for influencer marketing are best for any marketer who wants to promote their products in the market through influencers.
Kindly comment below to let us know how you find this article. For more informative articles subscribe our website till then keep reading and keep shaaring.
---