10 amazing ways to take your offline business online.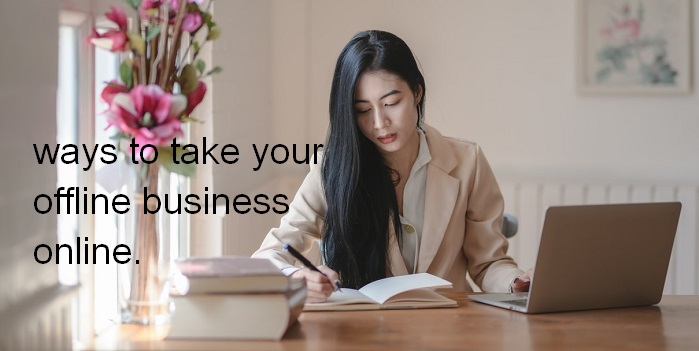 When we talk about business the only thing strikes in our mind is digital marketing. It is also because more and more consumers are turning to the internet. And whenever they think of buying anything they just pick up their smartphones and start searching the product online. So, if your business is online and has a good online presence then it will be easy for people to find you and your products. Here digital marketers actually get benefits by going online because the majority of people today make online purchases. But what about offline products? As an offline marketer, how will you attract a large number of audiences?
Guys, to make your business successful, you need to make your offline business online. So in this article, I will highlight 10 different ways to make your business online.
Let's make a start now.
10 amazing ways to take your offline business online
#1. Build up a website
This is the first step to converting your offline business into online. The website is the best way you can establish your brand value and presence in the digital platform. When you build a website, it shows that your business is reliable and credible. You no need to invest in a huge amount of money rather make sure that the initial cost of building a website is less so that it is worth it for you. Let me also tell you that your website is your digital asset where you have to maintain your brand, authenticity, credibility, and presence. Moreover, a website requires relevant and informative content so that visitors can read about you, your company, and products.
#2. Build your online audience
So once you have a website ready with you, it's time to build an online audience for your business. First of all, you can promote your website by telling your offline customers, collect their email information, and other contact details so that you can contact them online. This is how you can start building up your email list and followers. However, you can also ask your customers about filling up an online form or participating in a survey. Sometimes happens that your customers don't check emails and you lose contact with them so this is where surveys and online forms will help you build an effective online community.
#3. Don't forget social media presence
Guys, the website is the pillar of your digital marketing business. But it might not be as helpful enough for you to achieve online presence if you don't promote it on social media platforms. Today, every smartphone user has at least one social media account. And at least 2 hours a day they spend on social media sites. Now if you also have an account on social media sites such as Facebook, Instagram, Twitter, LinkedIn, etc. then you can share your website link there. But make sure you have plenty of friends in your profile who can further share about your site to their friend circle. This is a great way to build a good online presence in the digital market.
#4. Keep it simple and stupid
I tell you what happens when people move from offline to online they do everything in bulk. They actually overdo anything which creates a lot of problems for them as well as their online audience. Don't fill your website with lots of contents or advertisements otherwise it will make your website look monotonous and your visitors will get frustrated while visiting the website. Therefore, you need to keep your website simple, sober, interesting, and relevant enough to attract and engage customers. You can start with a simple professional design, and then get more complex over time only if you choose to.
#5. Add call to action button
So this is another way which comes into your list of online business. Guys, you have built up a website and created many social media accounts to promote your products and services but what about adding call to action button? If people visit your website and like any of your products and want to purchase then how they will make a purchase? Of course, by clicking on the button you added to your website, right! Suppose, if there is no such button added on your website then what will happen? Nothing, but you will lose many customers visiting your site again. Therefore, you need to make sure that your site does include a call to action button. It will help you make your online business successful in the market.
#6. Spend on advertisement
Talking about your products on social media might not attract your customers unless and until you spend some amount on the advertisement. Now, you are new in digital marketing which means you have to invest a little amount of money or few parts of it in your business in the same way you did your original one, primarily on advertising. Make sure your customers are able to find your website and you may have to pay for that to happen. You also need to spend some amount on SEO to enhance your website visibility in the market. The more your business gets promoted, the more your business appearance gets visible in the market.
#7. Do market research
This is one of the important aspects of online business. Before you enter it, you are required to do market research. Right now, you have customers in your offline business, right, but when you move to the online business they may transfer to online customers. However, you need to learn more about different marketing techniques which will help you make your online business successful in the digital market. You should know the role of social media, paying for potential customers, or and other authority types of business. But before, you start working online, you need to know what options are available for you and what is best suited for marking online.
#8. 24/7 hour availability
So this is the best thing you get to be an online marketer. We all know that an offline marketer can't open his shop 24/7 and work. I would say this is an advantage for you to make your business available 24/7 for your customers. You no need to interact with them rather your website and chatbots are enough to take them through your website. A key benefit of having an e-commerce website is that your clients and prospects can read about your products and place an order any time – day or night. There are many people who do the research at the end of the day when their office or business is closed. So this is an advantage for you to make your business online.
#9. Keep your products and price aligned
Product price is one of the important factors to build a long-lasting relationship with your customers. It is very important to line up your product's price with the value of products. In offline business, people can ask price directly to you but when you operate an online business, you actually keep everything up to date on your site. If any discrepancies between products and prices your customers see they will get frustrated and it will turn them off. You have to keep your online business updated so that your customers can be happy always.
#10. Keep your eye on ROI
This is the last way of making your business's online presence in the online marketing world. When you are done with all the steps given above, all you are left with is ROI (Return on Investment). Every business whether it's online business or offline business works for getting the highest ROI, right. The highest ROI you yield only when the performance of your online business is a powerful one to make a positive impact on the market. However, you also need to take a bit of loss initially to gain ROI from your business.
To sum up
Online marketing has become the most vital tool for any marketer. No doubt, for any novice, it can be a daunting task. But digital marketing has a more powerful platform than any other marketing. There is absolutely no reason that you should not use the power of the internet to develop and grow your business worldwide. You simply must be brave enough to try that first step to leveraging online marketing in your business.
For more interesting articles subscribe our website, till then keep reading and keep sharing.
---