What strategy you can use to create content during the COVID-19 pandemic?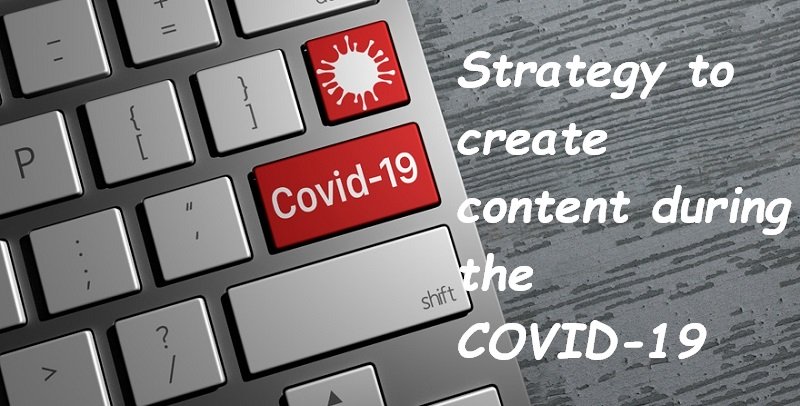 Content marketing is at peak even in the crisis. Do you know what crisis I'm talking about? Yes, coronavirus. The pandemic has hit the entire world badly, even our work. Being a part of the digital marketing world, it's our duty to provide relevant and authentic marketing strategy to you. Today, some brands have stopped providing helpful and creative content for their users. Marketers actually don't know how and what to write exactly for their customers. Therefore, to help you get out of the situation, I have brought this article for you.
Guys, I'm going to enlist the best strategy to create content during COVID-19 pandemic.
Let's have a look below.
Strategies to create content during COVID-19
– Find relevant and organic content ideas
The present situation is severe and worst. People only want to talk and read about the updates of the COVID-19 pandemic. Therefore, your role here is to find relevant content topics so that your readers can engage with your content. You must focus on search-driven and content, purely designed to get links and social shares.
Furthermore, you can get ideas from publishers about what topic you should write on. The more ideas you get from publishers, the more relevant content you will write.
– Approach Reddit for inspiration
If you don't know then let me tell you that Reddit is a great platform for people to communicate their interest. It is a good network of communication-based on people's interests. For content marketers, Reddit is a jumping point for content ideas. You can check out the top trending ideas at least once per week. For example, r/coolguides, r/dataisbeautiful, r/infographics. Here you will also get to learn how to visualize graphics in your content. The more compelling and interesting your article will look, the more quality traffic you will get on your site.
– Find trending topics
The next strategy to create relevant content during the COVID-19 epidemic is to find trending topics and write on it. As a marketer, you must always talk about the topic which can interest them the most. In amidst of the pandemic, you can talk about how your product and services are beneficial for your customers. Therefore, if you want your audience to read your content then you must produce the content that is relevant for them.
– Take help from Google trend
Guys I have already told you how relevant your topics can be for your audience. You need to find relevant and trending topics for them. In case, if you fail to find any topic then Google trend is the best solution for you. Yes folks, Google trend is a trend finding tool. It lets you research a topic to see if it is trending. Here you get to see some of the past few weeks' trending topics. For example, the inventory of sanitizer and masks were at the peak. Therefore, when everyone got bored at home, they Googled things to do at home.
– Produce content on health and fitness
The most important thing today is health. We all know how much health we should be to cope up with the COVID-19 pandemic. Whatever business you're in, make sure to talk more about health and fitness. Don't just talk about 'how to wash hand' rather talk about 'indoor workout.' Right now people are at home and trying to stay healthy. You can assist them in this endeavor.
Final words
I hope you all have read each and every point thoroughly. Guys, the present situation is not more than the worst. We need to tackle it with some precautions. If we look at the present scenario of businesses then you can see the huge loss marketers are facing. Therefore, as a marketer, you should write content that can engage your readers and customers. You can implement the above tips for creating content. I am sure these tips will surely help in boosting your business brand in the market. 
Kindly comment below to let us know what you want to know more. Till then get in touch with us for more updates.
---