What is slug? What role it plays in SEO?
When it comes to SEO (especially on-page SEO), there are many elements that come into consideration such as inbound / outbound links, image alt, keyword, title and slug. Here people often get confused with the term slug and don't have enough idea on this. That's the reason why this article comes into existence. If you aren't aware of slug and role it plays in SEO then this article is for you. Here in this post, you will learn about slug and role it plays in SEO.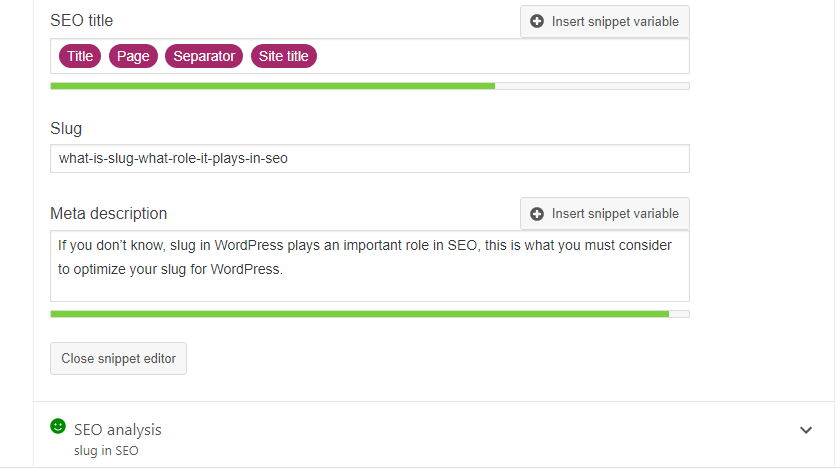 Without a much delay, let's get into it and talk about Slug in SEO below.
What is Slug, you ask?
In simple words, a slug is a part of the URL that remarkably identifies a page and its format that users and search engines both can read the page easily. In other words, slug gives you an idea of what your page, content, and post is all about.
If you don't know then slug in WordPress plays an important role in SEO and usability, this is what you must consider to optimize your slug for WordPress.
Let's dig a little deeper and talk about the importance of slug in SEO.
Significance of WordPress SLUG in SEO
There is no doubt that slug is a part of URL which you can edit while writing and editing a post, here are some of the great importance of slug you need to know so that you don't make any mistake in it. So, the importance include:
– You can easily boost your page and SEO with the help of slug.
– Slug allows you to change the URL and add the word you really want to rank for in Google. Slug is the major indicator that Google uses to determine what your page is all about.
– The significance of slug lies in creating user-friendly URLs
– Slug has the power to influence onsite optimization strategies
– Slug helps in boosting ranking of your website on Google
These are the importance of slug in SEO. It's important to focus on slug and start working upon it. So, how do you optimize slug in SEO? As you keep reading below, you will get the answer to this question.
How do you optimize WordPress slug in SEO?
Here are few steps you must consider to optimize your slug in SEO. Let's have a look at them below.
| Integrate focus keyword
Focus key phrase or keyword is something you need to integrate in your slug so that your website can rank on Google. Make sure the focus key phrase is added in the slug. If your focus key phrase is not included in the slug you will get message from Yoast SEO is: Keyphrase in Slug: (part of) your keyphrase doesn't appear in the slug. Change that!
| Keep your slug short
A WordPress has to be kept short. Make sure it should be around three to five words in length. So, don't make a mistake of making slug lengthy one.
| Make use of lowercase letters
Avoid using capital letters in your slug. Make sure to keep a slug in lowercase only. Also, use hypens to separate words rather than punctuation marks.
| Use of functional words, if required
Functional words include 'the', 'a', 'and' and other similar words. Use these words only if required otherwise don't use them. Let me also tell you that these words do help people know what your page and content is all about. But use them only when it's necessary to add in slug.
| Keep the slug permanent and evergreen
By evergreen, I mean is to don't add time-specific keywords in your slug. If you do so, you will need to update the slug once it gets out-dated. So, you need to write keyword that is permanent so that you no need to change the URL of the post later on.
| Separate your slug by using dashes
Now you will need to separate your slug by using dashes (-). Don't use any other character to separate slug otherwise it will not adjust in the URL.
Read also: Top 7 ways to make your online presence mobile friendly
Can slug impact the ranking of your website?
The simple answer to this question is 'yes.' It is because slug contains primary keyword of your content that you want to rank your website for. Google search engines identify these keywords and rank your website accordingly. So, if you don't add keywords in the slug, chances are that your website won't rank in the first page of Google.
You always have an option to customize your slug based on the way you want to add the keywords into it. Once your keywords are ranked in Google then search engine crawlers and audience will easily come to visit your website without struggling it find it.
The bottom line
For optimizing your overall website on Google, you can't ignore the power of slug. It is a place where you put keyword in the URL and Google ranks your website based on that. Now that you have read about slug, importance of it, and ways to optimize it, what are you waiting for? Just do as mentioned in the article and enjoy the results.
To read more such articles like this, subscribe to our blog here.
---