What is a Pillar Page, do you need it in your SEO strategy?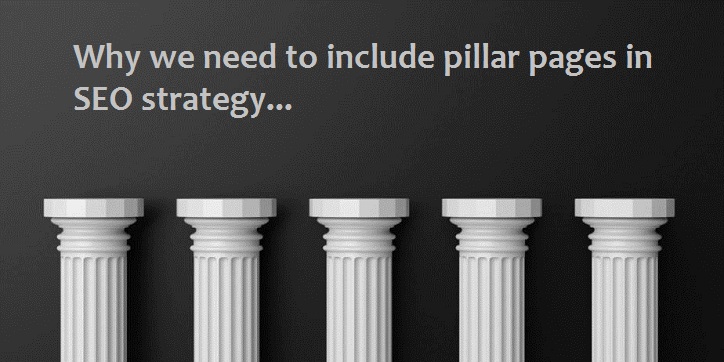 Highly creative, authentic, and relevant content is a key to SEO and overall marketing strategy. Producing content and posting on website is enough to get a good rank of your site on SERPs? No guys, you need to make sure that users are spending enough time on your pages and it is only possible if you produce longer and well-organized contents. But how will you make it possible? It is only possible with "Pillar Pages." Did you hear it for the first time? Well, no problem even if you're not aware, you're at the right place. I'm gonna tell you how pillar pages are important to SEO strategy and why do you need it.
Let's start with "what"
What is a Pillar Page?
To simply put, Pillar Page is a kind of landing page which provides you a broad overview of a particular topic without going into too much detail. Though it will not itself give you detailed information about the topic yet it provides you links to various blogs, or cluster contents which expounds on various topics falling under the same umbrella.
In general, the pillar page doesn't provide you detailed information about the particular content. But surely it provides you plenty of links on the topics that allows a user to get much detailed information on the same topic. Some examples of pillar pages are,
Pillar pages are usually longer than blog posts
They provide you hyperlinked chapters at the top of the page
It considered as comprehensive content that allows an audience to gain a deep and good understanding of the topic.
Pillar pages have links of other blogs or contents which have more detailed information.
Do you really need Pillar Page in your SEO strategy?
After understating the concept of pillar pages, now let's understand why you need pillar pages in your SEO strategy.
Let me make it very clear to you that having pillar pages in your SEO strategy can help search engine to review your website more efficiently and enhances the effectiveness of your SEO strategy. This is only because of the way your content is organized. It delivers your main content which makes it a centric attention of the website. 
Now understand the need of pillar pages in SEO strategy in points below:
Firstly, you need pillar page to organize your contents so that people can easily browse your website and access your blog post, videos, and info graphics.
Next is of course, it offers many SEO benefits which helps you get good rank on SERPs. You also understand that Google ranks high only those website which Google can read easily and determine what it is about.
It also provide user-friendly experience to your visitors. The level of organization makes it easy for your audience to find what they are actually looking for.
They also create concentrated information on a single topic that Google will rank well.
Over to you!
To put all of this, pillar page is simply a key to your SEO strategy. It is highly beneficial for website because it organizes the contents and mind you a well-organized website always ranks better in Google and helps visitors navigate your content. Folks, there is no harm in implementing pillar page in your SEO strategy; all you will have is only benefit. Pillar page will not only improve your site ranking but also improve the user experiences.
I hope the article was helpful enough to understand the holistic concept of pillar page. For more articles get in touch with us, till then keep reading.
---