What are the pros and cons of Brand24?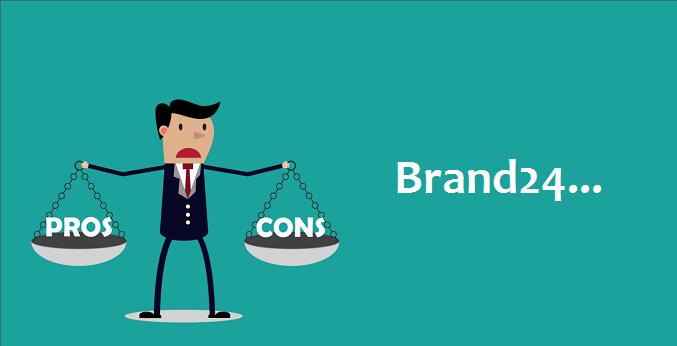 Nowadays, social media has become a relevant part of digital marketing because now marketers propagate their business worldwide through social media only. No matter whether the business is small or multinational corporations everyone is using social media to enhance their marketing game. Let me ask you one question here – using social media without having a proper manage of it, can you achieve your marketing goals? No guys, you can't, it is simply because social media is a dynamic platform which keeps on changing and introducing new features which become difficult to manage. Then why don't you try Brand24. Many marketers use Brand24 to monitor their social media platforms but they don't know what are its pros and cons.
If you're also using this tool then you should know the pros and cons of it. But first you must clear your concept regarding Brand24.
Let's understand the concept of Brand24.
Branbd24 is one of the best social media monitoring tools which is built to help organizations to enhance their digital market through insightful web solutions. This tool is best to provide services for Twitter, Facebook, LinkedIn, Reddit, Quora, Tik Tok, YouTube, Podcasts, Google Reviews, Blogs, Forums, and much more. No matter how small or big of your business is, it will help every type of businesses.
Furthermore, this is a reliable tool which provides helpful insights and enables users to react instantly to comments and mention about their businesses.
Now let's move further and learn the pros and cons of Brand24.
The Pros of Brand 24
The first pros of this tool is that it tracks your online presence and also informs you about what users are saying regarding your brand, services, and product online. It also gives you the instant access to online mentions which is a great benefit of using this tool.
Brand24 is a user-friendly tool which doesn't require you to have a lot of skills or technical knowledge.
Once you use this tool, you will have the great customer support team to solve any technical issues you encounter.
Another pro of this tool is that you can easily tackle the negative comments by directly engaging with unhappy customers. You can rectify the problem with suitable solutions.
You also get fast alert or notification about the mentions. Brand24 notifies you in a minute about relevant online mentions and comments so that you can quickly address them and boost the list of your customers.
Brand24 also eases out your Manuel work.
The Cons of Brand24
In this tool, you will not get the CRM (customer relationship management) features.
The tool is not affordable to every one as it is bit expensive so individual users might not afford it.
While using the tool, you might get a lot of spam results or mentions that are completely irrelevant to you.
The bottom line
At last, I just want to say that Brand24 is a good tool for those marketers or businesses who want to build their social media presence. Social media monitoring is one of the best ways to enhance your business brand online. It is the tool which helps you achieve your social media marketing goals. But before you use this tool I want all of you to thoroughly understand the pros and cons of Brnad24 so that you can get to know whether this tool is meeting your demands or not.
Kindly comment below to let us know how you find this article. For more interesting articles get in touch with us.
---