Ways to Measure Facebook Traffic with Using Google Analytics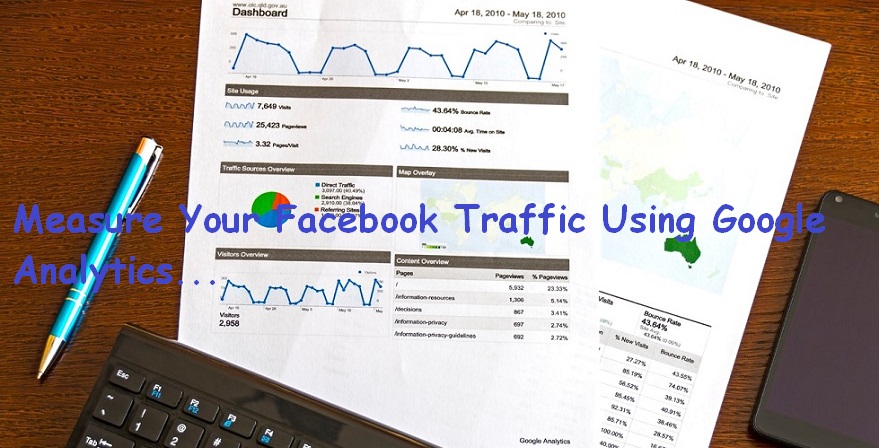 Google Analytics – a website traffic-tracking tool for every digital marketer. Though the tool is not just limited to tracking website traffic, it has a ton of great uses by which online marketers get to know what's happening on their website. Some of the features of the tool are monitoring traffic flow, learning what people are searching for on your site, conversion rate, traffic source, active people on the site, etc.
Another great feature of Google Analytics is that it can measure conversions of your social media ad campaigns as well. Nowadays, Facebook becomes a marvelous digital advertising platform. Therefore, marketers look for ways through which they get to know the performance of ad campaign and traffic they are getting on Facebook.
Today, in this article, I will tell you how you can use Google Analytics to measure Facebook traffic. Just follow the steps below and get the results. Now let's make a start.
Ways to measure Facebook traffic with Google Analytics tool
1. Make use of URL builder to frame URL Parameters
This is the first step in measuring Facebook traffic via Google Analytics. So what you need to do is generate URL parameters by using Google Analytic's own URL Campaign Builder. It is a free tool that Google offers to you. Now you are required to fill relevant information in the Campaign URL builder form. Once you are done with completing the form, you will see a campaign URL generated with all the URL parameters. You can also use newly generated URL in your Facebook ads and start tracking traffic in Google Analytics.
To start with it, just visit the page that you want to propagate on Facebook. Finally, copy the URL and paste it in the website URL box.
2. Explain campaign parameters based on source, medium, and name
The second step you need to follow is to fill information related to your campaign. For a campaign source, either use "Facebook ad" or just "Facebook." But the advice here is for you to go with the "Facebook ad." Next, write "CPC" as your campaign medium if you're tracking links clicks or tracking impressions. In case, you don't know anything just login to Facebook and navigate to Ads Manager > Ad Set > Budget & Schedule > Optimization & Delivery.
After this, now enter the Campaign Name. Make sure it is similar to your Facebook ad campaign name in Facebook Ads Manager. Moreover, use your individual ad names as your campaign content. It will show you the performance of individual ads.
3. Build new URL for your ads
Now that you have created all your Facebook ads parameters, the next step you need to perform is to generate a unique URL. You also get the auto-generated URL. To track Facebook ads in Google Analytics, you need to copy the portion of the URL starting after the question mark. On Facebook, you need to navigate to Ads Manager > Ad Set >Ad > URL Parameters. Now paste your campaign URL parameters in the box.
Another option you have is convert the generated URL into a short link. Once you preview everything about the new campaign URL, just hit the "Publish" button.
4. Finally track the performance in Google Analytics
Now you are done with creating and filling important information about Facebook in Campaign form. The final step you take to track the traffic on Facebook is to track the performance of Facebook on Google Analytics. How do you start tracking Facebook traffic on Google Analytics? All you need to do is log in to your Google Analytics accounts. So from the left side menu, navigate to Acquisition > All Traffic > Source / Medium. Though you need to navigate to other dropdown menu, choose the parameter you want to track from the Acquisition dimensions.
Now you will get the final report, you can see your Facebook ads performance and traffic to your site. Just follow all the steps accordingly and you will find traffic data for your Facebook ad campaigns under "Campaign." Don't forget that the campaign name will be the same as you selected in the Campaign URL Builder.
Wrapping up
Facebook is a great advertisement platform that any digital marketer can use to target a large number of people. But without getting an accurate picture of Facebook traffic, you may not get the fruitful results from the Facebook campaign. But with the help of the Google Analytics tool, you can get a clear picture of traffic sources on Facebook. All you need to do is just follow the above-given steps outlined in this article and optimize your campaign on Facebook.
For another interesting articles subscribe our website, till then keep reading and keep sharing.
---