Use your email signature as a marketing tool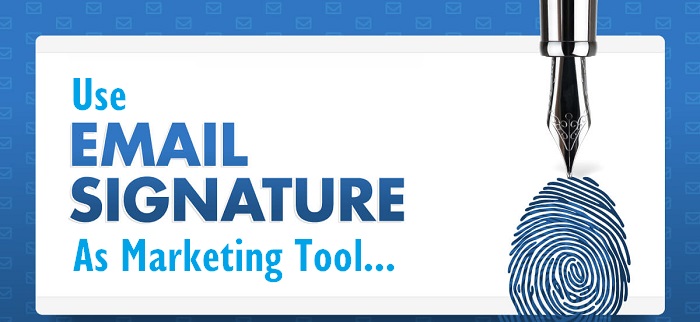 We all know about email marketing because it has been in use for many years in digital marketing. Using email marketing means targeting a large number of your customers. But I am not here to talk about email marketing blasts. Email marketing includes many other things rather than just sending out messages to people. What I am basically talking about here is a personal email signature. Have you ever come across this word in email marketing? You might have but if you don't know then this article is for you.
In this article, you will learn about email signature and how you can use this email signature as your marketing tool.
Let's jump in.
What is email signature?
An email signature is a part of your email message right after the closing lines such as 'Regards' or 'Thanks'. It states additional information about you like name, your brand, products, services, company's address, etc. And this is considered to be the email signature marketing. Here you can use the empty space below the employee's contact details for marketing campaigns to showcase special offers, share news about your company, tell about a conference your company is attending, and much more.
Let's now look at the ways to use email signature as a marketing tool below.
Email strategy as a part of your sales strategy
An email signature is not just a way to provide users additional information about your company, brand, products, and services. It is a much handy tool for your marketing department. You can benefit your sales department a tool with an email signature. Don't just promote your sales by encouraging purchase rather try to add more value in your campaign so that people find it authentic. Furthermore, you can customize your closing part as per your specific customers' group and their needs.
Use email signature as banner campaigns
An ad banner can enhance your email marketing a lot. At the end of your email, you can add a banner in email signature. Not only banner provide information about your campaign or any other thing, but also engage your customers with the content. Adding banners can help you achieve the goals attached to banners. For example, advertise events, generate new sales, advertise the latest content, generate leads, advertise deals, and advertise new products and services. Important things you should keep in mind is don't use too bright and colorful banners. Pay attention to your banner size. Another thing is your banner should be creative enough to catch the attention of people.
Email signature as a part of your brand awareness strategy
Brand awareness is very important for any business. Without making your brand presence known in the market, people will not be able to recognize your products and services. Therefore, as a marketer, you can use an email signature to make your contact easily accessible to your customers. Brand awareness not just includes your company's name and address rather you can talk about what your business stands for. What are elements that can help you grow your brand awareness in the market? Read below.
Company's logo
Link to the latest content
Company's contact information
Link to your website
One line about what your business is all about
Link to your social media profiles and invitation to connect
Use email signature to cover your department goals
Every company has many departments such as sales, marketing, human resource, client relationship and account management. Each of your departments can reach its specific goals with an email signature. You can add information in your email signature such as a link to cooperate video, an image or team, client testimonials, seasonal promo banners, freebies promotions, links to social media, link to latest contents, newsletter subscription link, etc.
The bottom line
Email signature marketing is very effective which can be used by all types of business in the industry. You can take this article as a guide and learn how an email signature can become a great marketing tool for your business. In your email, you can add additional information or links about your business, social media account, promo codes, subscription link etc. It is an efficient way to enable your customers to avail of your services and contact you easily by accessing your contact number via email signature.
Kindly comment below to let us know how you find this article. For more informative articles get in touch with us, till then keep reading and keep sharing.
---