Top 7 ways to build your Pinterest community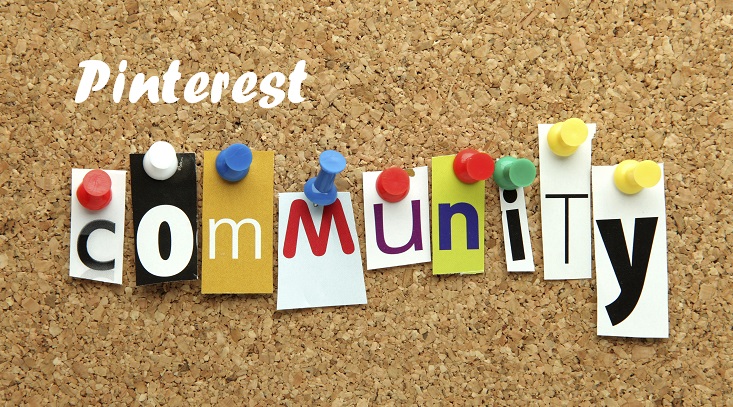 Like any other social networking site, Pinterest is also a powerful tool for businesses. Presently, it has millions of users sharing virtual pins and boards. The site was launched back in December 2009. Now it provides businesses a way to market themselves by connecting with people of similar likes and interests. No doubt, Pinterest is known for its organic marketing and marketers can reach out to potential customers by selling their products and services. In fact, Pinterest is a good platform for businesses with visual products. It means you can pin a photo or video to drive traffic directly to your website.
Do you really think building community on Pinterest is that easy? Guys, if you want to build community on this platform then you are at right place because here I will record 7 best ways to build the Pinterest community. So are you all set to learn the tactics? Yes.
Let's jump into the pool below.
The top 7 amazing ways to build your Pinterest community
#1. Find and target potential buyers
If you are reading all the ways to build your Pinterest community then I assume that you already have set up an account on this channel. So the first way you can use in your building strategy is researching and targeting potential buyers for your products and services. How do you do this?             Firstly, you need to research who your target audience is, once you found about your audience your next step is to lure them with your brands. However, you need to board whether your audience can connect with you and join in the conversation.
Moreover, to connect with profiles you have to search keywords in Pinterest related to job titles who can work in your targeted field. Now add these users to your follower's list if they have board related to their business, you can repin them to your own board.
#2. Always search for keywords
Whether you operate a website or build community on Pinterest, keywords play the most significant role in fetching you huge traffic to your platform. Therefore, our second tactic to build a community on Pinterest is keywords. You need to search for those keywords that relevant and popular in your industry. When you do so, the more accurate and relevant content you are able to develop so that it can be shareable on Pinterest and other social media platforms. You also have the option to connect with pinners using ninja pinners. Pinners are the Pinterest tool that actually helps you build Pinterest followers. The more followers you have, the more engagement and popularity you get on Pinterest. Additionally, you can also type on Google as which keywords are popular on Pinterest, this will help you find the most relevant and effective keywords for your community.
#3. Focus on social media influencers
Social media influencers are always worth using and taking advantage of. Today, not just film actors, singers, musicians, cricketers are consider as influencers but also common people who have established themselves as entertainers on social media platforms are too consider as influencers. These common people actually have a fan following in millions just like an actor. Therefore, you can create a board to host a group of bloggers or other social media influencers who might be interested in your company. But the guide here is to have those influencers for your community-building who can promote your products to their audience.
How do you actually approach influencers? First of all, you need to approach Pinterest influencers because this is the platform where you want to build a community, right. Approach them, build good communication with them, and then ask whether they would like to promote your product or not.
#4. Add  customer favorite board
Who doesn't like to share their happy customer's reviews and posts? Almost every marketer would like to do so, right! So why not do it on Pinterest as well. This is actually a great way to broaden your business's reach on Pinterest. Here you can repin posts from your customer's social accounts, and tag them to your "Customer Favorites" board. When you have a board dedicated to happy customers and their purchases are a way to show satisfaction and your products or services in use. The honest customer testimonials will speak volumes and help solidarity a brand's sense of authenticity and integrity.
When you board your happy customer's posts on your account, they feel privileged as their posts picked up by their favorite brands. So make sure to tag your customers and mention them in your caption.
#5. Incorporate relevant keywords
I already told you how you can search for keywords for your Pinterest community. Now you should know where you can incorporate keywords. So firstly, add keywords to your URL, name, a profile description, board title, and board description to increase the number of people on Google and Pinterest. This will actually allow social media users to find your Pinterest account more easily. Finally, you will end up getting more engagement and a large following.
The new feature on Pinterest allows social media users to see hat keywords are used most on your pins. This basically enhances user experience and allows your pins to be discovered more easily and effectively.
#6. Optimize pins for mobile devices
You all know that Pinterest is a visually driven platform. You can say it is almost like Instagram where photos and video content dominate the platform. It means any deficiency of photos in Pinterest will cost you a lot. Here I am especially talking about Pinterest for mobile devices. As per the data from Pinterest, 75% of all users access the platform from a mobile device. What this data tell you? It simply means that it is necessary to optimize your images for mobile, but the sad thing is very few brands do it well. So when you optimize images for mobile devices, make sure that the images are large enough to view on a small screen. This is actually important for images that don't contain any text or word.
#7. Follow local businesses
So this is the last way you can use to build your Pinterest community. When you follow other local businesses it will expand your reach and get in front of your local audience. Try to locate for your favorite local businesses on Pinterest and follow their accounts. You can repin and like their post. This is the best way when a small business genuinely compliments another local business and likely to respond. I would say this is the most organic way to build business relationships, share good, local content with your community. Moreover, you can also search for your local chamber of commerce, city council and other entities relating to that category. So make sure you follow them and engage with them in a natural way.
Final thoughts
Pinterest is literally a great visual platform for businesses to promote their products. And with these 7 tactics, you will surely be able to grow a large Pinterest community. Make sure you follow and implement these tactics to make a positive impact on your business in the Pinterest community. Let me tell you that a strategic Pinterest plan not only generates higher social engagement and website traffic but also fetches you sales lead generation.  
For more interesting articles subscribe our website, till then keep reading and keep sharing.
---