Top 10 SEO tools that actually work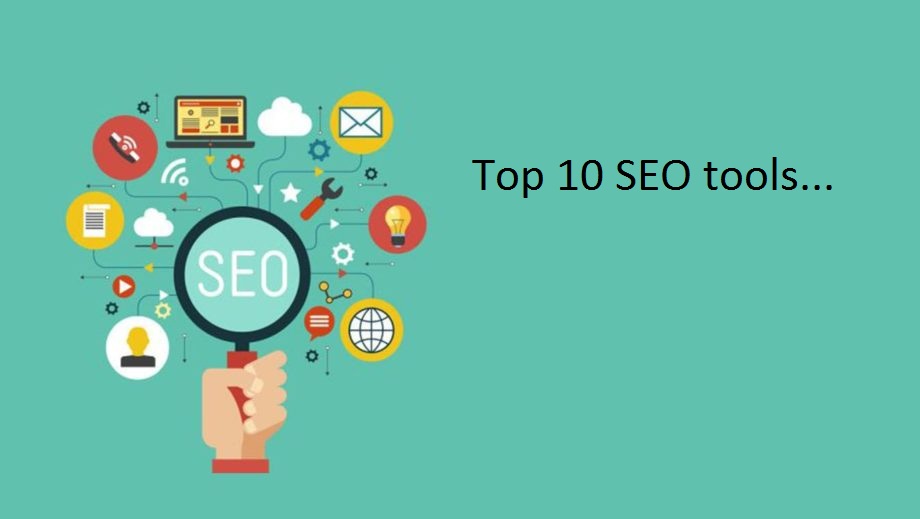 Whether you agreed or not, SEO is the biggest part of your online business. It is a huge source of free organic traffic, leads, and customers. As an online marketer, the focus always is on to get quality traffic lead generations who can actually convert into potential customers. This is only possible if the overall website's SEO performance is good. If the performance of SEO is not good then how to improve it? This is what you're thinking, right. Let me tell you.
In this article, I am going to show you the top 10 SEO tools which can surely improve your website's performance.
Let's have a look at them below.
Top 10 SEO tools that will help your business run smoothly
1. Ahrefs
Ahrefs is a Freemium Research and Analysis tool. It is one of the most recommended online SEO tools. This tool helps you examine your website properly and provides you link details, keywords, rank profile, etc. If you need a detail report on backlinks then you must go for this tool. Ahrefs will also determine your competitor's backlinks to use them as a starting point for your own brand.
2. SEMRush
This tool is used for keyword and competitor research. It is a freemium tool. The best part about this tool is that it has 20 ways to research your competitors. This tool is a favorite tool in the SEO community. The popular feature of this tool is the Domain vs. Domain to compare your website with your competitors. It offers you advanced keywords and competitors research. You can also see what your competitors are for both organic and Adwords.
3. KWFinder
If you're competing at a lower level then KWFinder is the best SEO tool to help you find long-tail keywords. Many Experts use this tool to find the best SEO keywords and run analysis reports on backlinks and SERP (search engine result pages). Their rank tracker tool helps you determine your ranking while tracking your improvement based on the key metrics. New keywords will help your website rank higher.
4. Mangools
Mangools SEO tool is free as well as a paid tool for SEO. This tool helps you see the keywords of your competitors, their backlinks; you can also track their ranking, analyze their SERPs and get deep SEO insight into your competitors. You can manage the metrics in your own way with the help of this tool. This is the best SEO tool to help you research your competitors.
5. Google Search Console
This is a free SEO tool. It allows you to monitor your reports on your website's presence in Google SERP. It helps you know how Google crawls and ranks your site. It is an SEO checker tool which helps you understand how Google and its users view your website and allow you to optimize for better performance in Google search results. You can also find reliable keyword data here.
6. Google Analytics
Google Analytics is the most-widely used the tool in the SEO community. It is a free tool and plays a good role with other Google products such as Optimize, Search Console, and Data Studio. However, Google doesn't use this data for search rankings. It racks website traffic and allows you to know the details of visitors on your site. It also provides you success strategy for your business.
7. Woorank
This is free as well as paid SEO analysis tool. It provides you options to track and report on your marketing data. You can also look for your competitors' keywords which they are using. It will also help you understand how your keywords are performing so that you can optimize it for users in the best possible way. This tool can identify duplicate content and security issue and provide you solutions to fix them.
8. Fat Rank
Fat Rank is the keywords rank checker tool. It allows you to easily analyze your website's performance. With the help of this tool, you can know the rank of your website. To know rank of your per page, you can add new keywords to optimize your site. If you don't rank up to 100 results, then that keyword is not ranking for you. With this information, you can better optimize your online store for those keywords and make relevant adjustments.
9. Screaming Frog
It is the best SEO tool considered by SEO experts. This tool helps you save your time to analyze your website's performance and to perform fast audits. This provides you the great speed while performing its work. It also shows you an error, duplicate contents, bad redirections, and areas for improving link building.
10. SEOptimer
This is a free SEO tool which is used for SEO Audit. SEOptimer lets you know the overall performance of your website's SEO. It will help you show your page metrics like users' experience, keyword usage, speed, mobile responsive, backlink profiles, and domain authority. After the complete audit, SEOptimer will grade your site and provides you recommendations.
Conclusion
To get the best rank of your website you need to understand how you can improve the performance of your website. Website's optimization helps you get more lead, more customers, and more traffic to your site. That's why SEO tools are the best way to improve the overall performance of your website. The top 10 SEO tools we shared above will help you to achieve a high ranking. Once you take the help of any SEO tool, you will see the growth in your online business.
If you are looking for best digital marketing agency then you are at right place. Kindly get in touch with us for more details.
---