Top 10 SEO Keyword Research Tools for marketers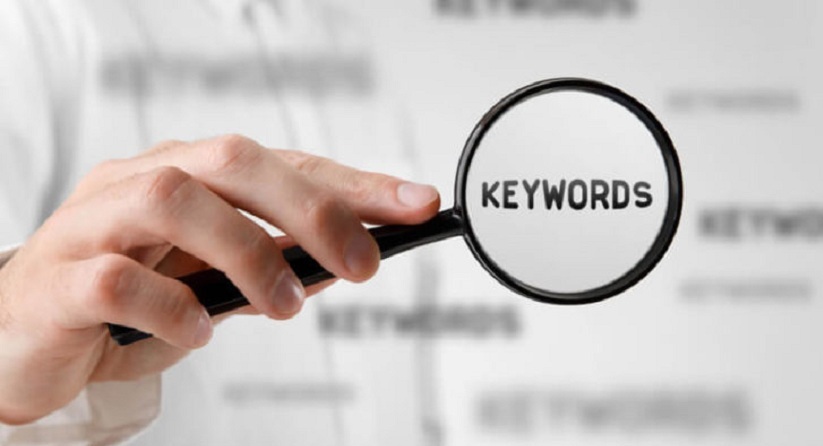 If I ask you what the important thing is to get the highest rank of the site on Google's SERP, what will you say? If your answer is – Search Engine Optimization (SEO) then you are right. However, there is one more thing that can fetch you the desired rank if you know how to search for it. Do you know what is that thing? It's keyword research.
Keyword research is the most significant element of modern SEO. Let me tell you that good quality keywords are the most effective ways to attract consistently, quality traffic to your site. Whether you are creating a new blog or kick-starting an old one, keywords will always play a vital role. And to help you research keywords, I have compiled a list of top 10 SEO keyword research tools to help you conquer the digital marketing.
So, let's now start.
The top 10 SEO keyword research tools for marketers
1. Google Keyword Planner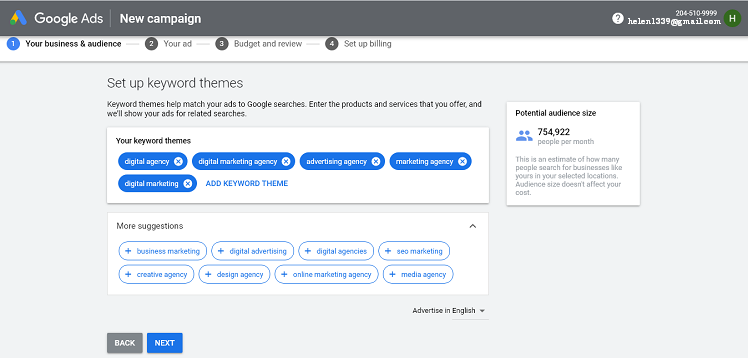 The first tool in our list is Google Keyword Planner. This is the most used and best keyword research tool for SEO. As a web operator, you can use this tool for building new search campaigns or adding to existing ones. The tool is very helpful because it can let you choose competitive bids and budgets to use with your campaigns. Experts say that this is one of the best keyword data on the market. The data you get here directly comes from Google.
Significant features
Best choice for business website
Locate commercial keywords using "tap of page" bid range
Accurate search volume directly from Google search engine
Pricing
Google Keyword Planner is free tool. You no need to pay any amount.
2. Majestic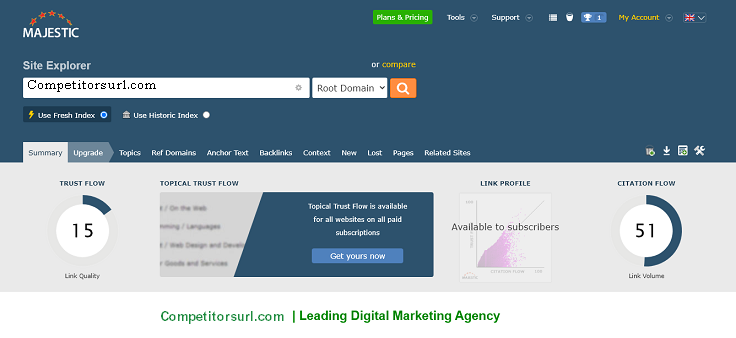 Another tool in the list is Majestic. It is all one in the SEO tool to check the health of your site and its performance. If you are a new blog and just started your business then you should go with this tool. Moreover, if you don't have the resource to invest in complicated support for search engine optimization, then you should use this tool. The tool specializes in backlinks that means you won't find difficulty in finding keywords for your blog or website.
Significant features
Helps you in on-page and technical SEO audit
Finds you easy to target phrases
All the SEO features are available in this single toolkit
Gives you research competition in every keyword
Pricing
Majestic is not a completely free tool. It allows you to sign up to run 3 free searches. However, to enjoy the full kit you need to pay $83/month.
3. Moz Keyword Planner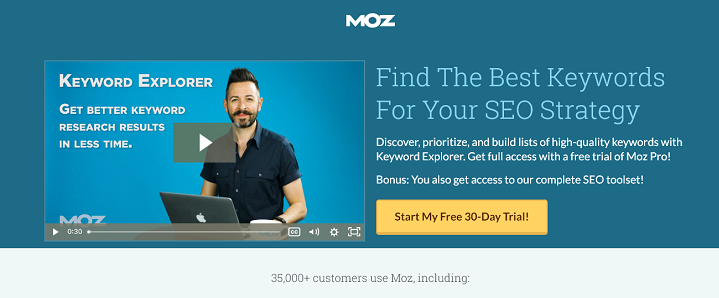 The next tool in the list is Moz Keyword Planner. This tool is a powerful one in terms of providing the best SEO keyword research results. Moreover, Moz also provides you an SEO keyword generator, and link analysis that gives detailed data on your inbound links and link quality. This is very easy to use the tool. If you face any difficulty in selecting any keyword, Moz makes it easy for you to select the best term for your project.
Significant features
You get one month free trial period
The tool offers you related keyword suggestions
Organic CTR and priority score for smart targeting
Pricing
The Moz Keyword Research tool plan starts at 179/month with an option for a free 30-days trial. However, you can sign up for a free Moz account and get 10 free queries per month.
4. Keyword Tool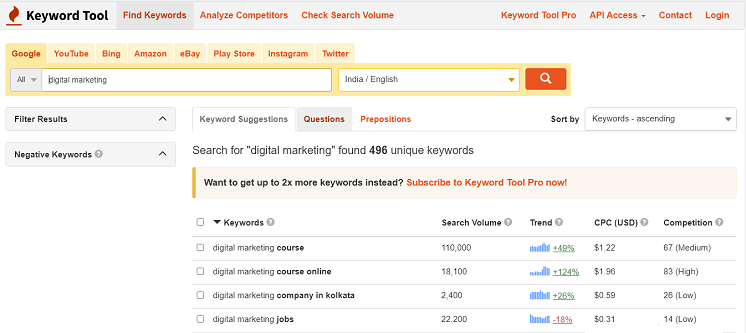 Do you have an interest in keyword data mining? If yes, then the Keyword tool is best for you. As per the research, this tool is known as one of the best keyword research tools in the SEO market. It offers you multiple search engines such as Google, Bing, YouTube, Amazon, and App Store. However, the tool is very much similar to Google Keyword Planner.
Significant features
It provides simple UX for beginners
Helps you find keyword using Google Autocomplete
Export results to CSV
You get help in social media marketing such as Instagram and Twitter.
Pricing
The tool is free for up to 750+ keywords and extremely easy to get started with. However, the basic plan starts at $69 per month.
5. SpyFu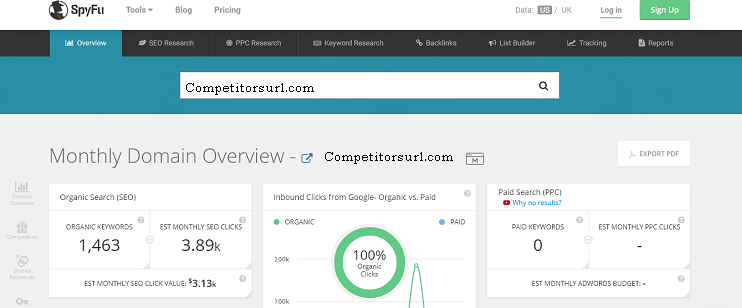 In the digital marketing world, SpyFu is regarded as the best choice for analyzing your competitor's SEO strategies. The tool helps you discover valuable and untapped keywords. If you are working in a highly saturated niche, this is a powerful tool for you. However, the tool offers you monthly results and not real-time feedback. Furthermore, this is a competitor's intelligence tool that helps you 'spy' on your competitor's SEO strategies.
Significant features
PPC competitor monitoring and Adword Advisory.
Additional modules for in-depth domain analysis.
Helps you compare different websites competing for a single search term.
You can also discover ranking difficulty and historical rank changes.
Pricing
SpyFu plan starts at $33 and $39/month with discount for annual payment.
6. Long Tail Pro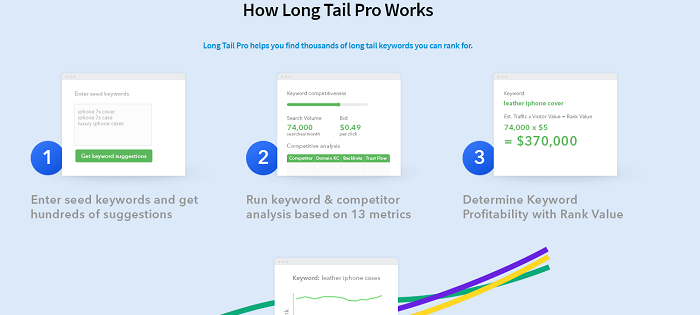 Long-tail keywords are the new standard form of keywords in SEO. If you are working on long-tail keywords then you must use this tool because it helps you generate long-tail keywords for niche sites. It also helps you find content for micro-niche sites. So basically, the tool is right for micro as well as macro sites for finding keyword.
Significant features
Provides you powerful, detailed about keyword metrics
2500+ SERP lookups every 24 hours
With this tool, you get recommendations for getting high organic traffic
You can easily find long-tail keywords
Pricing
You get 7 days free trial. The subscription plan starts at $25/month. The starting plan starts at $25/month. Pro starts at $45/month and Agency starts at $98/month.
7. Ahrefs Keyword Explorer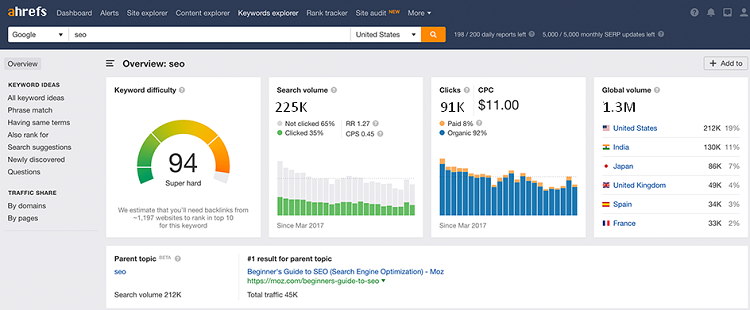 As per research, Ahrefs is one of the best keyword research tools in the market. This tool is available for content creators today. With this tool, you get a broad keyword report of the users and focus on clickstream data to offer you unique click metrics. The tool allows you to see the best backlinks opportunities, hot content topics, and relevant keywords, email alerts, etc. Moreover, the tool crawls and stores the largest third-party database of search queries. It simply means you get the most accurate data for your research.
Significant features
Provides you extensive SERP overview
Accurate keyword difficulty score
Gives you 1000+ keyword suggestions
You get click metrics for enhancing CTR
The tool supports in over 171 countries
Pricing
Ahrefs provides you 4 pricing plans. If you are a freelancer, mid-sized organization, online marketer, or big brand then you can use the tool which starts at $82/month. However, the trial offers you can use for a week just $7.
8. SEMrush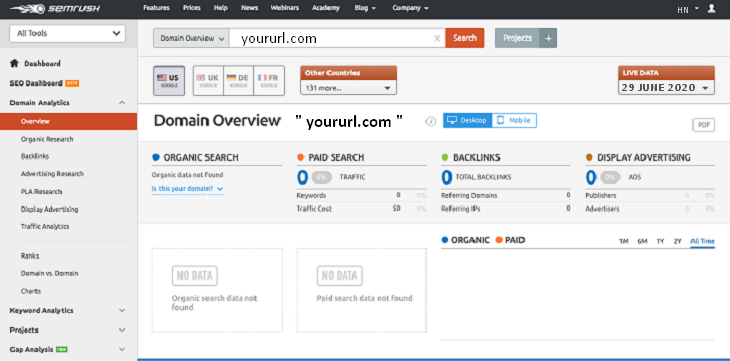 SEMrsuh is one of the popular tools in the market. Every established SEO or webmaster knows about the SEMrush tool. Like other tools, SEMrush doesn't produce a keyword list for you rather it recommends you 5-10 very specific and relevant keywords that your competitors are already using. Moreover, you also get to see the list of "competing websites" which will show you your competitors' competitions. It means with this tool, you get a complete analysis of your competitors.
Significant features
Helps you get keywords that are in trends
You can access to the keyword research toolkit
The tool helps you uncover long tail-keyword and ad group ideas
It provides you worldwide CPC distribution statistics
You get keyword difficulty analysis and organic traffic insights
Pricing
SEMrush provides you a 7-days free trial where you can access its features and enjoy its services. The SEMrush plan starts at $99/month. Moreover, it offers you 3 different pricing plans.
Pro – This is the limited budget site for freelancers. This plan starts at $83/month.
Guru – If you are a small-sized business and SEO agency then this plan is the best fit for you because it is best for the day-to-day management of content sites. The plan starts at 166/month.
Business – The business plan starts at $333/month and this is ideal for eCommerce stores and agencies.
9. KW Finder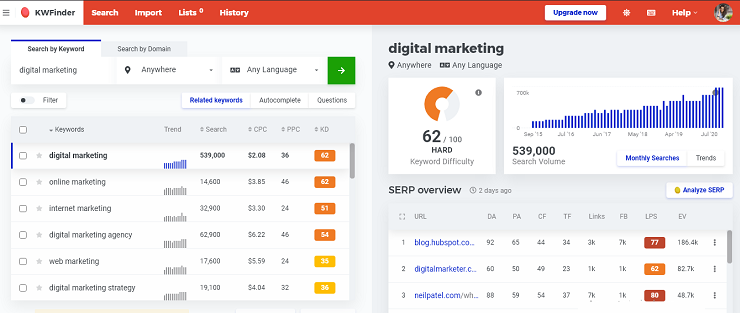 Mangools have designed the KW Finder tool. Mangools are best known for delivering the best keyword research tools across categories. The KW Finder tool is very easy to use because you can easily find out the keywords with low SEO difficulty. Moreover, the tool is best to cover both traditional and competitors' keyword research to help you find long-tail keywords with low SEO difficulty. The interface of this tool is very straightforward and easy to use.
Significant features
Whatever language keyword you are searching in, this tool will help you find so.
Provides you unique and easy to navigate user interface.
You get precise statistics for keyword competition.
You have the option to choose from the list of powerful lists.
It provides you filter to refine the list of keyword suggestions.
Pricing
The KW Finder provides you 3 pricing plans. The basic plan starts at $30 for freelancers and small businesses. The premium plan you get at $40 and this is for new startups and blogs. And the agency plan starts at $80 for eCommerce and heavy sites.
10. Bulk Keyword Generator

The Bulk Keyword Generator is the best SEO keyword research tool for local SEO. The tool helps you generate keywords based on the type of your industry. Let me tell you that this tool is the right fit for small size business. To use this tool, you just select the business type and the city you are running your business, and the tool will automatically generate local keywords for you.
Significant features
Perfect SEO tool for small-sized business
Automatically generates keywords for your business and the type of industry.
It helps clients rank higher for local search terms.
Pricing
The Bulk Keyword Generator is a free SEO keyword research tool. So you no need to pay any amount to use this tool.
To sum up
So, these were the SEO keyword research tools we brought to you through this article. And these are the best and prominent tools you can find in the SEO market. You can choose the one tool which you find is best for you. Moreover, the pricing plans are very much economical in all the tools; some of them are completely free. So start using the tool to rank your site on Google's SERP.
For more interesting article subscribe our website, till then keep reading and keep sharing.
---