The Pros and Cons of Using Mozcast Tool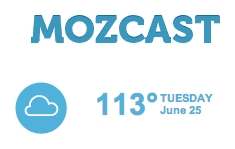 Google algorithm is a term which can cause headache to any online marketer if he is not able to manage it properly. Google algorithm is basically a set of data, codes, or commends that let Google to return relevant search results to users. To provide better results each time, Google actually changes its search algorithm up to 600 times every year. Yes guys, you read it right! This sometimes becomes a problem for most of the digital marketers as they don't exactly know how to manage the Google algorithm update and abide by it.
If this is your problem then you are at the right place. In this article I will talk about Google Algorithm tool 'Mozcast' that will provide you each and every information about Google algorithm update like weather. As you know every tool has some kind of pros and cons, Mozcast also has its strengths and weaknesses that you will learn in this article.
Let's now start with the basics.
What exactly Mozcast tool is?
Mozcast is a free tool that is renowned to track changes taking place in Google algorithm. Basically, Moz launched Google SERP feature Graph – Mozcast tool. The tool is well-known for displaying Google algorithm updates in weather form. Basically, Mozcast is designed to help you keep track of the day-to-day changes in the Google algorithm. In addition, Mozcast is a part of Moz ecosystem which displays Google's Volatility almost like weather forecast tracker tool.
However, the tool doesn't demand to be a technical person, it is simple and easy to use tool. It does all its calculations and shows the final results of Google algorithm updates to you.
Let's move ahead and talk about the Pros and Cons of Mozcast tool.
The Pros of Mozcast Tool
Google SERP feature report
Who doesn't like to see simple and easy report? Almost everyone and there is no doubt in that, right. The first advantage of using Mozcast is this only. The tool provides you Google SERP feature report. The Mozcast feature Graph tracks changes in major SERP features over time. For deeper analysis, you can find and track SERP features that you and your competitors appear in. The data you get here is mostly updated nightly across 10,000 Google SERPs and shows you the last 30 days search results feature history.
Provides you weather report for Google algorithm
When you will use Mozcast tool, you will see that the tool is a daily report for Google's algorithm. It basically determines whether 'weather' pattern will affect your rankings in any significant way or not. So the tool shows a weather report based on ranking fluctuations. You will also see weather and temperature symbols.
Highly efficient tool with speed
Another advantage of using Mozcast tool is that it is highly efficient. The tool is hyper-fast to keep your attention and provide you the data you need. As per Mozcast, "their data is updated "every 24 hours" and they "track a hand-picked set of 1,000 keywords and grab the top 10 Google organic results". The keywords are reportedly "tracked at roughly the same time every day from the same location". This provides Mozcast a great and efficient way to draw and compare the data with the last day.
Super insights and analysis available
Next benefit you can enjoy using Mozcast tool is insight and analysis. So what insights the tool shows to you? Let's hear it from Mozcast itself, "one number can't tell the whole story of something as complex as the Google algorithm" this is the reason that it shows plethora of graphs to try and understand as much of algorithm activity as possible.
Tracks around 1000 keywords
Mozcast is not just the tool that provides you insights on Google algorithm, but also tracks around 1000 keywords for top 10 rankings from different verticals and industries. You can also see the details on domain diversity, EMD (exact-match domain) & PMD (partial-match domain) and daily big data from the metrics page. It also gives you last 3 months data in graph.
The Cons of MozCast Tool
Little confusing tool for novice search marketer
No doubt, the tool is good enough and shows weather like updates in graph format. The feature makes it little confusing and 'too busy' for beginners with lots of aspects demanding your attention. For example, the layout features like 'weather' for today, the last five days weather results, weather for last 30 days, with different tabs explaining the metrics and features. Therefore, the lack of context around data showing in graph is little confusing for novice.
Over to you
Guys, Mozcast is literally a great tool for webmasters and digital marketers to keep an eye on Google algorithm updates. Now that you have read the pros and cons of using Mozcast tool, you can move ahead with the tool easily. The advantages of Mozcast are more than its cons. Though it is little confusing for novice users, you can still learn it. So don't wait guys just start using the tool to get Google algorithm updates in real-time.
For more interesting articles subscribe our website, till then keep reading and keep sharing.
---