Microsoft Advertising Now Supports For Multi-Image Extensions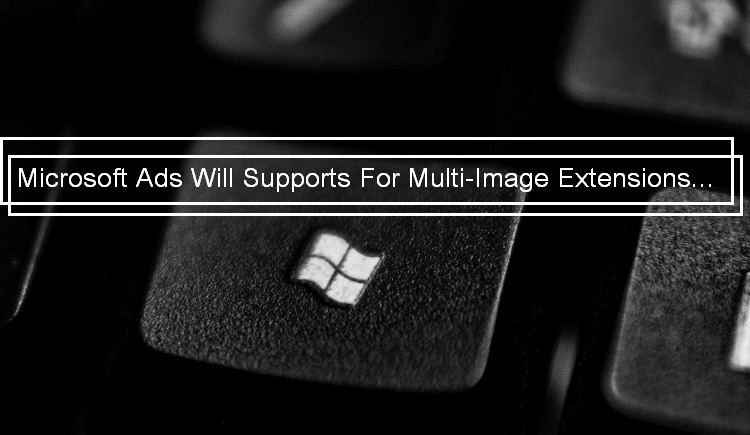 Microsoft Advertising is the second most renowned digital advertising platform that comes after Google ads. There are many digital marketers who rely on Microsoft advertising than Google ads. No doubt, this is a great advertising platform. Like Google, Microsoft also tries to enhance its user's experience by introducing new features in its advertisement section. If you are a Microsoft ads user then this article brings very good news for you. Are you curious to know? Let me tell you that Microsoft advertisement now supports for 'Multi-Image Extension.' Sounds interesting, right!
Do you want to know more about this new feature added to Microsoft Advertisement? If yes, just be with this article, I will start from scratch.
Let's make a start now.
Microsoft Advertisement adds new support for Multi-Image Extension
Recently, chit-chatting took place in the digital marketing industry about Microsoft Advertisement. The chatting goes like that Microsoft Advertisement added a new feature for its ad platform for supporting multiple images for its search ads. No doubt, adding visual element in-text ads is an amazing way to engage with your target audience. This is the reason Microsoft has introduced Multi-Image Extension for ads.
Here read the official announcement of Microsoft Advertisement:
Microsoft said, "We're excited to announce the availability of Multi-Image Extensions for all our advertisers in the US, a unique opportunity that's available only on Microsoft Advertising. With Multi-Image Extensions, you can increase attention to your existing text ads by displaying a carousel of up to five images."
For which country this feature is available?
In the announcement, Microsoft has said that the Multi-Image Extension feature is available in the United States only. When the feature will roll out in other countries, the company has not confirmed yet. However, the Microsoft Company has said that advertisers residing in Australia, France, Canada, Germany, and the United Kingdom can request to participate in the beta by contacting their Microsoft Advertising account manager.
Let's come back to the feature and talk about how it will work on desktop and mobile device.
# Multi-Image Extension on Desktop
Microsoft said, "On the desktop, up to three images are shown with the option for the users to advance the carousel to see up to two additional images."
# Multi-Image Extension on Mobile
For Mobile images, Microsoft said, "On Mobile one image is shown with the option for the user to swipe to see up to four additional images."
This is not the limited feature which Microsoft is adding in its advertisement rather the company has also announced something to enhance the ads experience of users. Don't you want to know? Just read the section below, you will get to know.
Microsoft also announced UI for managing all image extension ad formats
With the Multi-Image Extension, Microsoft is also rolling out a new user interface (UI) for all of its image extension ad formats: Single Image Extension, Multi-Image Extension, and Audience Ads. Let's understand these three ad formats one by one in detail.
– Single Image Extension
In this ad format, you can add an image extension to your ad which is free, and with any other ad, you pay only when your ad is clicked. Here you can add up to six images per ad group or campaign but keep in mind only one image will serve per ad.
This ad format can be set up in all Bing markets except China. In case, you want to make any changes, select in Account Campaign or Ad Group below the Ad Extension tab.
– Multi-Image Extensions
This feature you can use to enhance your ads and stand out from your competitors. Your potential customers will be able to see what they will get when they click your ad. They actually help you increase traffic to your site. You are now able to display five images with Multi-Images Extensions; I would say this is a unique opportunity available for Microsoft Advertisers.
Moreover, only United States marketers can avail this feature.
Where you can use this ad format?
You can enable this Image Extension for ad placement on search results pages, where it shows multiple images per ad.
The eligibility required to run this ad is – you need to have at least 4 Image Extensions with the multi-image layout eligibility selected.
– Audience Ads
In very simple words, it is a native advertising solution optimized for search advertisers. With this feature, marketers will be able to get additional high-quality traffic from non-search placements. These ads are basically placed within articles, integrate naturally into page content, and deliver visually rich ads for advertisers. Moreover, the audience ad campaign is very easy to set up, maintain, and optimize as they have full integration with existing Microsoft Advertising workflows. 
Furthermore, the Microsoft Advertisement update also includes simplified image management control, free access to a library of stock photos from Shutterstock (more than 320 million high-quality, advertising,-ready images for free) available for use in Microsoft Advertising, and new image extension ad previews.
Final track
Microsoft Advertisement has become the most renowned advertising channel across the world. And now it is enhancing user experience by adding new features in it. The multi-Image Extension feature will give your customers a better idea of what to expect when they see your product images. You can now display five images with a multi-image extension on Microsoft Advertising. Moreover, the feature is only available in the US, non-US citizens can request Microsoft Advertising contact manager.
Till then subscribe our website and keep waiting, who knows when Microsoft will make the feature available worldwide for all Microsoft advertisers.
---