Impact of Covid-19 on Affiliate marketing.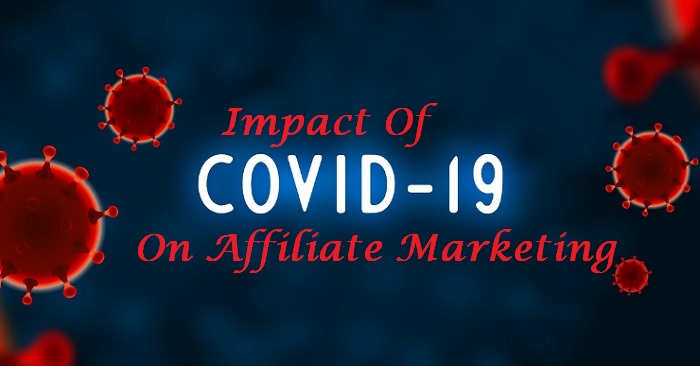 The coronavirus is a vicious disease in the 21st century. It has not spared anyone neither people nor the marketing sector. Every person and business marketers have seen the devastating impact of coronavirus on their lives. But particularly, business sectors have been impacted a lot. In the digital marketing business, each industry is experiencing its own unique set of challenges that are threatening them to undermine their business. Many marketers think that the effects of coronavirus pandemic are worse for than the 2008 financial crisis. Well, in this article, I will give you a brief description of the effects of coronavirus on affiliate marketing.
So folks, read out to find out what the impact of COVID-19 has been like for the affiliate marketing industry.
Major impact of coronavirus on affiliate marketing industry
Following are the effects of COVID-19 on affiliate marketing industry. Read them to know.
– Downfall in ad revenue
Affiliate marketers are those who sell products of any company to people and the generated revenue or commission goes to the affiliate marketer. Since COVID-19 hit the world, there has been a major drop in the advertisement revenue. The downfall in ad revenue has become a major challenge for affiliate marketers. So those marketers who were earning from selling other companie's products and services are now facing the challenge in earning revenue from affiliate marketing.
– Disruption in supply chain and longer shipping times
I would say this is the most annoying effect of COVID-19 because it is spreading the disruption in the supply chain. There are still many affiliate marketing companies that are doing well such as converting leads, making sales, etc. But the chaos is that there is no exact of the supply chain. Without a proper supply chain, marketers are not able to sell properly and generate revenue. Moreover, the shipping time is also distracted which has also impacted the supply chain process. Prolonged shipping times are troublesome for affiliate marketers. So this is the major problem that affiliate marketers are facing.
– Reduced commission and suspended program
Not only revenue but commission has also reduced due to COVID-19 impact. It is widespread because the effects of coronavirus have scattered throughout the world economy. Some of the programs are already suspended. Mark Mazza, co-founder and CEO of SerachPromoCodes said, "Amazon suspended programs – over 100 travel and entertainment partners have either suspended program or reduced our commission." So it is clear that COVID-19 has major impact on the affiliate marketing industry.
Follow the affiliate marketing strategies to survive in the COVID-19 pandemic
Now the situation is very difficult, you can't understand what exactly the demand of the people. This is the reason that affiliate marketing is falling down. But you can raise it by focusing on in-demand product categories. Your focus should be on doubling the digits on food, drug, home goods, books, music, videos, software, apparel and accessories.
The present environment is changing rapidly. People are only busying those products in which they are getting discounts and offers. Most consumers are looking to save money and are seeking discounts. Therefore, as an affiliate marketer, you also need to promote products with heavy discounts. This is a good way to attract customers.
If you want people to buy your product then you have to ensure that you're along with a good brand name. It simply means you need to build brand loyalty for your customers. There are a variety of loyalty partners, you can collaborate with them. Some provide cashback to customers, offer valuable gifts, contribute to charitable organization, etc. These are some partners that help you build brand loyalty with your customers and generate foster goodwill for the brand.
Wrapping up
No one can say when the present pandemic COVID-19 will end. It has changed the entire marketing system, and is keep on changing. It will change the entire world. However, the impacts of COVID-19 on affiliate marketing are remarkable and unprecedented. Affiliate marketing is under pressure due to the coronavirus crisis. But I have shared some of the ways through which you can boost your affiliate marketing again even in this crisis. Don't get disheartened by the pandemic rather learn to face the situation and come out as a winner.
kindly comment below to let us know if you have any query. For more informative articles get in touch with us, till then keep reading and keep sharing.
---