How the PESTLE analysis model can help in your business?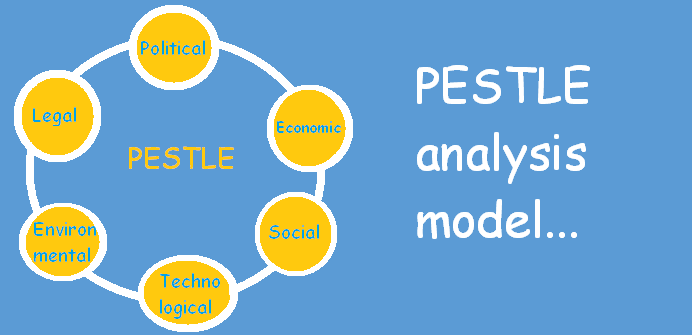 If you are in the digital marketing business, you will likely receive business threats, right! How do you tackle these threats? Do you use some tools to reduce threats or take help from someone? You would know the answer. I will say every business works best when you have the best strategic plan to implement, without strategy business might collapse. However, in the case of reducing the threat of the business, a unique strategy is required. Can you think of any strategy for it? No, ok I tell you. The possible strategy you can use is PESTLE. Yes, you read it right.
Want to know about PESTLE? Just continue reading this article till the end.
Here we start.
What is PESTLE?
PESTLE is an acronym that stands for Political, Economical, Social, Technological, Legal, and Environmental factors. This is a technique that is commonly used to examine and identify the macro-environmental factors which may affect your business. These factors can make an impact on your business, position, and direction of your company. Moreover, each letter in the set of acronym denotes a set of factors that directly or indirectly affect your business.
The PESTLE model is a very advantageous model for any business. It is a cost-effective which provides a deeper understanding of business, alertness to threats, and a method of exploit opportunities.
How PESTLE is helpful for your business?
Reading each of the letters of acronym in detail will help you understand how PESTLE helps you in business model. Let's start.
#P – Political Factors
As the term suggests, the factors are related to the political situation of the company and world in relation to the country. It is actually about the political impact on the country's economy. The political factors include policies, rules, regulation, labor laws, consumer protection rights, employment laws, tax policies, etc. These factors are imposed by the Government on a trade or business. To run a successful import and export business, you must focus on political factors.
#E – Economical Factors
The next factor that comes in the list is the economic factor. It includes all the economical determinants of the country which is very essential for any business to understand. For instance, interest rates, fiscal policy, inflation rate, foreign exchange rate, etc. of a particular country. These factors make a direct impact on the import and export of any business as these factors decide the direction of a country's economy.
#S – Social Factors
Every external force is considered as a social factor. The main external force is a society that will always have an impact on business. You have to understand the mindset of people, their preferences, interests, and needs. As a businessman, you should be aware of individual lifestyle, domestic structure, cultural implications, etc. as it will help you understand the market situation and customers.
#T – Technological Factors
No doubt technology is evolving at a very fast rate. Running a business without technology means staying behind in the market competition. To give new heights to your business, you must keep an eye on new innovations, changes, technology, Google updates, etc. All these will help you become tech-savvy and keep ahead of the competitors in the market. The technology helps you understand how consumers react to technology trends and how they utilize it.
#L – Legal Factors
It is very important to take the help of legal documents to set up any business in any locality. However, legal procedures can change anytime and directly affect the business environment. For instance, a regulatory body is setting up-regulation for industries, then this law would impact all industries and businesses striving in the economy. Therefore, you should prepare yourself for upcoming changes in legal factors to tackle them easily in the future.
#E – Environmental Factors
The environmental factor is all about the location of the company and how that particular location is affecting the business. The factors here include geographical location, weather, climate change, etc. All this will directly impact the trades and consumer demands and even product development in some industries.
The bottom line
Once you implement PESTLE model in your business as a part of your marketing strategy, you will definitely see the positive impacts on your business. All the PESTLE factors will help you identify and figure out every bit detail about your business. It is a great tool you can use to gain a comprehensive understanding of the macro-environment in which your business is operating. So do use PESTLE business model and grow your business.
Comment below to let us know how you find this article. Subscribe our website for more informative articles, till then keep reading.
---