Google updated its Chrome web browser with version 85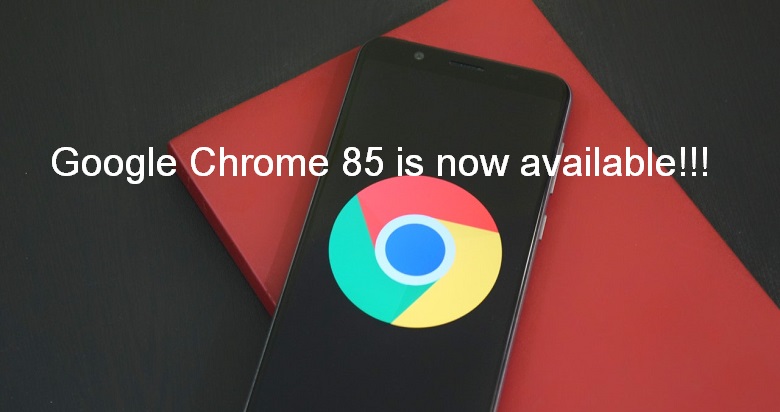 Hello folks, this article brings good news for all the people who use Google Chrome as their priority browser. Anyone can say that Chrome is the most used browser across the world. This is the first priority of people than other browsers available in the market. Let me tell you that Chrome launched back in September 2008 since then it has now almost 1 billion users. And more than 310 million people use Chrome as their primary browser.
Coming back to the good news about Google chrome is – last month Google updated its Chrome browser with the latest version 85. Sounds interesting, right. Are you ready to know what features and updates Chrome brings with its latest version? If yes, just keep your eyeballs here and read the article till the end.
Let's now make a start.
Google updated its Chrome web browser with latest version 85
On August 25, Google announced an update introducing the chrome browser with the latest version 85. Today, the world is fully based on the internet so to make sure that every person including digital marketers and SEOs who is using Chrome is protected by the latest security updates and features. Chrome browser plays a great role when it comes to using the internet because it can make the browsing experience easy as well as frustrating.
This is the reason why Google launched Chrome version 85. Still didn't get? The new Chrome version launched with an objective to increase user productivity and making the browsing experience faster and safer. In addition, the latest version of Chrome provides speed up page loads on your computer and takes advantage of more RAM on Android phones.
What are the operating systems that Chrome 85 is launched for? The Chrome 85 update is available for Windows, Linux, Android, Mac, and iOS.
Let's move further and dig deeper into the newer features of Chrome 85 below.
Have a look at the new features of Chrome 85 version
#1. You get 10% faster page load speed
In the new Chrome update 85, Google provides you faster page loading speed up to 10%. You actually get two types of speed here. First is 'Profile Guided Optimization' (delivers up to 10% faster page loads), and second is 'Tab Throttling' (helps reduce the impact of idle backgrounds tabs). About Profile Guided Optimization, Google says that your most common task gets prioritized and made faster.
The feature is rolling out on Windows and Mac. Google promises to make noticeable changes from the feature. On Chromium blog, Google writes, "Our testing consistently shows pages loading up to 10% faster at the median, and even greater speed improvements when your CPU is tasked with running many tabs or programs."
#2. Enhancement in PDF files
In this feature, Google Chrome lets you fill out PDF forms and save them with your inputs. Sometimes, after closing PDF you don't know where you left, with this feature you can pick up where you left off. Let me tell you that when you save the PDF file, Google will ask you to fill out extra metadata about the structure of a document such as headlines, tablets, lists, images descriptions, and paragraphs. This is called tagged PDF which is more accessible to users with disabilities for example people who use a screen reader to automatically extract data from. Though the feature is not yet rolled out, it will release in the few weeks.
#3. Full URLs may soon be hidden by default
The next feature is making full URLs hidden from the Chrome address bar. Let me tell you that Google has long tried to hide full URLs in the Chrome address bar. I tell you how. If you are reading this article in Chrome then you will not see the https://www before "Curvearro.com." But you can see this when you tap or click in the address bar. And Chrome 85 brings many such features that flag this mission further. In case, you want to try these feature flags on Chrome 85, you can enable them on Chrome's flags page. What you need to do is just type or copy-paste the following in the address bar:
chrome://flags/#omnibox-ui-reveal-steady-state-url-path-query-and-ref-on-hover
chrome://flags/#omnibox-ui-hide-steady-url-path-query-and-ref-on-interaction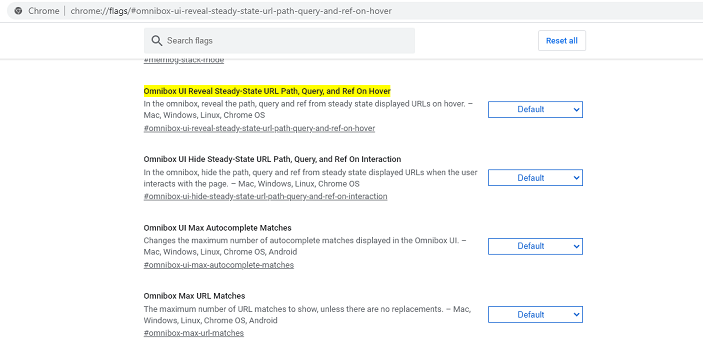 #4. Tab grouping feature
Google provides you tab grouping feature in Chrome 85. On Chrome if you have opened several tabs then users can organize tabs in –where else? You can add new tabs to the group by dragging and dropping or from the right-click menu. Moreover, Google Chrome 85 allows you to expand or collapse those tab groups. A click on the group's label collapses all associated tabs into the label; remove all of them from the bar. In the second click, all get restored to the bar. Chrome's director of UX, Alex Ainslie, wrote in a company blog, "This was the most popular feature request we heard from those of you using tab groups."
Some other features of Chrome 85
Google offers plenty of goodies for developers in the Chrome 85 version. For example, App shortcuts, web pages start sending data and allow a webpage to show another webpage as an inset for seamless navigation.
Chrome 85 also implements 20 security fixes.
Google now switches Chrome 85 for Android to 64-bit. It means now 64-bit will allow Chrome to better take advantage of the RAM included on high-end phones.
Guys, you can update to the latest version by using Chrome's built-in updater or download it directly from Google.com/chrome.
Summing it all together
So guys how did you find this article? Google's new announcement for Chrome 85 is a big update for all Chrome users worldwide. The new update introduced just to enhance the users experience and provide them better results while using the Chrome browser. I have mentioned all the updates that Chrome 85 brings with it. You can update your browser by visiting the site itself and enjoy the new Chrome browsing experience.
For more informative articles subscribe our website, till then keep reading and keep yourself updated.
---