Google Meet's free features will expire today.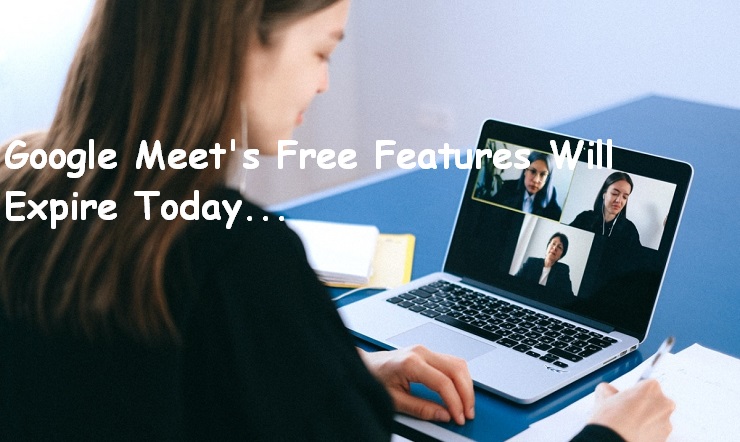 Today, the world is fully virtual. From purchasing online products to conducting online interviews to video conferencing, everything has become possible due to digitization. Talking about professional video calling apps – then ZOOM, and Google Meet are on the top. No doubt Zoom is dominating the digital industry but majority of people do use Google Meet, and you might be one of them. If you are using Google Meet then you would be using its free features right. Now let me give you shocking news. Why I am saying shocking is because today, yes today, on September 30, 2020 the free features of Google Meet are going to expire. Shocking no? Of course it is.
Don't you want to know why Google is restricting free features of Google Meet? If yes, keep your eye balls here and read the article till the end.
Let's dig into the update below.
Google Meet's free features are expiring today
About two or three days ago, tech giant Google's video chat platform Google Meet announced that it is going to limit the free features after September 30. It simply means the free version of Meet will restrict the meetings no longer than 60 minutes. In April, the company decided to allow users having Google account to make video meetings up to 100 members with no limit.
The spokesperson of Google told The Verge in an email, "We don't have anything to communicate regarding changes to the promo and advanced features expiring. If this changes, we'll be sure to let you know."
So it is clear that Google Meet free features will go back to as it was for free users. In the free features, anyone (with Google account) could make unlimited Meet calls. Therefore, once the promo is expired Google Meet free calls will be limited to 60 minutes per user. So yes, it is kinda sad news for people who have been availing features of Google Meet since their launch in April.
Why Google Meet made features available for free in April?
You all know that lockdown was imposed nationwide in the month of March, right. Large numbers of people were working from home and meetings with employees, customers, clients, became necessary. This is the reason Google Meet made free features available in the month of April for all digital marketers.
In April, the company said that the deadline for the free product would be limited to 60 minutes. However, the company decided not to implement it before 30 September as the Covid-19 pandemic led to greater numbers of people working from home.
So today it is 30 September and the free features are expiring. And there is no confirmation whether Google is going to extend the free features or not.
What other features will expire with free video calling feature?
Not just the video calling feature, but other features such as access to advanced features for G Suit and G Suite for Education customers. It includes meetings up to 250 participants, live-streams of up to 100,000 people within a single domain, and the save video recording to Google Drive. So the company has decided to discontinue the G Suite and G Suite for Education feature as well.
Let's dig deeper and get to know what other announcement Google Meet made for its G suit users.
Google Meet has rolled out new features for G Suit users as well
Google's first priority is its users. No doubt, the free calling feature is expiring today. But Google is bringing new and advanced features for G Suite users. Curious to know? So the good news is that Google has allowed free access to Meet's advanced features for all G Suite customers. The advanced features include:
Ability to make live video calls up to 100,000 viewers within their domain.
Free additional meet license for qualifying G Suite customers without any change to their current contract.
Fee G Suite essential for new customers.
All these features are normally available to customers on the "enterprise" tier of G Suite, which costs USD 25 per user per month. By making all the advanced features available for free for G Suite users, the tech giant saw daily usage growing by 30 times with Meet hosting 3 billion of video meetings daily.
Moreover, this month Google launched a new feature in its Meet app where the users can now easily set up to 49 people at the same time in the auto and tiled layout option. You can also see the host of the meeting now. Only G Suite users having personal account can avail this feature.
The bottom line
Google Meet free feature of making unlimited video call up to 100 people is expiring today. Well, users can go premium to avail the feature. But those who don't want to upgrade to the paid version can continue use the free version with restricted features on the meetings. However, it would be hard to wind up the meeting within 60 minutes. Now it is up to you – whether you want to go premium or continue using the app with limited features.
For more such interesting update, Subscribe our website. Till then keep reading and keep sharing.
---