Google ads vs. Bing ads, which is worth to use?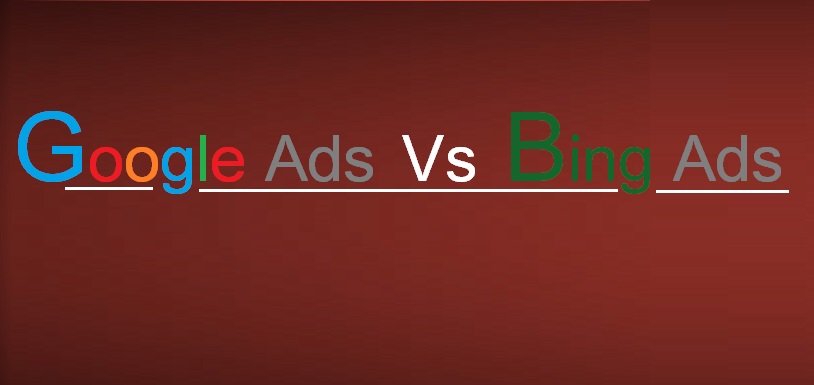 Today, digital advertising is at a peak. No one talks about traditional advertising because the entire world is dependent only on digital marketing. You don't believe me? Ok, then let me tell you that every year companies spend more than $250 billion on digital advertising. But is it that simple to spend money on any advertising platform? No guys, the ongoing debate which is going on here is between Google ads and Bing ads. Brands and marketers struggle to choose between these two big advertising platforms. Well, it is obvious because when it comes to digital advertising, you can't spend money recklessly or in a prodigal way.
So to help you choose the right platform, I have come up with this article. Here I will give you a brief comparison of these advertising platforms. So let's start with the basics.
Google Ads vs. Bing Ads: what exactly the difference?
Google Ads is used to known as Google Adwords. Both advertising platforms are pay-per-click advertising platforms. And the purpose of both the goal is to aid marketers in expanding their business reach, get quality traffic on the website, and generate maximum revenue. However, the differences which come here are between reach, cost, targeting options, and many more.
Let me just give a quick snapshot of Google Ads vs. Bing Ads before I start talking about the main differences.
Google Ads
Who doesn't know about this platform? A very famous advertising platform throughout the world. Basically, the platform consists of two networks:
– Search Network
Whenever people search for anything (or target keywords) on Google, the ads appear in search engine results.
– Display Network
If a user browses more than 2 million sites across the Google Display Network, the ads will appear on the screen.
Bing Ads
Bing is Microsoft owned advertising platform containing three search engines:
Bing 2. Yahoo 3. AOL
When you advertise on Bing, it will show your ads on all the three platforms mentioned above (as well as on partnered site). It might attract your eyes to choose it now, but you need to know the major differences between these two.
So let's start the difference now.
Major Differences between Google Ads and Bing Ads
1. Cost (Bing is less costlier)
The first difference I will highlight here is Cost. This is one of the undeniable factors in Google Ads and Bing Ads. I am keeping this in the first place because this is what most businesses see first. But I will say don't make the cost as deciding factor. However, Bing Ads would likely cost you 20-30% less than your Google Ads. But don't forget if you spend less, you might end up earning less also. On the other hand, Google Ads has a higher average cost per click of around $2 reported by WordStream while Bing Ads is lower t $1.54.
2. Reach (Google Ads dominates here)
Reach is one of the important factors of online advertising. It is obvious because, without reach, your advertisement may not work unless and until it reaches out to your audience. The goal of an advertisement is to reach to your audience so that people can find your business. However, Google Ads gives offers you access to a broader audience. With Google Ads, you can reach 90% of the online audience.
On the contrary, Bing is behind in the reach only by 5%. But it doesn't mean Google Ads wins this difference. It is because Bing Ads makes you reach 53 million desktop searchers that Google can't. But I will still say Google Ads is the best for getting overall reach in the market.
3. Target audience (Google Ads provide more targeting options)
Targeting is another essential difference you need to look here. Ad targeting helps your business reach out target audience with success. So what exactly the difference and which platforms win this? If you see Google Ads, you can use the audience and content targeting. In audience targeting you have, custom intent, demographics, similar audiences, remarketing, and affinity. And in content targeting, you have keywords, topics, placements, and display expansion for search.
On the other hand, Bing Ads targeting includes keywords, location, LinkedIn profile, in-market, gender, age, device, remarketing, custom audiences, time of the day, day of the week, etc.
You can see that Google Ads provides you more targeting options than Bing Ads. So, Google Ads wins here.
4. Keywords targeting (Both the platforms offer same keyword options)
Keyword targeting is almost like an audience targeting when it comes to advertising. Whether you advertise on Google Ads or Bing Ads, you will like to launch a campaign that uses keyword targeting. This is the reason you need to know which platform provides the best keyword targeting option. So first is Google Ads. The platform provides you keyword match typed such as exact match, broad match, phrase match, negative keywords, and broad match modifier.
Whereas in Bing Ads, you have an exact match, phrase match, broad match, and negative keywords. Now you can see that both the platforms offer almost the same keyword match options. The online difference is a broad match identifier that you get in Google ads.
5. Ad restrictions (minor difference otherwise almost same)
This comes under privacy and policy option. Well, this is also a very important difference to look over. No doubt, Google is a lot stricter than Bing ads. It strict a lot of affiliate marketing links, unlike Bing ads. The list of Google Ads that prohibit ads are- adult content, alcohol, political content, legal, trademark, gambling & games, healthcare & medicines, copyright content, financial services, and bridge pages to affiliate links.
On the other hand, Bing Ads prohibits content such as hate speech, dating, political & religious content, tax collection, suffering & violence, peer-to-peer file sharing, sensitive advertising, and unregulated user-generated content.
Over to you
I hope, this article was enough helpful for you to understand the difference between Google Ads and Bing Ads. I no need to tell more on these two advertising platforms because above I have talked everything in a very detailed manner. I just only can say that if you're a small or medium-sized business then go with Bing Ads because affording Google Ads in the starting might cost you an arm and a leg. But overall, Google Ads is the dominating advertising platform in the market.
For more informative articles subscribe our website till then keep reading and keep sharing.
---