Get ready for the next Google Webmaster virtual conference in February 2021
How many of you planned to attend an event in 2020 which eventually canceled due to Covid-19? No matter whether the events were large or small all of them canceled due to the coronavirus pandemic. Every digital marketer would know that in the month of August Google launched first-ever virtual webmaster 'unconference' which ended up selling out within a few hours after launching. However, SEOs were not happy so Google decided to hold a real virtual webmaster conference that happened in August. The conference was a huge success for digital marketers, webmasters, and SEOs.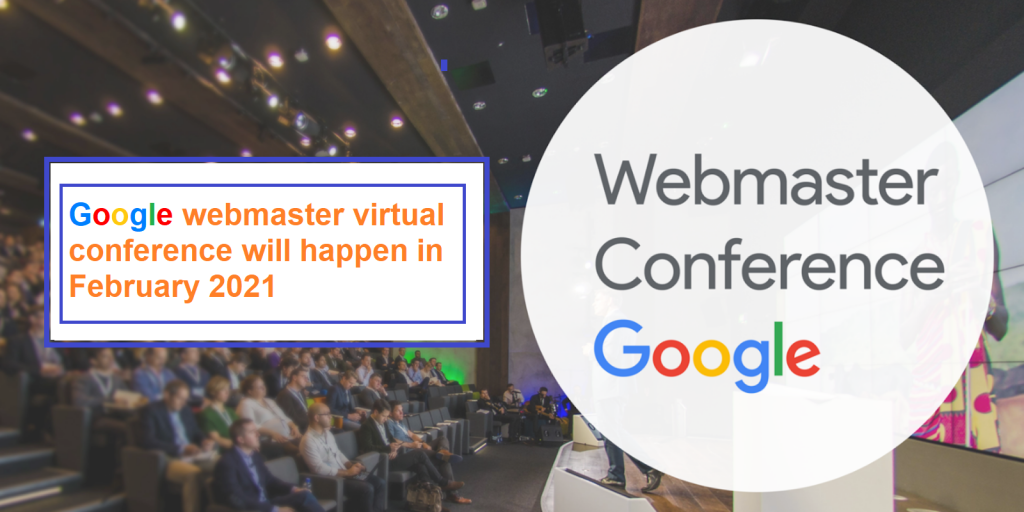 Do you know another webmaster virtual conference is going to happen? Yes, guys, the webmaster virtual conference will take place in February 2021. Wanna know about the February virtual conference? If yes, make sure you read the article till the end.
Let's jump in and talk about the webmaster conference.
Firstly, understand the concept of webmaster virtual conference
Google conducts Webmaster conferences every year where experts having ample experience to address people about how a search engine works. They tell people how better they can use Google images and what the new search algorithm is all about. A webmaster, SEO, blogger, and digital marketer has many queries regarding search engine, website rank, thereby webmaster conference formulated to solve the phase. So yes, this event is all about the digital content creators.
However, a virtual webmaster conference is one that takes place online across the world.
Webmaster Virtual Conference is going to happen in February 2021
About a few days ago, news came about the Webmaster virtual conference which is going to take place in February 2021. Actually, Barry Schwartz (founder of SEround table) asked Martin Splitt (Software Developer) to check on technical Google things. In reply to his response, Martin said that he is busy preparing for the next conference, among other things. So he said that he and Google friends are working on the Google webmaster virtual conference which expects to happen in about four months from now, in February 2021.
Martin said, "I'm knee-deep in preparations for the Virtual Webmaster Conference as well as the Chrome Dev Summit, so it might take a while."
After reading Martin statement, it is clear that he is working on two conferences simultaneously which are virtual webmaster conference and Chrome Dev Summit.
What topics does the webmaster conference cover?
Whether it is physical webmaster conference or virtual, the topics which this conference generally covers are:
How to do better on Google Images
How Google Search works
What's New in Search Console
What new search algorithm is all about
Getting good rank of website on Google's SERPs
There are many more topics which the webmaster conference cover. Once you attend the conference, it will benefit you a lot in many ways.
What is the real purpose of conducting a virtual webmaster conference in February 2021?
A real purpose of conducting a virtual webmaster conference is to address webmasters, SEOs, digital marketers about important topics that are beneficial for them to successfully run their website. Moreover, a virtual conference will happen because of concern around the coronavirus pandemic. Coronavirus is the major reason due to which webmasters decided to postpone the physical webmaster conference events until this year.
Now you will see the virtual webmaster conference taking place in February 2021.
Let's now talk about the first virtual webmaster conference took place in August 2020.
First virtual webmaster conference – August 2020
The virtual webmaster unconference took place on August 26. As it was a virtual event, the opportunity was rare for people to sit in on live session an official Google conference. And Google's in-person conferences couldn't take place due to covid-19 global pandemic. Moreover, this conference was all about interaction between Google and the audience rather than Google presentations.
The first virtual webmaster conference was an interactive one because Google did not want people to take seat just for sit back and watch. That's why Google wrote, "You can expect to actively participate in the sessions you're interested in via voice and/or video call through Google Meet. Please note that the sessions will not be recorded; we will publish a blog post with some of the top learnings after the event."
Let me tell you that this conference was a huge success for digital marketers. Moreover, the conference got sold out in just a few hours because it was more about dialogue sessions between Googlers and the audience.
The bottom line
Google Webmaster conference is an effective and never-to-miss conference, especially for digital marketers. As a webmaster, you must attend it to gain knowledge on various topics like website rank, Google search console, site traffic, etc. If you attended the first virtual webmaster conference, you must have known how fascinating it was. So if you also want to attend the February 2021 virtual webmaster conference then get ready for it.
To read articles on more such virtual events and updates, subscribe to our website.
---