Digital Marketing also gets affected badly due to Coronavirus.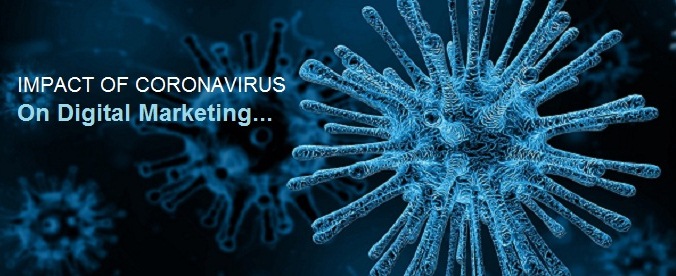 Coronavirus or COVID 19 – a life threatening infectious disease has left whole world in ruckus. Whole world has been threatened by this. As per WHO report, 5000 is reported to be a global death and till now Corona has affected around 28 countries badly worldwide. After reading this data what you think COVID 19 is only confined to people and their lives. No folks, not only people but also schools, events, exams, festivals, and businesses have been cancelled and postponed due to this virus. Big companies like Facebook, Apple, and Uber said revenue will likely to slow down due to supply chain issues and declining consumer demands.
Moreover, many online publishers have reported that COVID-19 is starting to impact ad revenues. Being a part of digital marketing industry, you must know how badly the industry has been affected.
Let's now understand how digital marketing has affected by Coronavirus.
Many digital marketing events have cancelled due to Coronavirus
It's a fact that many events have been cancelled or postponed due to Coronavirus. Recently, Traffic & Conversion Summit 2020 was to conduct on 31st March but now has been cancelled which is a huge loss for digital marketers. Many other events such as Advertising Week Europe, Mobile World Congress, and SXSW have already been cancelled for now. Furthermore, last week, Facebook announced that its F8 developer conference was no longer taking place.
To tackle the growing chaos around events, business messaging app, Guild has set up the group called CREO or Coronavirus Response for Event Organisers. It is a peer support group for anyone who wants to run an event within the next 6 months.
Marketers facing supply-chain slowdown in advertising
We know that COVID 19 has badly affected the world due to which supply chain of products have stopped from one county to another. And we look at the origin place of Coronavirus then we all know it is China which is also a one of the big product supplier markets in the world. That's why companies and marketers are highly concerned to spend money on advertisement. The less the supply-chain production of goods would be, the less will be spent on advertisements.
Businesses seeking to mitigate the impact of Coronavirus
Day by day Coronavirus is outspreading at an alarming rate. It's very important to stop it otherwise it can badly affect the digital marketing industry. To eradicate this problem, marketing companies have begun to implement measures to mitigate its negative impact on business.
Many big companies like Amazon, Microsoft and Facebook have advised their Seattle-area employees to work from home for the next few weeks, after Amazon's employees tested positive for the deadly Corona virus.
Moreover, there are many factors that companies are affecting by this virus such as location, industry type, etc. Global economies are already feeling the down hit in the market. This decision of the companies might eradicate the effect of Coronavirus.
In summary
Guys, I know Coronavirus is badly affecting the digital marketing industry and due to which a lot of marketers have seen a major downfall in sales. However, marketers no need to panic; you just need to know what the shift in consumer behaviour is. I just want to tell all the marketers that the key to mitigate the impact of Coronavirus is to put the customer at the heart of marketing and look at their changing behaviour particularly in response to digital marketing trends. 
For more updates and interesting articles get in touch with us till then keep reading.
---