COVID-19 Posts Replacing Normal Google Posts, what to do?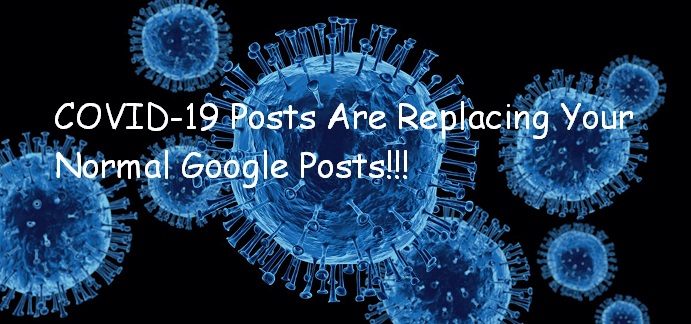 The time is hard, the information you're getting on Google might also be fake or irrelevant amidst COVID-19. No one knows the intention behind your post, whether you're doing it for earning or literally providing people with authentic information. Therefore, this is a problem that Google is concerning during the COVID-19 pandemic. Wondering what Google is trying to do? Actually, Google has already done, now it's your time to make a decision. Getting puzzled what am I saying? Let me give you a gist here, if you post any normal post on your website then it will be replaced by COVID-19 posts. It means at this time posts related to COVID-19 are more valuable than another normal and regular posts.
So are you ready to know what you can do to tackle this decision? Read the article till the end.
Let's make a start now.
Google's recent decision to replace your normal posts with COVID-19 posts
It is very important for Google to fully check that you're not updating any irrelevant post in your site. At present, the time is just to spread the news or update info about COVID-19 as much as possible. Not only it makes people aware to handle the situation, but also makes your website an authentic source of information.
Therefore, a local SEO expert Tim Capper on Twitter informs that users must be aware that if you post a Google post by making use of the COVID-19 update then it is most likely that it will replace any other normal Google post you add.
On Twitter, Tim Copper said, "It seems that COVID-19 Google post in GMB is replacing normal Google post."
So what you can do now? Do you have any choice left? Yes guys, you have choice – either use COVID-19 posts or regular posts.
What to do to save your regular posts?
What could be the answer to this question? Any guesses? You do a lot of Google posts in your local SEO strategy and you don't want COVID-19 to overhaul your Google posts. Well, you can delete your COVID-19 posts if they overrun your other Google posts. Its all up to you either you want regular posts or COVID-19 posts.
Let's move further and learn more about COVID-19 posts.
How to create a COVID-19 post on Google My Business?
Last month, Google made an announcement related to COVID-19 posts in Google My Business. Google talked about how you can create COVID-19 posts in your Google My Business account. Read below if you also want to create a COVID-19 post for your website. Just follow the process below.
The very first step is to sign in to your Google My Business account on desktop or laptop.
Now go to the menu bar and click on Posts.
At the top of the page, you will see the "Covid-19 update" tab. Google My Business may ask you for some information like:
Hours of operations and temporary closures
Any changes related to business operation, such as takeout or delivery, call for details, etc.
Update on how you're managing your location like safety and hygiene.
Google may ask you for support.
Now you need to click on Preview to see your posts before it goes live.
Finally, you can click on Publish when you're satisfied with your post.
Some of the important details about COVID-19 posts
It's very important for you to know the details of your COVID-19 posts. Read them below.
– Only published for up to 14 days
If you have your account on Google My Business, then you might already know that any post you upload on Google My Business lasts for 14 days. The same is the case with COVID-19 posts. It basically means the information you share will remain relevant only for 14 days. And you need to publish the same post again. Therefore make sure to keep yourself updated with your posts date.
– Text only
The important thing you need to note here is that your COVid-19 posts will contain text only. Unlike regular posts, you will not be able to add images, videos, or any other type of media in your COVID-19 posts.
– Available to all Google My Business listings
This point basically tells you that whatever the type of your business is such as a healthcare organization or a local restaurant, your COVID-19 posts are available to all types of listing. So every business can use COVID-19 post if they need it.
The bottom line
Google My Business is an excellent site for listing your business and making it popular worldwide. In this pandemic, Google has already cleared to replace your regular posts with COVID-19 posts. So don't waste your time producing posts that will be replaced by Google. Rather focus on creating posts related to COVID-19, it will help you fetch more quality traffic and rank your site on Google's first page.
Kindly comment below to let us know is this article helpful for you or not. For more updates get in touch with us till then keep reading.
---