Bingbot announced to be evergreen just like Googlebot.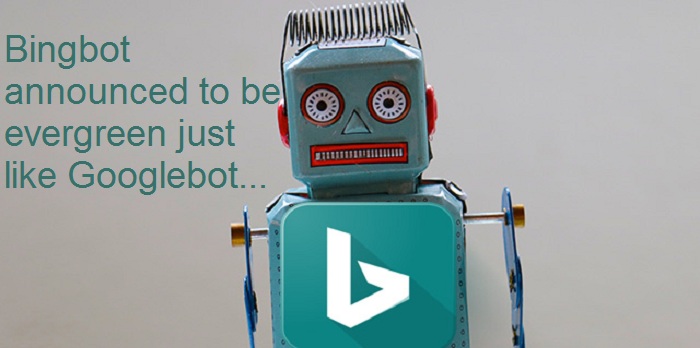 Recently, Bingbot announced that it is going to be evergreen just like Googlebot. We all are familiar with the term Googlebot, right! However, Bingbot might be a new concept for many of you. So, this blog will talk about the major announcements that were taken by Bingbot lately in detail. Before I talk about Bingbot, I want to first clear the concept of Googlebot for those who are not familiar with this term too.
Let's get started with the concept of Googlebot.
Googlebot is a web crawler software that collects the web page information and data that can be used to supply Google search engine result pages (SERP). This is also known as a search bot, WebCrawler, and a spider. Google bot is a good source of collecting documents from the web to build Google's search index. The consistent collection of documents allows Googlebot to look for new pages and club them into an existing ones.
Furthermore, Googlebot also uses an algorithm to examine what sites to browse, at what rate to browse, and how to get new pages. It always keeps Google's database up to date.
Now move on to the next concept i.e. Bingbot
Bingbot is also like Googlebot. However, it is one of Microsoft's five web-crawling robots that gather information from the web to create the Bing search engine index. The function of Bingbot is the same as Googlebot such as following index requests from Bing Webmaster Tools and links from web pages to maintain an accurate picture of the website.
Let me tell you guys how Bingbot goes evergreen? Microsoft announced on 9th October 2019 (Wednesday) that Bingbot acquires the Chromium-based Edge browser to provide web pages and run JavaScript. Furthermore, Bingbot will continue to update to the latest version of Microsoft Edge going forward, making it evergreen like Googlebot.
Microsoft also informed us that by making these changes will create less fragmentation of the web and make lives easier for SEOs. Bingbot provides web pages using Microsoft Edge on Chromium creates compatibility across web crawler, ensure that all JavaScript framework can be supported.
Statement made by Fabrice Canel, Principal Program Manager of Microsoft-Bing
"By adopting Microsoft Edge, Bingbot will now render all web pages using the same underlying web platform technology already used today by Googlebot, Google Chrome, and other Chromium-based browsers. This will make it easy for developers to ensure their web sites and their Content Management System works across all these solutions without having to spend time investigating each solution in depth.
By disclosing our new Bingbot Web Pages rendering technology, we are ensuring fewer SEO compatibility problems moving forward and increase satisfaction in the SEO community."
The above abundance of information the first time is disclosed by Microsoft about the Bing Crawler.
In the final note, let me tell you folks, this change in Bing will take a few months to be implemented. So, there is still time to see new changes in Bing Crawler. Website owners have nothing to worry about as there will be careful testing which will take place to ensure about your site that can dynamically give fine before switching over to Microsoft Edge. Furthermore, SEOs and developers will experience an easier time getting their site pages crawled by the search engine with no need for additional research for a particular crawler.
The change is pretty much the same as Googlebot, still if you see any issue occurring in this change then make sure site is registered with Bing Webmaster Tools.
Get in touch with us for more info and kindly comment below to let us know how you find this article.
---