Best Online Paraphrasing Tools for SEO Beginners.
The content marketing field is evolving with every passing day. It is also because quality content is being produced by many writers and marketers in the digital marketing. Well, who doesn't like to read quality content? We all love to. Tell me, what will happen if you keep producing the content with the same writing skills all over again? Your content will sound monotonous and mundane. So how will you add some spice in it to give it an interesting sound? Any guesses? No, ok I tell you. You can always paraphrase your content. Paraphrasing content for SEO means adding glory to it.
Today, I will share some best paraphrasing tool for all SEO beginners in this article. Make sure you read the article till the end.
So here we start.
Best online paraphrasing tools for every SEO beginner
#Rewriter Tools

Rewriter tool is very easy to use. It can easily automate your content and transforms a piece of the text well enough to form the foundation of a new article. This tool provides you two boxes where you have to write your content. In the first box that is text before you write the original article and then click on the start button to get the content that is text after. You will see the results which will make your sentences much clear and concise. You can use this tool to create unique content with a variety of words.
#Article Rewriter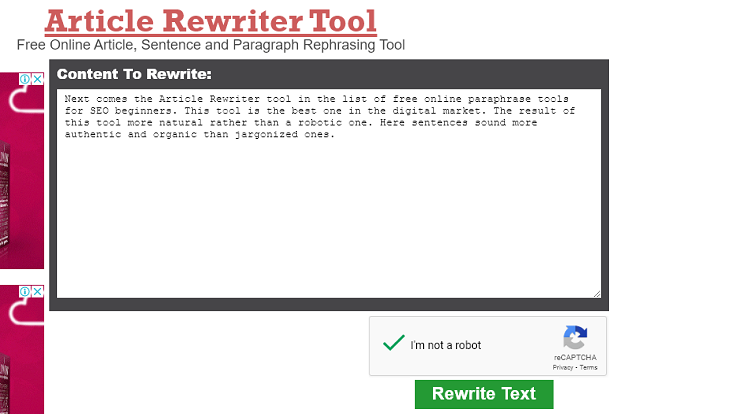 Next comes the Article Rewriter tool in the list of free online paraphrase tools for SEO beginners. This tool is the best one in the digital market. The result of this tool more natural rather than a robotic one. Here sentences sound more authentic and organic than jargonized ones.
#Paraphrasing – Tool.com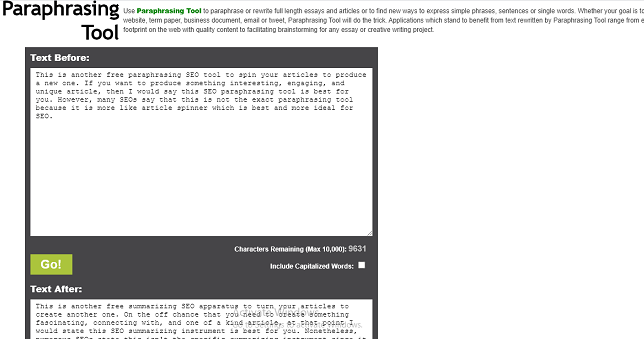 This is another free paraphrasing SEO tool to spin your articles to produce a new one. If you want to produce something interesting, engaging, and unique article, then I would say this SEO paraphrasing tool is best for you. However, many SEOs say that this is not the exact paraphrasing tool because it is more like article spinner which is best and more ideal for SEO.
#Project Topic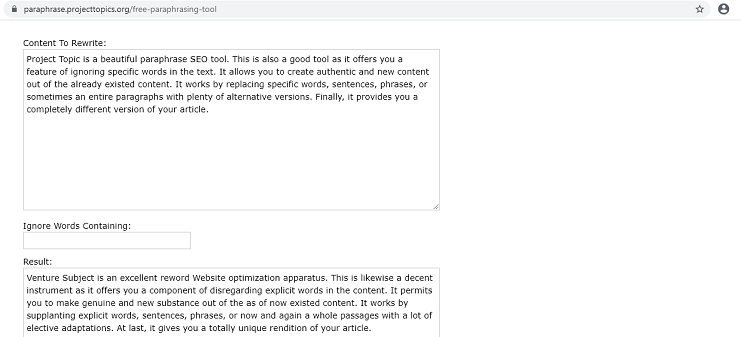 Project Topic is a beautiful paraphrase SEO tool. This is also a good tool as it offers you a feature of ignoring specific words in the text. It allows you to create authentic and new content out of the already existed content. It works by replacing specific words, sentences, phrases, or sometimes an entire paragraphs with plenty of alternative versions. Finally, it provides you a completely different version of your article. No matter what your goal is of writing content for your website, business, email, document, or tweet, Project Topic will do wonder for you.
#Prepost SEO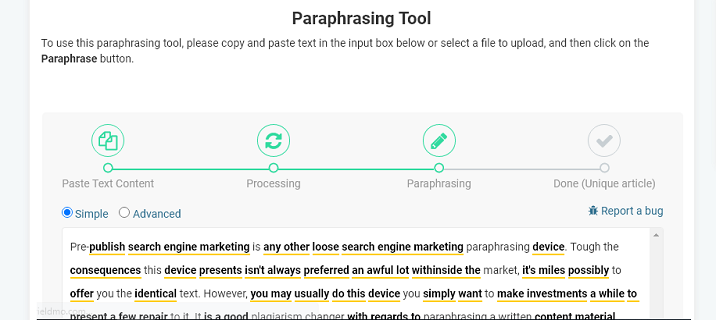 Pre-post SEO is another free Search Engine Optimization paraphrasing tool. Tough the results this tool provides is not liked much in the market, it is likely to provide you the same text. However, you can always try this tool you just need to invest some time to give some fix to it. It is an efficient plagiarism changer when it comes to paraphrasing a written content. This tool works by changing the word with synonym and sentence change technique to make the paraphrased content different from the original one.
#EDU Birdie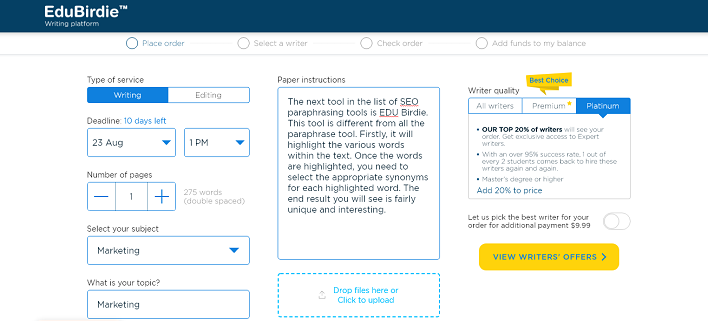 The next tool in the list of SEO paraphrasing tools is EDU Birdie. This tool is different from all the paraphrase tool. Firstly, it will highlight the various words within the text. Once the words are highlighted, you need to select the appropriate synonyms for each highlighted word. The end result you will see is fairly unique and interesting.
Over to you
Now it's all up to you guys, which tool you liked the most you need to decide. The paraphrasing tool will help you produce the type of content you want to create for your audience. All tools are great for SEO beginners; you no need to have any specific knowledge to use these tools. With a simple understanding, you will be able to use them. The ball is in your court folks, make a wise decision, and choose the tool which you think can fulfill all your requirements.
For more informative articles subscribe our website, till then keep reading and keep sharing.
---