7 best stock photo websites you must have to use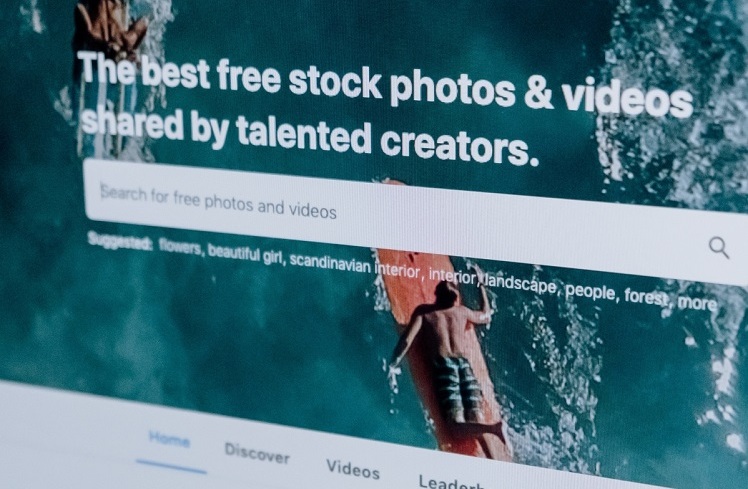 Today, the world is photo-centric. Every person is can easily be swayed by images, videos, 3D pictures, and other mesmerizing things they see online. It would be not wrong in saying that images are extremely powerful since they can give expression to those feelings that can't be described by words. No doubt, images are much better than words. This is the reason that images are very high in demand in both the offline and online markets to promote products. In fact, adding images is a great practice among webmasters to give special touch or features to the website.
To get traffic to the site and attract people, it is very crucial to add high-quality stock images. Now the question is where to get stock images from? If this is your question then you are at the right place.
In this guide, I will enlist 7 best stock photo websites that you can use to get images for your site. So, let's make a start.
Top 7 best stock photo websites you can use to get images
#1. Shutterstock.com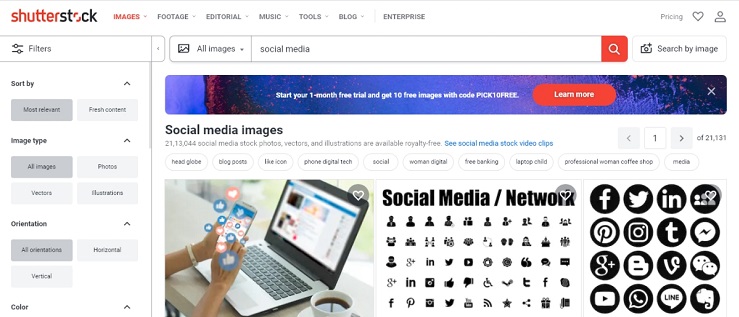 This is one of the best images sites in the digital world. The site currently has more than 100 million images and more than 50,000 new images are added every day. Basically, Shutterstock is an agency with the largest royalty-free collection. Moreover, Shutterstock offers free registration, and the commission rate starts at 25% since Shutterstock is one of the main hubs for stock photography. Today, photographers face a decent amount of competition. Even if you want to get into Shutterstock then you have to submit at least 10 photographs, 7 out of which must be approved.
In case, you want images from Shutterstock then you need to take different subscription plans to get photos. Each subscription plans has its own advantage.
#2. Pexels.com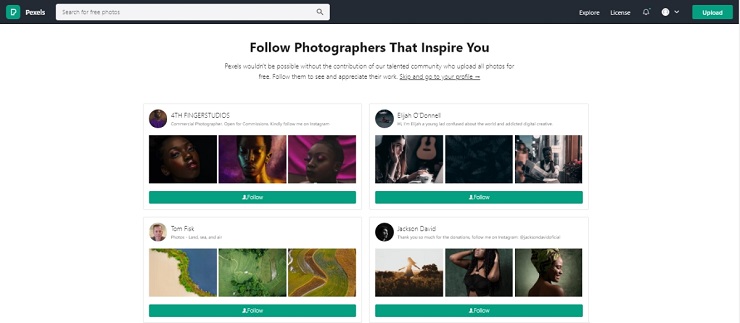 Pexels is one of the most popular and most used sites for free images. Every online marketer, blogger, webmaster, and any business like to use the Pexels site for getting high-quality images. The site provides completely free stock photos licensed under the Creative Common Zero (CC0) license. No doubt, the site is full of a vast, well-organized collection of images. Moreover, it also offers you free quality stock videos. It means you have plenty of images to choose from. Fortunately, Pexels uploads 10 images each day.
The search option of Pexels includes:
Popular searches
New photos
Search bar
Popular photos
Newly uploaded images
#3. Freeimages.com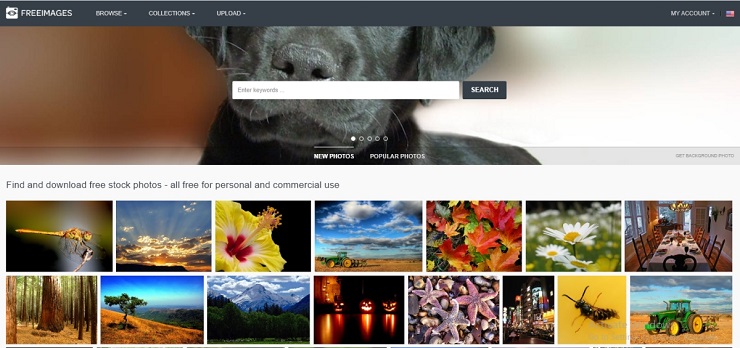 Another stock image site you can use to get free images is freeimages.com. This site is one of the largest web collections of free images having more than 2.2 million royalty-free stock photos and illustrations. Through this site, you can get free-to-use stock photography and illustrations. However, the site is amazing but the only disadvantage it has is that you need to sign up to download pictures. Sometimes people find annoying when signing up to get anything online. Freeimages site has images into categories such as design, flowers, trees, outdoor activities, fashion, beauty, health medical, home design, and technology.
Moreover, the images also have free and premium category.
#4. Pixabay.com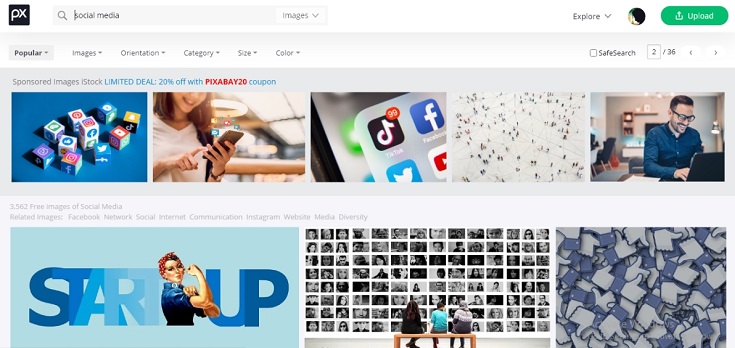 The next website you have on the list is Pixabay.com. The site has over 1.7 million + high-quality stock free images. Like the Pixels site, all images are released under Creative Commons CC0. Pixabay site is not limited to photos only but it also offers videos, vectors, and art illustrations. No doubt, the site has a very large database collection of high-quality images. The interesting thing about this site is that it doesn't require any attribution to use images. Therefore, you can use images anywhere without asking for permission or giving credit to the artist.
#5. Unsplash.com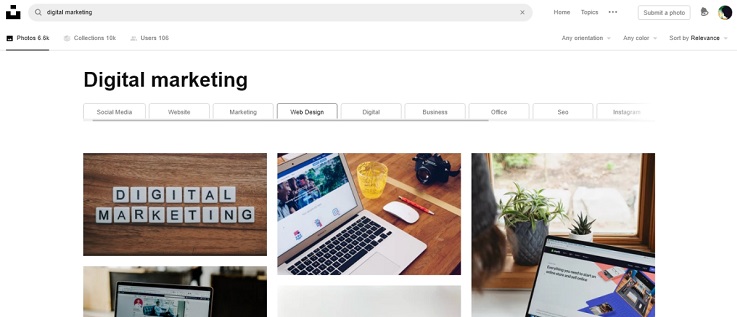 This stock image site is the biggest name in permissive copyright stock photography. The site actually offers a large collection of free high- resolution stock images. All the images offered by Unsplash comes under the Unsplash license. The team at Unsplash provides the photos on their homepage by going through new submissions. Here in this site, you get well-curated collections and category tags to find the best and right images for you. In fact, Unsplash has a collection of over 300,000 images from more than 50,000 contributors.
#6. Burst by Shopify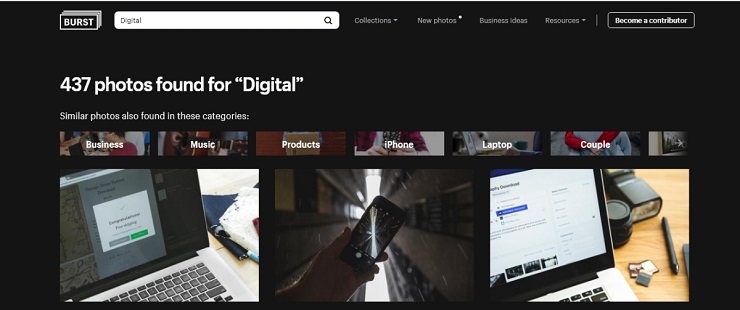 Burst by Shopify site is an amazing site in terms of providing the best free stock images. The site offers free stock images relevant to selling online for website and commercial use. Most of the photos are licensed under Creative Commons CC0 while other photos are not. Therefore, you need to look at each image and ensure terms before you download it. Moreover, Burst is owned by Shopify. The site launched to help entrepreneurs make a better products, websites, and marketing campaigns.
#7. Freedigitalphotos.net

So this is the last stock image site you have on the list. Freedigitalphotos.net is a great website for providing quality and royalty-free images. The site is best for those who have a fixed budget. So this is a relief for you to take advantage and use images for your website. In addition, the site has more than thousands of royalty-free images, illustrations, etc. You can use these in your magazines, websites, newspaper, etc. The interesting thing is that images are available in different resolutions. So what else you want from a free service provider?
The bottom line
So, guys, I hope you liked this article on the stock images website. All the 7 stock images sites I have talked about in this article are the top site for providing free images as well as paid. You can choose the site as per your need and interest and use the images for your personal and commercial usage. No doubt, these sites are the dominating digital market so going or switching to some other stock image site might not work for you however it's all up to you.
Comment below to let us know which website you like most. Also subscribe our website to read another interesting articles.
---