5 SEO mistakes which you need to avoid.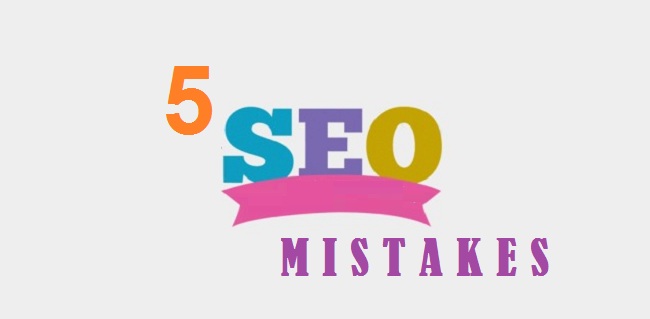 For any business or marketer, it's important for them to step ahead of their competitors in the market, not only in the market but in the search engine ranking too, right! It's a fact that almost every marketer makes use of a digital platform such as website, social media, etc. for their marketing business. And to get more leads, businesses make their web presence highly active.
As optimizing website and blog is an essential element of marketing strategy. A well-managed SEO strategy is what attracts an audience, generate more traffic and leads. However, when it comes to SEO, every site owner pretends to be an expert and ends up committing some fatal mistakes. And these mistakes can seriously affect their search engine ranking on Google. This may lead to a situation where your site can be removed from the search engine result pages.
So, how to avoid SEO mistakes to get better results in search engine ranking?
Let's review the top 5 common SEO mistakes you should avoid so that your business can bring the desired results to match your endeavor. 
5 SEO mistakes: Every business should avoid
Following are the SEO mistakes that YOU should AVOID making.
1. Use of unauthentic keywords
Optimizing a site is all about choosing the right keywords. The common mistake people make is in selecting the right keywords. Before you commit this mistake you need to develop a list of selected keywords. You can also use tools such as Google Adwords keyword planner, Moz keyword Explorer, to find the trending keywords.
2. Missing quality links
To increase the traffic of a website, marketers add enough external unnatural links through SEO agencies. To make a good reputation of sites external links help in getting a good ranking on Google. But Google has a very clear stand on taking action against the sites unnatural links built over a period of time. So it's better if you only include quality links.
3. A lot of Keyword Stuffing
To get a higher rank on Google, people tend to use a lot of keywords in the content. Keyword stuffing is the visible way of doing a mistake. Using a lot of keywords can actually debunk your site. So what you need to do? You need to monitor the instances and ensure that the keywords are not used too much in the article.
4. Publishing copied or non-original content
This mistake highlights the quality of your content. Copying or plagiarizing content is considered as spammy practice and is highly discouraged. Search engine optimization penalizes this approach. Duplicate content doesn't work. Rather copying someone else's content you better 'spin' the content into a new shape. So it's worth if you publish creative and meaningful contents.
5. Poor On-Page SEO
Before publishing an article just try to ensure to review each article and confirm to adhere to On-Page SEO technique. Why SEO on-page goes poor? Because of not using targeted keywords, images without texts, publishing articles with grammar or spelling mistakes, no use of headlines, etc. So it's better if you don't repeat the mistakes and improve your On-Page SEO ranking.
Conclusion!
Search Engine Optimization is a crucial part of any marketing business strategy. Above 5 common mistakes generally, people make. Focusing on black hat technique irrespective of On-Page optimization will penalize your site. And it will be difficult for you to bring the site back. So it's better to follow simple guidelines while optimizing your site.
Now you have well-acquainted above errors, so they are easy to recognize before you make them. To step ahead in competitions and also in the search engine ranking too you can take help from digital marketing agency. For more updates get in touch with us till then keep reading.  
---