5 amazing ways to boost customer retention in this pandemic.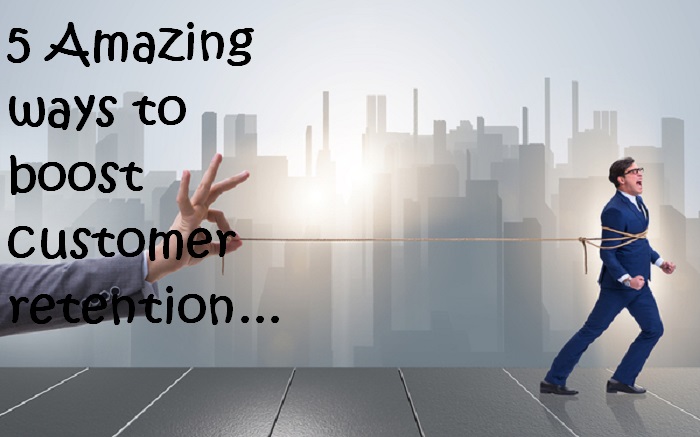 Will you be able to run your business without having customers? Of course no. Customers are an important element for your business, without them you can't run your business successfully. And if we look at the current situation of the world, the COVID-19 disrupted the way we do business. Many small businesses are not able to keep up with the rapidly changing economy. It is not a hidden fact that this pandemic will continue to leave lasting impacts across the digital marketing world. Though the entire world is in quarantine and nearly everybody is at home, the important thing here is to keep in touch with your customers to retain them in the future also.
Guys, if you want to keep your business going even after the pandemic then this article is for you. Here I will list down the 5 best ways to boost your customer retention in this pandemic.
Boost your customer retention with these 5 amazing ways in COVID-19 pandemic
#Engage them through social media
The first tip that comes to boost your customer retention is social media. Today, the powerful channel is none other than social media. No matter which social media channel you have an account. If you have followers you can get good traffic to your business. According to the 2018 study, almost 2.65 million people are on social media and the number is expected to increase to 3.1 billion by 2021. Today, social media platforms like Instagram, Facebook, Twitter and LinkedIn have changed the way brands communicate with their customers. These social media platforms are where your customers are most comfortable. So make sure to be on social media and connect with your customers as much as possible.
#Go live and stream your products and services
The second tactic to follow for customer retention is going live and streaming products and services. If you think your customers are not in touch with you then you need to go live. Try to provide access to your customers who are sitting at home. We all know that lockdown is going on and everybody is self-quarantine. Therefore, you need to make yourself digitized to promote your products and services. If you go live, people will get to know about you and they might make online purchases also. Furthermore, you can also use free tools like Google Hangouts, Skype or Zoom to offer you services remotely.
#Promote your gift cards
Who doesn't like gift cards? We all like freebies, right. Gifts are the best way to establish a good relationship with your customers. Also, if you promote or provide gift cards to your customers, it will help you retain your customers even in the pandemic situation. You can promote gift cards and other valuable coupons that can attract your customers. Guys, this is the best way to retain customers even in the crisis.
#Content is king (Always)
As a website operator, your site gets more traffic when you have quality content available to your site. The famous adage, 'content is king' has more value today. It is because almost everyone is at home and people want quality content from the content creators. When people read informative, quality, unique, and relevant content on your site, they most likely to visit your site again. Therefore, content creation is a crucial part of your marketing campaigns as it keeps you in touch with your customers. It is a good way for you to stay connected with people by publishing your content.
#Try to scale down your product cost
The last way to boost customer retention of your business is by scaling down the cost of your products. We all know how COVID-19 has destroyed the business of small scale industries as well as large scale industries. Therefore as a marketer, don't try to extra charge your customers. You need to offer them the product at the price which is less than your competitors. You will see more and customers are connecting to your brand.
Final words
Customer retention is one of the best ways to keep your business going on in the future. But if we look at the present situation then customer retention becomes difficult to implement. Therefore, you can use the above ways to boost your customer retention in the long run. You need to fight with COVID-19 and save your business by implementing above tactics.
For more informative digital marketing tactics get in touch with us, till then keep reading.
---