Your business can survive without digital media or not?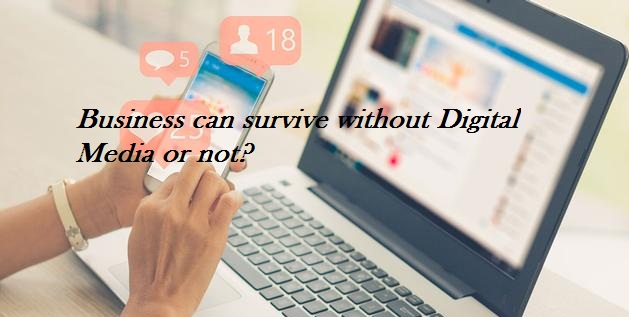 In today's competitive or fast-growing world, any business has become important. But when we talk about business one thing strikes in our mind. i.e, Digital Marketing. As the world has become more digital in nature, digital marketing also has been rising in popularity over the last several years. So if you, as a businessman wants to survive in the market then this article will help you recognize whether your business can survive without digital marketing or not.
By the end of this article, you will get to know everything about digital marketing whether it's good for your business or not.
What is digital marketing?
Digital marketing is the advertising of product or services through various channels such as the internet, social media ( Facebook, WhatsApp, YouTube, etc ), mobile apps, websites, email, etc. By using these social digital channels one can easily propagate his business across the world. Digital marketing has been rising in popularity over the last several years. 
Today, most people spend their time using the internet. So as a business owner, you have got to take advantage of this and know the role of digital marketing in your business. One should know that most companies get their customers from social media platforms such as facebook, WhatsApp, Linkedin, Twitter, etc. This shows how the needs, lifestyle, and thought process of today's consumers have changed significantly. Let us understand and know the importance of Digital marketing.
Importance of digital marketing
Here are some important or benefits per se of Digital Marketing.
Digital Marketing helps in increasing sales
As more and more consumers are online ( online presence will continue to grow ), digital marketing in an immediate way to reach them
Secure and easy transaction for both buyer and seller
Good source of revenue generation ( online ads earn you money which is a kind of revenue for you )
Propagate your product in a short span of time
Digital Marketing also catches the eyes of the audience in real-time
Lets you communicate with the target audience directly
Helps you know what your customers need or like via Facebook, Twitter, WhatsApp and other sites.
Digital marketing is Cost Effective as it helps you to reach out to your customers at the same time that too within your budget.
Opens up growth options for small enterprises as well you just need to recognize the demands of your consumers or audience.
So you should always consider the importance of digital marketing for your business growth. But still, the question arises here whether your business can survive sans digital marketing or not? Let us have a look at this question.
Can your business survive without digital market in 21st century?
In this growing world of technology, people are tending to become more and more digital which means people use more digital technologies for any of their work. So when you think whether you should incorporate digital marketing in your business strategies, today you have to do so for sustaining in the market. This is how you can survive your business long in the market.
In addition, internet marketing has become the backbone for any enterprise be it small or long. It would not be an exaggeration to say that Digital Marketing has become the most important source for any business to survive. You just need to know the right strategy to implement in your business. As we all know Digital Marketing has changed the face of interaction between buyer (client) and the seller (business).
In a nutshell, If you also want to start your business just highlight your presence on digital media for a long run business as Bill Gates said, " if your business is not on the internet, then your business will be out of business".
With above article now you can understand how important it is to make online presence for your business. You can hire digital marketing agency to start online. For more information get in touch with us.    
---