You want to go with Freemium but how?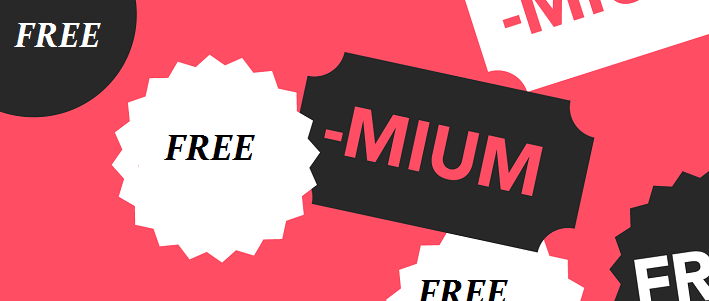 There are many marketers and business out there who want to go with the "Freemium" business model. Nevertheless, people are confused as to know what Freemium exactly is. You no need to worry! In this article, I am going to explain to you what is Freemium and how you can go with it for your business.
So let's dive into the definition first!
Freemium: An Introduction
Fermium is the combination of two words i.e. free and premium. Freemium is a business model approach. Through this model, the company creates a desirable product or services and then gives away all or part of that product or services to its customers for free. It helps companies to generate their sale and attract more and more customers for their products. Hence, the customers begin to rely on your offering products and build trust for your business products and services.  And it also lets customers make additional purchases from you in the future.
Furthermore, there is an idea behind this Freemium model approach. What is that?  It is, if you provide your customers with a taste of your product or services for free, they will return to your business back and willingly pays for more product and services.
Now the question arises if Freemium gives you an opportunity to grow your business then how you can go with Freemium? So if you too want to go Freemium then you must adhere to this article as I am going to highlight some points that will help you go Freemium.
Some ways that will help you to go with Freemium
There are many ways through which you can go for 'Freemium' for your business model. There are some Freemium products that will tell you how you can use them to go Freemium.  
– MailChimp
It's an email marketing software program. It allows you to collect email list subscribers, send regular email updates, create auto-responder series and automate your marketing. This approach allows users to have account basic features with 2000 subscribers and 12,000 emails per month. Here you can sign up for free and you can also set up an email list. All this will take time once you have 2000 subscribers, you will just continue to grow.
– FreshBooks
For freelancers, startups and small businesses, it is invoicing software. It allows you to track your expenses and manage projects platforms. This freemium approach allows you to see the software in action with one customer and the basic features. If you want additional features then you have to pay for that.
– Hootsuite
It is a well-known social media management tool. It provides free plans for customers who want to manage at least three social media profile and provides business plan who want more. This Freemium approach allows users to know the benefits of these Freemium platforms and know what they want to access more.
– Dropbox
It's a popular cloud storage program which offers a free plan up to 2 GB of space for backup and simple file sharing. This approach allows users to see how easy it is to backup and share their files using the Dropbox platform. It allows you to backup from anywhere, including your mobile devices.
– Zapier
It is a service which automates tasks within a particular task. This 'Freemium' approach allows users to start off five automation (zaps) that can run up to 100 tasks per month. This approach works by using free plans of businesses as they know once you have automated a few things in your business, from next time you will have a tough time not automating more things. 
Conclusion!
Freemium strategy is the best approach if your apps and products are addictive. Though deciding to go Freemium is a crucial decision yet this model can fit your business and gives a huge amount of users instantly. This model can fit your business if you have a vast potential market and high-quality products. If you think that your business too has the potential and its products hit the market then you might have a case for going Freemium.
Freemium is the best way to attract an audience and increase more leads to the business. So if you want to go with 'Freemium' you need to follow above-mentioned points. These above points are significant for both, business and customers. For more updates and interesting articles get in touch with us, till then keep reading.
---