Yahoo! Celebrated its 25th Glorious Anniversary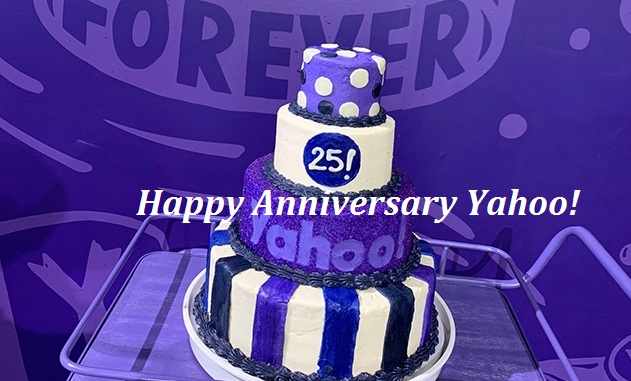 Let's come together and wish Yahoo! a very happy 25th anniversary.
People following hectic schedule might not be aware of Yahoo! that it has completed 25 years of launch in the internet world. Though Yahoo! has already celebrated 25th glorious anniversary on 3rd March. We all celebrate birthdays, and anniversaries but nothing is as special as 25th anniversary. And this kinda speciality we get to see in Yahoo!'s 25th anniversary. So folks, let's get started now as I'm going to talk about Yahoo! particularly and how it celebrated its 25th anniversary.
Yahoo! completed & celebrated its 25 years of launch.
On 3rd March, 2020, Yahoo! celebrated 25 glorious years of launch thereby celebrated the 25th anniversary. Yahoo! was founded by Jerry Yang and David Filo in 1994. Both of them were electrical engineering graduate students. The yahoo.com domain was created on January 18, 1995. In case you don't know the full form of Yahoo! then let me clear you that Yahoo! is just a backronym for "Yet Another Hierarchically Organized Oracle" or Yet Another Hierarchical Officious Oracle"
Back to the Yahoo! party, the company had party and opened up time capsule and had cakes and much more. At the party, everyone got purple cupcake and everything was decorated and serviced with purple colour.
On Twitter, Yahoo! tweeted, "We are celebrating 25 years of connecting people to what matters most to them. Thanks for joining us along this wild, wonderful ride."
Yahoo! celebrated its 25th anniversary with a replica sculpture of the iconic yahoo billboard sign
Do you know what Yahoo! billboard sign is? Yahoo! billboard sign is a giant purple sigh through which Yahoo! has been advertised from the last 20 years. This seems that the company is keeping the legacy of the purple company intact. Over the past few years, Yahoo! was known for some of the iconic placement of advertising and one of them being the billboard around the San Francisco. Yahoo! also celebrated its 20th anniversary with these billboards.
Billboards are the Yahoo's return to space. In the 20th anniversary, Kathy Savitt, CEO of Media at Yahoo said, "The billboard will continue to reach commuters with different topical messages tied to Yahoo products, properties and local events that touch their lives."
Some amazing facts about Yahoo!
Yahoo! Company is based in Sunnyvale, CA and has offices worldwide.
It was originally called "Jerry and Dave's Guide to World Wide Web." Then it changed to Yahoo!
Yahoo! got the exclamation mark from Yang and Filo because the 'Yahoo' was already owned by a company that made BBQ sauce.
In 2013, the company purchased Tumblr for $1 billion – in an attempt to attract a younger audience of internet users.
Yahoo! battled Google (a major competitor in search engine space) for many years in order to claim a large share of the market.
Concluding remarks!
Yahoo! is a great web services providing company established in California. The recent 25th anniversary of Yahoo! remarks that it has done a great job in the internet world and has delivered the great results to its users. You can see the fun pictures of Yahoo!'s 25th anniversary on Google.
Kindly comment below to let us know how you find this article. For more updates get in touch with us.
---