Why we need to choose Brand24 in place of Hootsuite?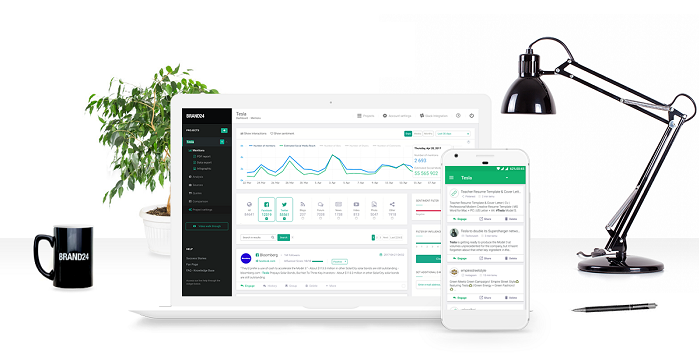 Are you getting confused as why you should go with Brand24 instead of Hootsuite? If yes, then Hi folks, this article is for you. I know a lot of people out there aren't able to get the right answer of their question on why to go with Brand24. Finally, your query solves here because today I am going to differentiate between Brand24 and Hootsuite so that you can get to know the real value of these two. So without wasting much time let's start our day.
First, I will give you a brief description of Brand24 and Hootsuite.
Hootsuite
Hootsuite is one of the most popular social media monitoring platforms which is used to manage all your social media activity from a single dashboard. With this tool, you can manage all your social media platforms such as Twitter, Facebook, LinkedIn, Google+, etc. to schedule post and support social network integrations.
Brand24
Brand24 is also a social media monitoring tool which provides you immediate access to mentions about your brand across the web. This tool is useful for both small as well as medium sized business worldwide which can identify and analyse the online conversations relevant to business in order to get customer insights, and grow their sales lead generations.
Now let's look at the list of features of Hootsuite
Update multiple social media networks in one go
Provides you social analytics report
Helps you manage multiple contributors
Collects intelligence by monitoring mentions of your company's brand
Optimize delivery
Calendar management
Campaign management
Social media monitoring
List of features of Brand24
Provides you competitor knowledge
Collaboration tools
Social insight
Topic grouping
Influencer score
Keyword tracking
Data visualization
Marketing Automation
Multi-user and Multi-account
Social media integration and social media monitoring
Now move on to the benefits of using Hootsuite
First benefit of using Hootsuite is that it can monitor your multiple social media platforms from a single dashboard. You can also post updates, review responses, and connect with your clients.
Another benefit that Hootsuite provides you is you can schedule all your social media messages across all your favourite social media platforms in advance.
With Hootsuite, you can also get to know how well your social media strategy is working. It helps you track all the clicks from multiple social media platforms.
Next benefit of using Hootsuite is you can easily view customer's questions in one single place without having to check multiple social media accounts.
You can also add multiple team members to your social media account of your choice. You can also assign tasks, add collaborators, and edit posts which you see.
Now read the benefits of using Brand24
Not only Brand24 tracks your online presence but also informs you of what users are saying about your brand, services, and product online. It also gives you the instant access to online mentions which is a great benefit of using this tool.
With this tool, you can react to customer's comment smartly and quickly. You can also take an immediate smart decision to clients who are not satisfied with your services or products before it turns out to be the big issue.
Another benefit of this tool is that you can easily tackle the negative comments by directly engaging with unhappy customers. You can rectify the problem with suitable solutions.
You also get fast alert or notification about the mentions. Brand24 notifies you in a minute about relevant online mentions and comments so that you can quickly address them and boost the list of your customers.
Over to You!
Guys, I hope this guide helped you figuring out why you should go with Brnad24 than Hootsuite. I have mentioned all the relevant information about both the tools so it's completely up to you which one to use. Let me also tell you that Hootsuite is for companies for all shapes and sizes however Brand24 is only for small size business. So the bottom line is if you are a small scale business then go with Brand24 as it has more features to offer in comparison of Hootsuite. 
What you think about it kindly comment below to let us know. For more information get in touch with us, till then keep reading.
---