What is AMP and How it affects SEO?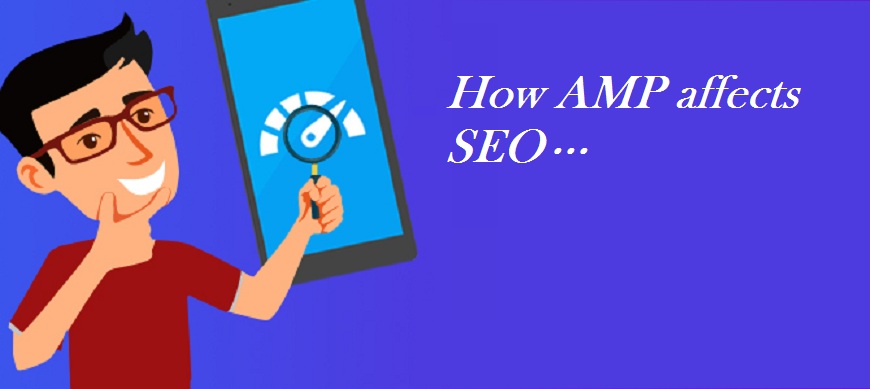 In today's digital environment, Mobile users are growing day by day and you can't see the single person without having a phone in his hand. It is somewhat important to keep phones because almost half of our works are done via phones. What happens when we open any website on phone and encounter problem while downloading that page with slower speed? We feel frustrated when a website load slows on mobile phones. Right! In this article, you will learn about how you can load a web page as quickly as possible from the server on mobile devices with the help of AMP. So let's start with the basics.
What is AMP?
AMP stands for Accelerated Mobile Pages. It is an open-source project initiated by Google which can be used to increase the web site speed on mobile phones. The aim of AMP is to fast loading of web pages on mobile devices. AMP is a way to build web pages for static content that render fast. AMP is highly recommended for blog posts and pages of the website where you share your contents and information. The main thing of AMP is to make publishers able to load their sites quickly on mobile and web developers are herein required to create mobile-friendly content that loads instantly.
Furthermore, Google AMP has become so popular because more than 80% of the global online audience is able to access the internet through mobile devices i.e. smartphones, iPods and tablets, etc. And with the help of AMP, faster pages get preference over slower pages. Pages that are made for mobile get preference in mobile search. Now you can see how AMP plays an important role in uploading website pages much faster thereby makes users experience much friendly.
How does AMP affect SEO? 
As AMP nowadays has been an emerging factor for any website development as it directly affects the SEO. AMP plays a very important role in SEO as it increases the site ranking on SERP (search engine result page). AMP is used to load mobile pages with the speed of light. It enhances the user's experience and their mobile reading also. Faster loading pages get good user traffic. Slow-loading pages are responsible for a higher bounce rate. Therefore, AMP is one of the factor of SEO.
Let's try to understand more, how AMP affects SEO through some.
It helps you to boost your SEO rank and get more views.
Make your blog easier to read with mobile-friendly fonts and also builds fast loading pages for mobile users.
Makes browsing easier and faster for people by boosting the loading speed.
AMP is also a part of a marketing strategy because those marketers who want to stay at the top of the game should consider AMP as the part of their marketing as it will impact SEO and their strategies too.
Although AMP is not a direct search engine factor and speed is an important component of search engine ranking. As a result, it will impact SEO if your website's speed is not up to that level.
Thus, AMP is a good source for you to stay ahead in the search engine result displayed for mobile devices. It helps in enhancing the users' experience and their mobile reading too.
Kindly comment below to let me know how you find the article. Till then get in touch with us for more articles.
---