What happens when you search "Is Google Down"?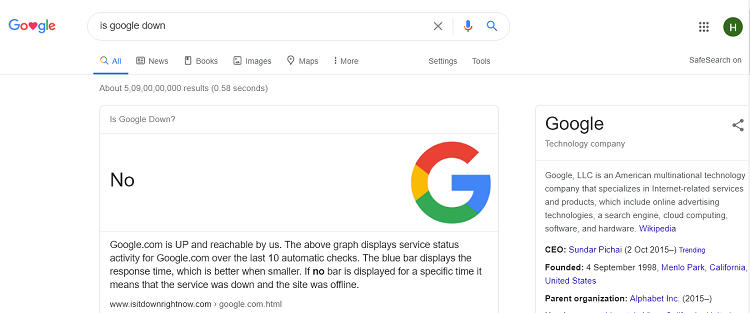 Google, the search engine giant is used worldwide to conduct searches on Google. Today, Google has thousands, or maybe millions of servers. Do you think these servers will work properly and connected at any given time? No guys, it is impossible statistically. There will be chances when scale random breakages will occur in daily events. Presently, Google is overloaded by coronavirus-driven home internet traffic which causing Google not to work properly. When something like this happens, people search "Is Google Down?"
Do you want to know why Google goes down and what you can do to fix it up? Yes, then keep your eyeballs here only and read the entire article thoroughly.
Let's now jump in.
What exactly happens when Google goes down?
This is actually an important question that every user asks when Google goes down and they search 'Is Google Down?' Let me tell you when something happens like this Google is not accessible to you. It is because Google Search, Google Maps / Apps, Google Docs, and a range of Google services used widely by people. And all these Google products go down when you access them.
Here is a list of things will happen when Google goes down:
# Twitter will also go down with Google
Twitter becomes a powerful social media tool whenever Google goes down. It is because people start tweeting "Is Google Down" and others respond yes. So you can say it is a set of chain reactions which becomes overload with tweets and goes down with Google as well.
# People come across something called "Bing" exists
Yes guys, if Google goes down, then Microsoft's amazing search engine 'Bing' will automatically appear with the title "Bing traffic explodes, Microsoft's investments paying off.' You can use the Bing search engine for your search.
# Google announces the time to Materialize its evil wacky plans
Whenever Google goes down, there might be chances that Google is telling you that the 'Free' era is over and announces its evil plans. So anyone who needs Google services now will have to pay to access it. Who knows when Google's World will start dominating?
# Coders and IT Managers get panic-attack
Why I am saying so? Guys, it simply means that when there is no Google, it means there is no search. Moreover, there will be no easy way to find out what is the solution. Thousands of coders working in software companies will realize that they lost their skills all of sudden. Without Google, they will not be to resume their skills.
Have you ever thought about why Google goes down? If no, then keep reading below to know the answer.
Some of the cause of Google being down
Let me first tell you that nothing makes Google goes down. Sometimes network interruptions, technical glitches cause it to go down. However, the present pandemic situation filled Google with coronavirus update which is causing Google to go down. But as per Urs Holzle, Technical Infrastructure at Google Cloud Senior Vice President, he said, "We're very sorry about that! We had a router failure in Atlanta, which affected traffic routed through that region. Things should be back to normal now. Just to make sure: this wasn't related to traffic levels or any kind of overload. Our network is not stressed by Covid-19."
So whenever you are not able to access Google, you might get to see following error message in your browser:
The server is not responding
Backend error
We're sorry, a server error occurred. Please wait a bit and try again.
500. That's an error.
The server encountered an error and could not complete your request.
In many other cases, you will see an HTTP status code error rather than a Google error message. Whenever you encounter HTTP errors, you have to verify whether you can load websites other than Google or not.
Do you want to know how you can fix Google being down? If yes, read below.
Follow the given tips to fix Google if it appears to be down:
– You can check G Suite Dashboard
Let me tell you that the G Suite dashboard is a good place to check the information about downtime and connectivity problems with Google or any Google services. In case Google services show a lot of red marks, then it is a good indication that Google is actually down for everyone not just for you. Here you need to wait until Google resolves this problem.
– Try Google App
Yes, guys to check whether Google is actually down or not, you can try the Google app on your phone and tablet. Why I am asking you is because sometimes Google web search will go down, while the app continues to work in mobiles and tablets.
– Clear your browser cache
Whether cache is there in your phone storage or browser, you should always think of clearing it to make the space available. When you clear the cache, it will fix your Google problems.
– Also clear your browser cookies
Like browser cache, you should also clear your browser cookies. Sometimes what happens is that you accept a lot of website cookies which eventually creates a lot of browser-related problems. Moreover, clearing cookies can have additional, unwanted effects such as removing customized settings on some websites and removing stored login information.
– Just scan your computer for malware
Whenever our phone gets hang, we scan it to detect if it has any kind of malware or not. The same way you can also scan your computer for malware and if you find any you can remove it to enhance your browsing experience. The cleansing will also restore your access to Google.
– Restart your computer
After successfully following all the above tips, you can restart your computer. When you restart your computer, you will see a lot of problems related to errant memory leaks, and corrupted temporary files are removed. We all know that the computer takes time to restart once you hit the restart button. But if you leave your computer for long hours then you can go with this step.
The conclusion
Google is a search engine giant. It has been dominating the digital marketing arena since it launched. The use of Google is constantly increasing worldwide. Though there are many other search engines also, Google is used by the majority of people. This is the reason why Google goes down. But you no need to worry. If something happens like this you can follow the above steps. These steps will help you solve the problem of Google being down.
For more interesting articles subscribe our website, till then keep reading and keep sharing.
---